Employee Athletes Among Us
For some Duke staff and faculty, competition is what fuels their healthy lifestyle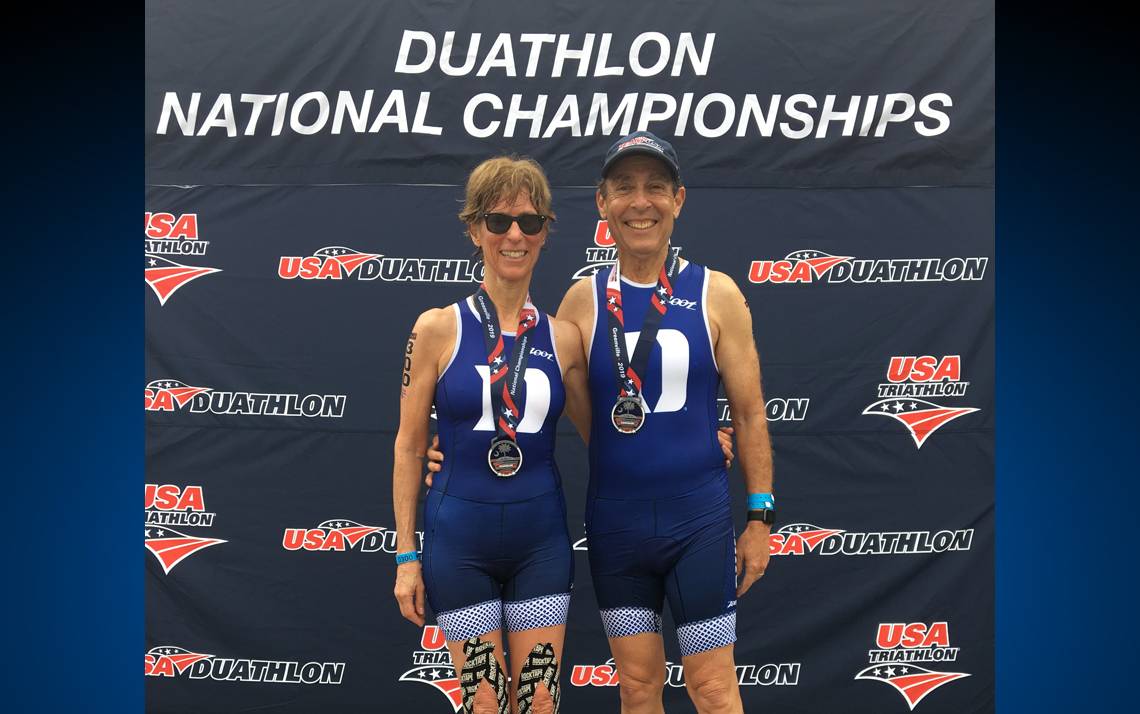 Growing up, Torie Smith lived in fear of her gym class' annual mile run.
She recalls feigning illness in an attempt to dodge it.
That's why it's a surprise that, over the past two years, she's run around a dozen races, including two half-marathons. Smith runs almost daily and rarely ventures out for anything that doesn't cover at least three miles.
"I would have never thought I'd have been a runner, ever," said Smith, the clinical team lead with Duke Life Flight.
For Smith, part of finding her identity as a runner was the thrill of competition. From her first 5K to the long events on her calendar this fall, racing is helping power her new healthy habit.
Across Duke, there are employees who take their embrace of healthy lifestyles beyond simply staying active. For them, a nice dose of competition is what fuels them.
"I think it's essential to find whatever it is that can get you moving," said Duke Executive Director for Recreation & Physical Education Felicia Tittle, one of the co-conveners of the Physical Activity & Movement subcommittee for the campus-wide Healthy Duke wellness initiative. "There's so much research that shows that if you move more, you cut down on your risk of diabetes, high blood pressure and those other silent killers."
Meet a few of your colleagues who, when they're not at work, lead second lives as competitive athletes.
Community on the Court
For Clifford Chu, an Applications Analyst with Duke Health Technology Solutions, his love affair with the game of pickleball can be traced to an odd sound.
He recalls first hearing the hollow pop of a plastic ball colliding with a hard paddle coming from the tennis courts of his parents' Florida retirement community. After investigating it, he came upon residents playing pickleball, a paddle sport that combines elements of tennis, ping pong, and badminton.
Chu, who had been a competitive tennis player, asked to join in.
"I thought, 'Oh, I can beat them,'" Chu said. "I got whooped. I humbled myself really quickly and realized this was a fun game there's more to it than what I saw there."
Unlike tennis, which prioritizes speed and power, pickleball's smaller court and slower ball flight means players of all ages can compete on more equal terms.
After playing it once, Chu was hooked. Upon heading back to Georgia, where he was living at the time, he joined a pickleball group and began competing in area tournaments.
Upon moving to Duke earlier this year, he connected with the Triangle's pickleball community. On pace to compete in around 17 tournaments this year, Chu's teams routinely finish among the top three. His results have been strong enough to earn a spot in the Margaritaville USA Pickleball National Championships slated for November in California.
"The camaraderie that you have in the sport of pickleball is like no other," Chu said. "There's always a match to jump into or a pickup game somewhere. You meet so many great people."
Always in Motion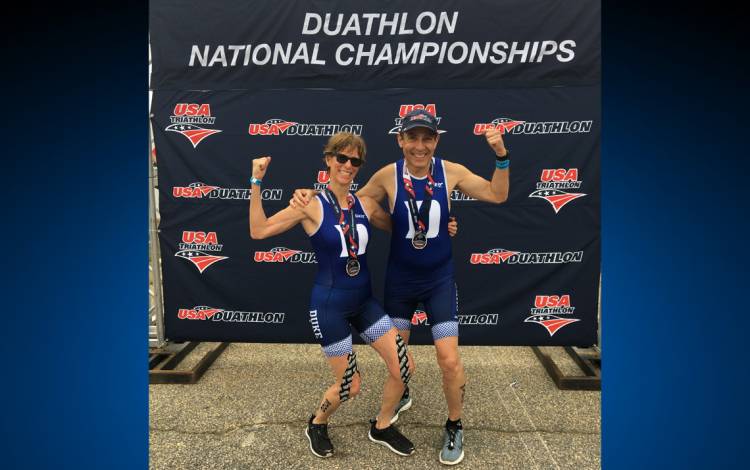 When Rochelle Schwartz-Bloom, a Duke professor of Pharmacology and Cancer Biology, retired earlier this year, her colleagues got her a hi-tech watch that records how far and fast she runs.
"They didn't want to give her a normal retirement gift of a gold watch or a nice Duke chair," said her husband Paul Bloom, a senior fellow at the Fuqua School of Business. "They decided this made more sense."
As accomplished triathlon competitors, both Rochelle and Paul know plenty about training. For almost two decades, the couple has competed in races around the world.
"The wellness and well-being associated with it are really important," Paul said about triathlons, which feature running, swimming and cycling in a variety of different distances and combinations. "It benefits my physical wellbeing, my cognitive abilities and my ability to think clearly. I think exercise is a magic potion for staying well."
Always an athlete, Paul, 72, took up running in his 40s, eventually completing several marathons, including five Boston Marathons. He began competing in triathlons around 2003 and has competed in over 100, including dozens of world and national championship events. He also coaches Duke's Triathlon Club.
Meanwhile, Rochelle has been competing in triathlons for 20 years, putting together a résumé that includes gold medals for her age group in national and world championships and multiple stints as the top-ranked competitor in the nation for her age group in specific triathlon events.
"Doing this makes you feel healthy and alive and fit and just gives you a sense of wellbeing," Paul said. "That's paramount."
Finding Her Path
While trying to fill some downtime on a vacation, Torie Smith stepped on a treadmill and ran a mile. Afterward, in a surprise to herself, she realized she actually enjoyed it.
After returning to her home near Lake Gaston, she started running on her own and, two summers ago, joined her husband in a 5K race to benefit a nearby fire department.
"Running allows me to decompress," Smith said. "When I run after work, I can think about my shift and let it go. When I run before work, it allows me to get in a mentally good place where I'm ready to go."
Smith's appreciation of running came into focus in the fall of 2017, when three of her co-workers were among the four people killed when a Life Flight helicopter crashed in eastern North Carolina.
For weeks following the crash, Smith said the shock and sadness left her feeling overwhelmed. One of the things that helped her move forward was the feeling she got when she ran.
"I recognized that I wasn't in a healthy place," Smith said. "I remembered that running just made me feel better. When I did, I don't want to say that the clouds parted and the sun came out, but I could see the gradual improvement. It allowed me to really cope and help my co-workers cope, because when you're healthy you're able to help others get healthy again."
Have a story idea or news to share? Share it with Working@Duke.