How to Handle the Heat of Summer
Duke employees share tips on how they stay cool outdoors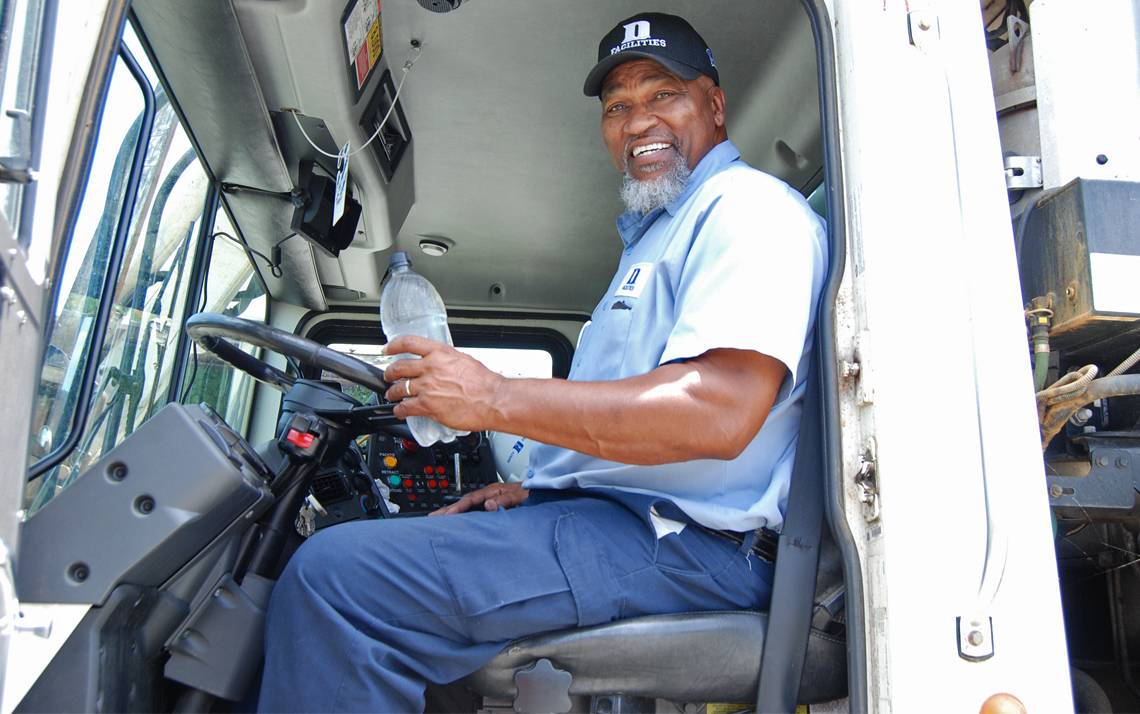 Buck King, a senior sanitation equipment operator with Duke's Facilities Management Department, has a routine on summer nights. When temperatures rise and he knows he'll be working the next day, he fills a plastic drink bottle with water and stashes it in the freezer.
By morning, the water is frozen and the bottle will slowly melt and give him a constant supply of cold water in the front-loading truck he pilots around campus.
"It lasts for a while," he said.
With an average high temperature of 90.2 degrees, July is historically the hottest month of the year in this part of North Carolina, according to the National Weather Service.
"Odds favor July being warmer than normal," said Nicholas Petro, Warning Coordination Meteorologist with the National Weather Service in Raleigh. "How much above normal, one, two three or more degrees above normal? We don't know. But the odds favor us being above normal."
Across Duke, there are employees whose jobs call for them to spend time outdoors year-round. For them, finding ways to handle the summer heat is important. Even if you don't spend as much time outside, there's plenty to learn from how they approach working outdoors.
Plan ahead
Part of Hap Zarzour's job is to make sure that when Blue Devils athletes and staff members work out in the summer heat, they  have everything they need, whether it's sunscreen, cool moisture-wicking clothing or seemingly endless quantities of cold water.
"You have to prepare for it," said Zarzour, executive director of Duke Sports Medicine who's been with Duke Athletics since 1992.
Dehydration is a major concern for anyone spending time outdoors in the summer. While it's helpful to drink while you're in the heat, it's perhaps more important to drink water beforehand. Zarzour said he'll tell athletes and staff members to drink water around the clock before a hot day in order to ensure they stay hydrated.
In addition to water, Zarzour stresses the importance of maintaining a healthy diet to replace the nutrients that will sapped by heat. Smart choices are fruits and vegetables that are mostly made up of water such as salad greens and watermelon.
"A lot of times if people are out exercising in the heat, or out doing yard work or just lying on the beach, they may not have eaten," Zarzour said. "So now they face a combination of dehydration and low blood sugar because they don't have fuel in the tank."
Finally, Zarzour said it's important to have a realistic view of what's ahead. When temperatures rise, coaches often amend plans for outdoor workouts. Zarzour said the rest of us should follow that example and think twice before trying to do too much in summer heat.
"We often say 'The main causes of heat-related illness are temperature, humidity and stupidity," Zarzour said. "It's a preventable problem, so let's prevent it."
Gear up
With 55 lush acres and a year-round stream of visitors, there's always work to be done at the Sarah P. Duke Gardens.
For Michelle Rawlins, Duke Gardens horticulturist, work days this time of year are divided between outdoor garden projects in the morning and watering plants later in the day.
"I grew up in Minnesota, so I'll never be used to the heat and humidity down here," she said. "Plants struggle just as much as we do, so we try to give them a shot of water before it gets too hot."
In the summer months, plenty of thought goes into ensuring that the roughly 24 staff members and interns on the horticulture staff have things that help them do their jobs safely.
As they go through the day, the staff members are rarely more than an arm's reach away from something to drink. But if plain water has gotten tiresome, they freshen it up with some of the packs of powdered flavoring found in the staff kitchen or they grab a flavored ice pop from the freezer.
"Sometimes it's easier to do the ice pops, especially in the afternoon when it's just so hot," said Jeff Harward, Duke Gardens' facilities manager. "It gives you a chance to get away from everything and come inside for a while."
Staff members and interns also wear hats to protect themselves from the sun and breathable, moisture-wicking shirts designed to keep them cool.
Harward said there's sunscreen and insect repellent available to those working in the gardens. There are also moist towelettes available that contain sunscreen and insect repellent to help make reapplication easier.
"We want to make sure everyone has what they need," Harward said.
Adjust Your Day
The list of tasks handled by Duke Facilities Management staff may not vary too much between seasons. But for those that work outdoors, the way they're completed will change when the weather gets hot.
Senior Sanitation Equipment Operator Buck King is grateful for the air conditioning in the truck he uses to move around campus to pick up waste. With his job requiring him to leave the cab often, he'll reshape his workflow to adjust for the heat.
"We try to do our work early in the morning when it's cooler," said King, who starts his shift around 6 a.m. "In the afternoon, it's a lot different."
For Dexter Gooch, a recycler with Duke Facilities Management, the action is constant as he and his colleagues bounce around Duke, collecting recyclables from campus bins and loading them on a truck.
"In an eight hour period, depending on where our stuff is, we can spend as much as four hours outdoors," Gooch said.
That means that during the summer, Gooch's team builds in more breaks – often consisting of 10 minutes spent in an air-conditioned space sipping water.
"It just gives us a chance to get out of the sun and recharge," Gooch said.
Have a story idea or news to share? Share it with Working@Duke.