Class of 2019: Eight Students Who Changed Duke ... and Themselves
The 5,500 students who will graduate Sunday have had many extraordinary experiences during their time at Duke. There's Luke Ferrell, who watched as the U.S. Supreme Court debated his research on gerrymandering. Shomik Verma was the technical lead on a student engineering team that is now part of the Guinness Book of World Records for fuel efficiency research. And Shandiin Herrera combined research and activism to strengthen Native American communities both at Duke and across the nation.
We can't tell all 5,500 stories of our 2019 graduates, but the ones below are representative of the class and express the ideals of a Duke education. Including both undergraduates and graduates, these students have used Duke's innovative academic programs to produce scholarship and service that better our communities and prepare them as citizens for the 21st century.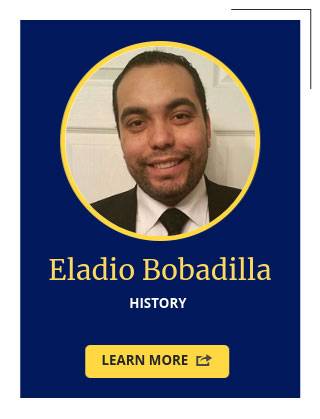 Eladio Bobadilla's journey to a Duke Ph.D. in history was a most unusual one. Born in a rural village in Mexico, he came to the United States at age 11, becoming documented at age 19. None of those years were easy. In an interview with The Chronicle, Bobadilla said he nearly gave up high school, thinking it useless. After a stint in the Army he returned to education and used his experiences as an immigrant to drive his academics studies.
His parents were an important guiding force in bringing him back to education. Neither had schooling beyond the elementary grade level; the message he learned from them was "there's always hope."
Bobadilla studies immigration history and rights and will join the faculty of the University Kentucky in the fall. Read more in The Chronicle.
"My mom and dad, who never got even an elementary education, always hoped that I'd be an academic. I will defend my dissertation in three days and have a tenure-track job lined up. I hope my career honors them and the sacrifices of millions of immigrants like them."
---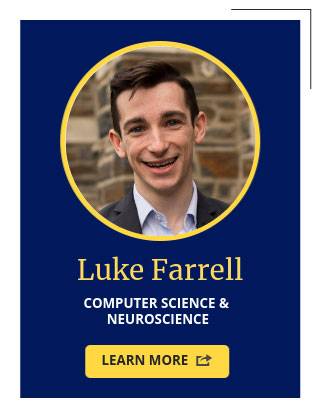 The combination of democracy and data had U.S. Supreme Court justices reading research produced by Luke Farrell and a Bass Connections team on Gerrymandering and the Extent of Democracy in America. And Farrell had a seat in the courtroom for the oral arguments.
Farrell said he was grateful for the Bass Connections opportunity to work on gerrymandering with faculty, graduate students and other undergraduates from a variety of disciplines. He said he came to Duke with an interest in math and computer science, and the Bass Connections project allowed him to use those interests on an issue that might make history.
"That moment (before the Supreme Court) made it clear to me that data and democracy are inextricably tied in our collective future," Farrell said, "and that I want to work at their intersection in my own future."
"The questions we seek answers to have vast implications, and Bass Connections brings together amazing interdisciplinary teams uniquely equipped to tackle them head on."
---
Quentin Harris was trained to think creatively as quarterback of the Duke football team. Some of that talent also came from the Innovation & Entrepreneurship Program, where he earned a certificate and used his skills to advise local business on new enterprises.
In one of his several projects, he studied how government and entrepreneurs can best work together to promote sustainable economic growth in Durham. Working with a local real estate firm, he did market research concerning One City Center, exploring the consequences of the project on social welfare in the area.
For his capstone project, Harris explored how virtual reality could be used in training nurses.
"If I do choose to potentially own my own company or take over for my dad's company one day, I think the (Innovation & Entrepreneurship) program has given me a great foundation to really learn the ins and outs of running a business."
---
Senior Shandiin Herrera came to Duke understanding she wouldn't find many other Native American students on campus. And the first year was harder than she expected.
Four years later she leaves as Duke's first Native American Udall Scholar and as a campus leader who has advocated for more institutional support for Native students. Herrera has helped members of the Native American Duke community better connect and make their presence known on campus. 
At the same time, her research prepares her to help Native American communities around the country.  After graduation, she will work at the nonprofit Lead for America, assessing advocacy and policy proposals for the president of the Oljato Chapter of the Navajo Nation.
"It's important to understand we are here. There are currently 573 federally recognized tribes in the U.S., each with diverse cultures and histories, despite what a lot of history classes and Hollywood films would have you think."
---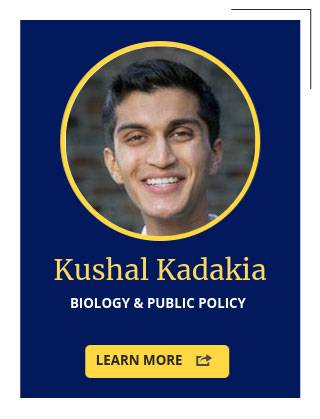 Kushal Kadakia's leadership can be found everywhere on campus. It's not just his resume – which includes service on the Duke Honor Council, as Duke Student Government vice president, the Duke University Board of Trustees, the Duke Presidential Advisory Committee on Investment Responsibility, and the Duke Undergraduate Conduct Board – it's that his roles in each of them has brought results. These include raising the profile of honor issues on campus to his successful campaign to make Duke a smoke-free campus.
Then there are the academics. The Angier B. Duke Scholar has done research in medicine and public policy that earned him a Faculty Scholar – the highest award bestowed by faculty on student scholars. Much of the research has focused on making health care access more equitable and accessible. Kadakia was part of a Bass Connections research project that reported to legislators on North Carolina's Medicaid policies.
For this combination of scholarship, leadership and service, Kadakia received a 2018 Truman Scholarship, and this year he was named a Rhodes Scholar. At Oxford, he will pursue graduate studies in medicine and public policy.
"I am still humbled, and a bit incredulous, at how much policy knowledge and intellectual authority Kushal exhibits -- and how much respect he commands -- before even completing his bachelor's degree."
---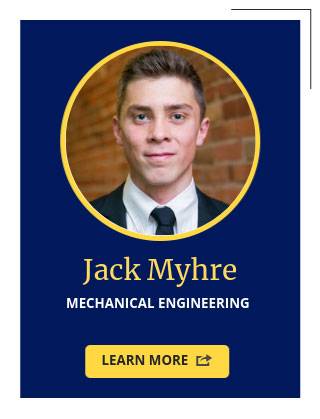 A native of East Africa, Jack Myhre came to Duke both enchanted by the world he grew up in and concerned about the changes global warming was bringing to it. He leaves Duke having spent four years using his engineering interests and skills to making the world a more sustainable place.
Myhre said his hope is to "slow, stop or replace engineering practices that are destroying the environment." At Duke, he did an internship in rural Burundi that involved designing a building and solar installation.  In New Zealand, he studied energy engineering that further developed his interest in creating technical solutions that limit environmental impact while pushing global change.
This year, he was one of 34 recipients of the Gates-Cambridge Scholarship. Myhre hopes to use his time at Cambridge to develop skills that allow him to make a difference in East Africa, making its growth sustainable and not detrimental to the people and land he loves.
"I have known Jack for a while now -- even before he came to Duke -- and his intellect, character, humility and devotion to others have equipped him to be a formidable force for good in the world."
---
One of Shomik Verma's many triumphs at Duke was not to go fast, but to go efficient. As one of the leaders of the Pratt School Duke Electric Vehicles team, he helped build a hydrogen fuel cell car that set a Guinness World Record for the most fuel-efficient human-carrying vehicle ever built.
That is just one accomplishment that earned him a trio of prestigious scholarships that reflect his accomplishments at Duke: As a junior he received the Goldwater and Udall Scholarships, and this year he earned a Marshall Scholarship. Among his other projects, Verma served as president of the Duke Energy Club, where he helped create three new assistantships for students to do energy research with faculty.
His future studies as a Marshall Scholar will continue his interest in the potential of renewable energy technologies to radically reduce human impact on the environment.
"During my years of mentoring students and supervising their research, I have hardly ever seen a student as talented and hard-working as Shomik."
---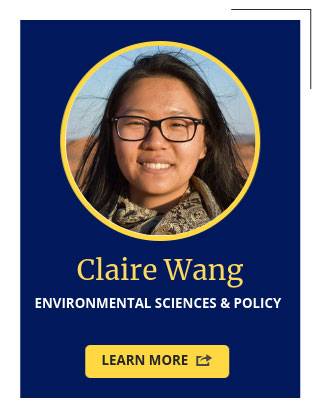 Many students say their time at Duke changes them. Claire Wang is one student who changed Duke.
A Utah native with a long history of environmental activism, Wang, working in student groups such as the Duke Climate Coalition, lobbied on a variety of energy and environmental issues that changed university policy. She chalked up important successes on renewable energy policy and blocking a natural gas plant proposal.
The combination of scholarship and advocacy helped Wang win a trio of prestigious scholarships: The Udall and Truman scholarships as a junior and a Rhodes this year.
With Rhodes funding, Wang plans to pursue two consecutive master of science degrees at Oxford in Nature, Society and Environmental Governance and in Global Governance and Diplomacy. She hopes to pursue a career in environmental advocacy.
"The impulse for advocacy has always been built into my interest in the environment, starting in my childhood by pestering my friends and family to change their own habits, and now pushing for institutional and systemwide change. With such urgent environmental threats, I never saw any choice but to act."
To see more stories about graduating students, check out our series of profiles here.
A list of university, departmental and national honors for members of the Class of 2019 is here.