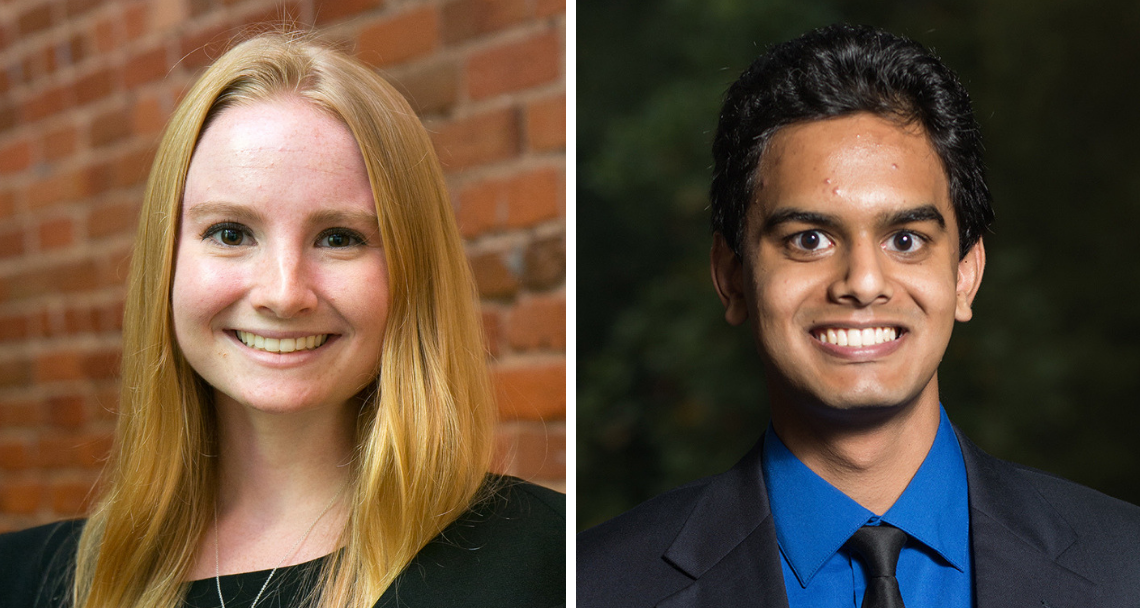 Two Duke University seniors are among the 48 recipients of the prestigious Marshall Scholarship, the program announced Monday.
Julie Uchitel of Southampton, Pennsylvania, and Shomik Verma of Houston were chosen from among more than 1,000 applicants throughout the country. They are the 28th and 29th Marshall recipients from Duke.
Approximately 40 Marshall Scholarships are awarded each year to high-achieving American students to pursue post-graduate studies at any university in the UK in any field. The award covers all university fees, cost-of-living expenses and many other costs.
"On behalf of the entire university community, I am delighted to congratulate Julie and Shomik on this great honor, which reflects their truly exceptional work at Duke," said Duke President Vincent E. Price. "Throughout their time here, they have contributed not only in the classroom and lab but also through public service, cultural engagement and residential leadership. The Marshall Scholarship's mission is to identify and support future leaders, and I am confident that Julie and Shomik's experience at Cambridge University will prepare them for excellence in their chosen fields."
Uchitel, a neuroscience and French double major, has conducted both clinical and basic pediatric research since high school at Duke Children's Hospital and at The Children's Hospital of Philadelphia. Her research has resulted in two published scientific articles, three first-author papers in preparation and four additional papers in campus science journals. 
At Duke, she is president of the Neuroscience Majors' Union, and was the neuroscience department's nominee for the Faculty Scholar Award, the highest honor given by faculty to students.
In addition to her academic interests in neuroscience, Uchitel has spent her time at Duke exploring the intersection of science and the humanities. For her, French literature is a way to understand this intersection.  She said that's why she pursued a second major in French, reading such writers as Proust and Flaubert, studying abroad in France, and volunteering at a children's hospital in Paris. "Proust provides a careful accounting of how we remember the past, while Flaubert's writings reveal his struggles with epilepsy," she said.
In addition to her interest in pediatric medicine and developmental neuroscience at both the clinical and basic science levels, Uchitel focuses on early childhood and child rights.
She said she believes that proper early childhood brain development is crucial to forming a strong foundation that will serve children for the rest of their lives. Child rights, the human rights specifically due to children, inherently promote early childhood development. She is currently writing an article on child rights and early child development with the International Pediatric Association and members of the World Health Organization. 
Uchitel's extracurricular commitments include serving as co-president of Duke's Global Medical Brigades, where she traveled twice to Honduras to bring medical care to local communities; serving as editor-in-chief of the Duke Student Global Health Review; and volunteering in science outreach to local girls through FEMMES.
With Marshall funding, Uchitel will pursue a research master of philosophy (MPhil) in pediatrics at Cambridge, developing a new optical imaging technology for newborns at risk for brain injury, and a master's degree in international child studies at King's College London. She has already secured academic advisers for her research projects at both institutions.
 "I am incredibly grateful to have been chosen as a 2019 Marshall Scholar," Uchitel said. "I greatly look forward to beginning my studies in the UK and working to strengthen the US-UK relationship through pediatric care and child rights dialogue." 
Verma is studying mechanical engineering, with minors in energy engineering and mathematics. He is involved in energy research and has been working for the past three semesters in the Thermodynamics and Sustainable Energy Laboratory with Nico Hotz, assistant professor of the practice in the Department of Mechanical Engineering & Materials Science. 
Verma has previously been selected for a Goldwater Scholarship and a Udall Scholarship. Faculty have chosen Verma to be both a Grand Challenge Scholar and a Pratt Fellow, honors that offer extensive lab experience. He was also elected to Tau Beta Pi and serves as co-president of Pi Tau Sigma.
For his Pratt fellowship, Verma is working with solar thermal energy for hydrogen production and has applied this knowledge as co-president and technical lead of the Duke Electric Vehicles team, building a hydrogen fuel cell car and leading a Duke student team to a Guinness World Record for the most efficient human-carrying vehicle ever built. 
The Duke Electric Vehicles team also received top prizes at the 2018 Shell Vehicle Eco-Marathon: first place in both the Hydrogen Fuel Cell and Battery Electric Prototype categories, as well as a Technical Innovation Award for their supercapacitor storage system.
Verma is also president of the Duke Energy Club, through which he has worked with Duke's Energy Initiative to create three new assistantships for students to do energy research with faculty. He's also co-president of the Duke Smart Home, a living-learning community where residents live in a LEED platinum building and work on technological solutions to sustainability issues. In addition, Verma has been involved with Duke's Solar Spring Break program that takes undergraduates to underserved communities to install solar panels.
Skilled in playing an Indian classical drum called the tabla, Verma has worked to increase the visibility of Duke's South Asian music group, Sangeet, on campus. This effort led to their first-ever performance in Duke Chapel during a Diwali service in fall of 2017.
Fascinated by the potential of renewable energy technologies to radically reduce human impact on the environment, Verma will join the lab of lecturer Rachel Evans at Cambridge University to pursue his near-term objective of developing novel materials that increase the efficiency of solar photovoltaic cells.
"When I first received the call that I was selected as a Marshall Scholar, I was in utter disbelief," Verma said. "I had to check my phone's call history several times to make sure I didn't dream the whole thing! I'm so thankful for the support of my family, friends and advisers, and I'm beyond excited to spend the next two years in the UK working on developing the next generation of solar technology."
Marshall Scholarships were established in 1953 by the British government to honor the ideals of the Marshall Plan and the special US/UK relationship.
A list of this year's recipients is online at http://www.marshallscholarship.org/.