Student Honors and Laurels for 2019
National, university and department awards for students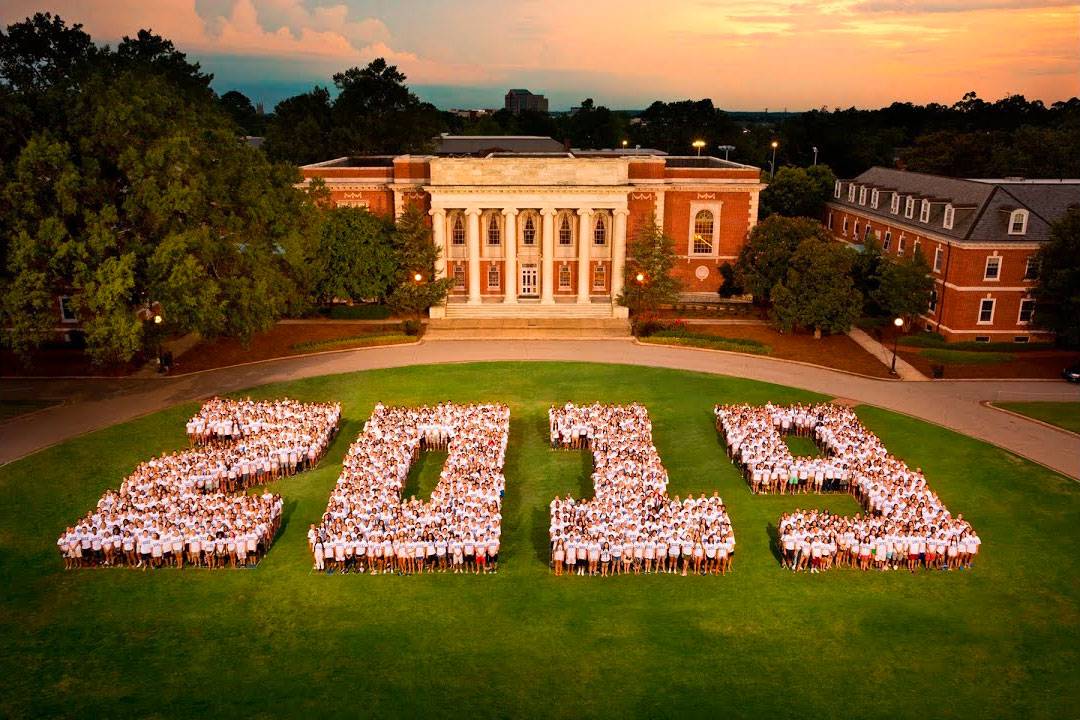 NATIONAL & INTERNATIONAL SCHOLARSHIPS
Rhodes Scholarship
Three Duke University seniors were among the 32 recipients selected for prestigious Rhodes Scholarships.
Kushal Kadakia from Houston, Ariel Kantor from Chapel Hill, and Claire Wang from North Salt Lake, Utah, were chosen from among 880 applicants at 281 colleges and universities throughout the country. They are the 47th, 48th and 49th students in Duke's history to receive Rhodes Scholarships, which provide for all expenses for two or three years of study at the University of Oxford in England.
This marks the third time that Duke has had three Rhodes Scholars in one year.
Marshall Scholarship
Julie Uchitel of Southampton, Pennsylvania, and Shomik Verma of Houston were named among the 48 recipients of the prestigious Marshall Scholarship, chosen from among more than 1,000 applicants throughout the country. They are the 28th and 29th Marshall recipients from Duke.
Gates-Cambridge Scholarship
University Scholar Jack Myhre was among 34 U.S. recipients selected for a Gates-Cambridge Scholarship.
The scholarship covers a student's tuition and living expenses while completing a graduate degree at the University of Cambridge. Myhre, of Buckhannon, West Virginia, is Duke's 13th Gates-Cambridge Scholar.
Truman Scholarship
Duke junior Daisy Almonte was among 62 students selected nationally as 2019 Truman Scholars.
The scholarship is the nation's living memorial of President Harry S. Truman. Students from every state are selected based on their leadership potential, high academic achievement and a commitment to careers in public service and advocacy.
Duke seniors Kushal Kadakia and Claire Wang received the scholarship in 2018.
Goldwater Scholarship
Duke undergraduates Azim Dharani, Jill Jones, Kunal Shroff and Caroline Wang are among 496 students awarded Goldwater Scholarships on Friday for the 2019-2020 academic year.
The Goldwater Scholars were chosen on the basis of academic merit from a pool of 1,223 natural science, engineering and mathematics students nominated by the institutional representatives of 443 colleges and universities nationwide.
Duke senior Shomik Verma won the scholarship in 2018.
Udall Scholarship
Duke sophomore Kya Locklear was named one of 55 recipients of the Udall Scholarship, which recognizes students who have demonstrated a commitment to careers in the environment or Native American tribal public policy or health care.
Shandiin Herrera, Shomik Verma and Claire Wang all received the scholarship in 2018.
UNIVERSITY AWARDS
Aerospace Studies
Natasha Jo Torrens won the Daughters of the American Revolution Award. Torrens also received the Distinguished Graduate Award.
African & African American Studies
Sadé Dinkins won the John Hope Franklin Award for Academic Excellence.
Jaida Brielle Lemmons and Dorothy Alexis received the Karla F. C. Holloway Award for University Service.
Sloan Talbot and Chidi Okonya received the Walter C. Burford Award for Community Service.
Kendall S. Bell and Sadé Robbie Dinkins won the Mary McLeod Bethune Writing Award.
Art, Art History and Visual Studies
Lauren Adair Jones received the Mary Duke Biddle Foundation Visual Art Award.
Jessica Caitlin Williams and Angela Maged Tawfik won the Nancy Kaneb Art History Award.
Gvantsa Ivanishvili earned the Sue and Lee Noel Prize in Visual Arts.
Mathilda Wiveka Magnusdotter Christensson and Sierra Jensen Lorenzini earned the Visual Studies Initiative Award.

Arts of the Moving Image
Rhys Johnevan Morgan earned the Outstanding Undergraduate Filmmaker Award.
Michael William McAloon Jr. received the Rodger Frey Film Essay Award.
Asian & Middle Eastern Studies
Shuqi Zhao won the Outstanding AMES Honors Thesis.
Asian Pacific Studies Institute
Zhong Huang, Alan Ko, Andrew Guokun Lin, William Weiran Tong, Stella Enpei Wang, Grant Wen and Adary Zhang all received the Sirena WuDunn Memorial Scholarship.
Athletics
Kayla McCoy and Mitchell Louis Finesilver earned the ACC Plaque for Excellence, Scholarship and Athletics.
Biology
Othmane Jadi received the Biology Faculty Award.
Peishu Li won the James B. Rast Memorial Award in Comparative Organismal Biology.
Laura Catherine Naslund received the Edward C. Horn Memorial Prize for Excellence in Biology.
Ruolin Miao won the Excellence in Plant Science Prize.
Trevyn Adare Toone earned the Maggie Schneider Award in Marine Biology.
Biostatistics and Bioinformatics
Yunji Zhou won the Chair's Academic Recognition Award.
Meilin Jiang received the Overall Academic Excellence Award.
Kuei Yueh Ko earned the Student Leadership Award.
Kristie Ann Kusibab won the Outstanding Master's Project Award in the Clinical and Translational Research Track.
Yue Liang received the Outstanding Master's Project Award-Biomedical Data Science Track.
Lu Liu earned the Outstanding Master's Project Award-Mathematical Statistics Track.
Chemistry
Adam Xiao-xia Wayment received the American Chemical Society Undergraduate Award in Analytical Chemistry.
Malik Williams won the American Chemical Society Undergraduate Award in Inorganic Chemistry.
Andy Chen received the American Chemical Society Undergraduate Award in Organic Chemistry.
Elizabeth Rose Smithwick won the American Chemical Society Undergraduate Award in Physical Chemistry.
Trevor James McBroom earned the Merck Index Award.
Christian Patrick Tanner received the Department of Chemistry Award.
Classical Studies
Sarah Elizabeth Needham earned the Classical Association of the Middle West and South Award for Outstanding Accomplishment in Classical Studies and the David Taggart Clark Prize in Classical Studies.
Computer Science
Xingyu Chen and Rohith Kuditipudi received the Alex Vasilos Award.
Natalie Cecile Huffman and Yehan Mo won the DeNardis Award.
Cultural Anthropology
Jaime Abbygayle Gordon won the Judith McDade Prize in Cultural Anthropology.
Sloan Arlene Talbot and Jair Fernando Oballe Vasconcellos won the Paul Farmer Award for Justice and Social Responsibility.
Dance
Michelle Lynne Staggers received the Dance Writing Award.
Julia Belle Kemper earned the Julia Wray Memorial Dance Award.
Divinity School
Brooke Allyn Olmstead received the Award for Excellence in Bible.
Margaret Imelda Quinn won the Jameson Jones Preaching Award.
Jackson Conrad Parmelee and Katherine Joy Waltar received the Frederick Buechner Writing Award.
Jonathan Mark Dansby received the Heitzenrater Award for Excellence in History.
Deborah Ann Wong Shan En won the Hoyt Hickman Award for Excellence in Liturgics.
Meredith Megan Victoria Menius and Juan Carlos Turcios won the McMurry Richey Award in Field Education.
Kendal LeRod McBroom won the McMurry Richey Award in Missions.
Doyle O'Neal Vick earned the McMurry Richey Student Pastor.
Deborah Ann Wong Shan En earned the Seminarian Award of the Fellowship of United Methodist in Music and Worship Arts.
Documentary Studies
Sini Nina Chen received the Julia Harper Day Award for Documentary Studies.
Duke Alumni Association
Forever Duke Student Leadership Awards were presented to Caroline Rusk Amoroso, Kristel Victoria Black, Eladio Benjamin Bobadilla, Michael Robert Brunetti, Angel Bernice Christine Clark, Temis Coral Castellanos, Ariana Noel Eily, Valentine Rae Esposito, Rory Henry, Shandiin Heather Herrera, Kushal Tushar Kadakia, Sarah Elizabeth Loftus, Donald Andrew Moratz, Felix O. Nwogbo, Charles Benjamin Pearlman, Reed Perry, Kristina Elizabeth Smith, Stephanie Frances Stefanski, Lance Tran, Amulya Vadapalli and Timothy Jinhyung Yoon.
Duke Global Health Institute
Cyrus Elahi won the Madeline Boccuzzi Outstanding Master of Science in Global Health Student Award
Madison Ann Mastrangelo earned the Michael Merson Undergraduate Student Leadership Award in Global Health.
Duke Human Rights Center at the Franklin Humanities Institute
Louden Paul Richason and Hannah Rose Rogers received the Oliver W. Koonz Human Rights Prize.
Duke Service-Learning
Frances Catherine Beroset earned the Betsy Alden Outstanding Service-Learning Award.
Earth and Ocean Sciences
Peishu Li received the Thomas V. Laska Award.
Economics
Khuong Ba Thien Do won the Best Thesis honor.
Weiting Miao and Mengsi Gao earned the Duke Department of Economics Master's Program Award for Academic Excellence.
Donald Andrew Moratz, Ethan Michael Laidlaw McClure and Xueyin Yang received the Duke Department of Economics Master's Program Award for Leadership.
Matthew James Farrell and Stephanie Elizabeth Wiehe won for Outstanding Honors Poster (Faculty Vote). Sujay Gundavaram Rao and Ethan Byrd Lampert won the student vote.
Grace Mok and Hemal Patel won for Outstanding Symposium Presentation.
Education
Kalif Jelani Jeremiah and Sarah J. Pleasant earned the D.T. Stallings Award
Ruolin Miao, Michelle Lynne Staggers, Yue "Heather" Zhou, Sarah J. Pleasant, Raymond Earl Pryor IV and Likhitha Butchireddygari received the Holton Prize for Educational Research.
Engineering
Courtney AnnaLee Adams Montgomery won the American Society of Civil Engineers Outstanding Senior Prize.
Daniel Kai Sheng Boey, Courtney AnnaLee Adams Montgomery and Marina Carolyn Smalling received the Aubrey E. Palmer Award.
Madeline Fitch Briere and Madhavi Rajiv earned the Charles Ernest Seager Memorial Award.
Chance Robert Taylor Fleeting earned the Charles Rowe Vail Memorial Outstanding Undergraduate Teaching Award.
Michael Todd Scruggs won the David Randall Fuller Prize.
Neel Krishna Prabhu won the da Vinci Award.
Stephen Zhifan Xu earned the Edward D. "Ned" Light Memorial Award.
Elizabeth Rose Griffin and Emma Joy Jin Palmer won the Eric I. Pas Award.
Nathaniel Emerson Brooke earned the George Sherrerd III Memorial Award in Electrical and Computer Engineering.
Neel Krishna Prabhu received the Helmholtz Award.
Shomik Verma received the Mechanical Engineering and Materials Science Faculty Award.
Nathan William Watson received the Otto Meier, Jr. Tau Beta Pi Award.
William Allen Willis III received the Pi Tau Sigma Scholarship Award.
Benjamin Quimby Jackson and Tracy Lu won the Pratt School of Engineering Student Service Award.
Olivia Rose Gwynn won the Theo C. Pilkington Memorial Award.
Daniel Kai Sheng Boey, Madeline Fitch Briere, Courtney AnnaLee Adams Montgomery and Neel Krishna Prabhu earned the Walter J. Seeley Scholastic Award.
Charles Benjamin Pearlman received the William Brewster Snow Environmental Engineering Award.
English
Aaron Christopher VanSteinberg received the Anne Flexner Memorial Award for Creative Writing (Poetry).
Jack Bradford won the Award for Most Original Honors Thesis.
Alex Sim received the Barbara Hernnstein Smith Award for Outstanding Work in Literary Criticism or Theory.
Cullen Blair Tyndall earned the Louis J. Budd Award for Outstanding Work in American Literature.
Anne Marie Delmedico earned the Lucaci Award for Creative Non-Fiction.
Zhongyu Wang won the Stanley E. Fish Award for Outstanding Work in British Literature.
Nadia Kirmani won the Terry Welby Tyler, Jr Award for Poetry.
Environment
Anne Elizabeth Harshbarger earned the Marine Science and Conservation Award.
Virginia Elena Carta won the Sara LaBoskey Award.
Fuqua School of Business
John Brian Clark received the Alan D. Schwartz Award for Mentorship.
Thomas Jordan Terry received the Asa T. Spaulding, Sr. Award for Leadership.
Monroe Chen, Elliot G-Ming Wong and Jenna Nicole Weiner earned the the Breeden Award in Finance.
Deans' Recognition Awards were presented to Tuokpe Kelechi Ajuyah, Maria Carolina Alvares Dias Gomes, Tanya Assar, John Robert Belk, Jr., Ashley Marie Brown, Colin David Emerson, Robert Mumbert Frazier, Kelly Ann Froelich, Shannon Griesser, Lakisha Beth Menard, Jeffrey John Howard, Hannah Frey Lauber, Rana Alexandra Marks, Harold Robert Melia, Thiago Miranda, Jonathon Edward Morgan, Carolina Beatriz Pardo, Stephanie Marie Salem, Shrawan Kumar Saraogi, Deland C. Spencer, Kevin John Davlin Walton, Jonathan Michael Woodward, Timothy Jinhyung Yoon and Felipe Zuluaga Piedrahita.
Rosanna Geraldine Arias received the Distinguished Service Award.
Jeanette M. Carneglia and Arthur Taylor Donner won the Keohane Leadership Award.
Gender, Sexuality, and Feminist Studies
Shannon Marie Malloy and Nisha Jacqueline Uppuluri won the Dora Anne Little Award.
The Graduate School
Brandon Thomas Fain and Emily Kathleen Pechar won Dean's Awards for Excellence in Teaching.
Ashleigh Linnea Thomas received the Dean's Award for Excellence in Mentoring.
Felix O. Nwogbo earned the Samuel DuBois Cook Award.
History
Sisi Tang and Cullen Blair Tyndall won the William T. Laprade Prize.
International Comparative Studies
Matthew Wai Leung Tran earned the Capstone Research Prize.
Phoebe Naomi Mary O'Hara and Daniela Isabel Flamini won the Distinguished Thesis Award.
International Master of Environmental Policy
Fanyu Wang earned the Highest Achieving Student Award.
Yan Gao received the Student Leadership Award.
Linguistics Program
Natasha Jade Shui Mu Derezinski-Choo received the Distinguished Thesis Award in Linguistics.
Mathematics
Irina Cristali and Zhenhua Liu earned the Excellence in Research.
Irina Cristali, David Geng, Zhenhua Liu and Xueying Wang won the Julia Dale Prize in Mathematics.
Zhenhua Liu and Xueying Wang received The Karl Menger Award.
Medicine
Emma Margaret Fixsen won the Arnold P. Gold Foundation Leonard Tow Humanism in Medicine Award.
Jania Arcia-Ramos, Claire Emilie Edelman, Andrew Duane Francis, Neelima Panth and Rasheedat Tolulope Zakare-Fagbamila received the Brenda Armstrong Living the Dream Award.
Amanda Rose Sergesketter earned the Bollinger Scholarship.
Benjamin Yates Andrew, Christopher D. Calixte, Valentine Rae Esposito, Kyle William Freischlag and Rasheedat Tolulope Zakare-Fagbamila earned the Clinical and Translational Science Award.
Tracy Zong Cheng received Clinical and Translational Science Institute recognition.
James Clark Campbell, Jonathan Lik-Heng Chang, Tracy Zong Cheng, Zachary Richard Dionise, Aaron Michael Hein, James Henry Helzberg, Kelly Rose McHugh, Amanda Lauren Nash, Brahma Darshni Natarajan and Lloyd Zhao earned the Dean's Merit Scholarship.
Ashley Victoria Adams, Isaac David Bleicher, Emma Margaret Fixsen, Michael Odero Ongele, Shannon Kathleen O'Connor, MengMeng Xu and Banafsheh Sharif-Askary received the Dean's Recognition Award.
Temitope Gafaar, Emily Claire Lydon, Charles John Puza, Oretunlewa Olufemi Brandon Soyinka, George Nhat Tran and Hunter Sung Leong Warwick received the Dean's Tuition Scholarship
Matthew A. Lyes won a Donald B. Hackle Scholarship.
Emma Margaret Fixsen, Temitope Gafaar and Eliza Danielle Hompe earned a Doris Duke Fellowship.
Andrea Kathleen Ansari received the Doris Parrish Cardiology Award.
Peter Anthony Wood won the Doris Parrish Oncology Award.
Aman D. Kansal, Anthony Lee Lin and Sarah Kay Scharber received recognition from the Duke Institute for Health Innovation.
Sravya Mallam Bhatia, Allison Samantha Bloom, Charles Z. Fang, Hanna Roza Kemeny, Jeffrey Tin Wai Kwock, Emily Claire Lydon, Michael Odero Ongele, Sneha Raghavendra Rao, Ruya Zhao and Tingrui Zhao received Eugene A. Stead Student Research Scholarships.
Kristen Elizabeth Rhodin won the Fullerton Scholarship.
Justin Zhuo was recognized by the Howard Hughes Medical Institute-National Institutes of Health Research Scholar Program.
Gabriel Ferreira Neves won a Howard Hughes Medical Institute – Research Training Fellowship.
Shay Lyn Behrens received the HVTN RAMP.
Jacob Wayne Trotter won the Ideal Physician Award.
Ashley Victoria Adams earned the Joseph Collins Fellowship.
Kyle William Freischlag won the Palmer Memorial Scholarship.
Jeffrey Tin Wai Kwock received the Palumbo Family Award.
Julia Rose Salinaro was recognized by the Rauch Family Foundation.
Ashley Victoria Adams, Isaac David Bleicher, Eliza Danielle Hompe, Jeffery Tin Wai Kwock, Chloe Elizabeth Peters, Kristen Elizabeth Rhodin, Banafsheh Sharif-Askary, Rachel Sydney Tobin and Jacob Wayne Trotter received the Anlyan Scholarship.
Emma Margaret Fixsen and Visakha Suresh received the Barham Scholarship.
Stephen Grant Wahlig earned the Singapore Fellowship.
Kelly Rose McHugh won the Society for Academic Emergency Medicine Medical Student Excellence Award.
Eliza Danielle Hompe won the Vice Dean's Research Award - Basic Sciences
James Clark Campbell, Valentine Rae Esposito, Julia Rose Salinaro and Peter Anthony Wood won the Wilburt Davison Award.
Military Science
Maddison Nicole Hunter is the Distinguished Military Graduate.
Music
Elise O'Neal Fernandez earned the Ann-Marie Parsons Memorial Prize.
Aaron Kimi Hong won the Henry Schuman Music Prize.
Jerry Chia Rui Chang, David Geng and Yang Sheng Joseph Tan won the Julia Wilkinson Mueller Prize for Excellence in Music.
Andrew John Eurdolian and Samantha Woog received the Paul R. Bryan Award.
Yahn Wagner Ferreira de Mello Pinto received the William Klenz Prize in Music Composition.
Naval Science
Ryan DuTot received the Admiral Frank Bowman Leadership Award.
Barret Manfre won the CNO Distinguished Graduate Award.
Michael Hubbard Ortiz earned the USAA Spirit Award.
Office of Health Professions Advising
Othmane Jadi received the Raymond Lublin, M.D. Award.
Office of the Provost
Idalis Rae French and Moreen Njoroge received the Algernon Sydney Sullivan Award.
Physical Therapy
Kayla Chee earned the Duke Doctor of Physical Therapy Diversity Award.
Katie Elizabeth Scaff won the Helen Kaiser Duke Physical Therapy Alumni Association Award
Kathleen Morgan Daly, Lindsay Ann DiMarco, Katlin Elizabeth Burwell Harker, Stephanie Leigh Igo, Trac N. Norris, Alexis Marie Reinbolt, Katie Elizabeth Scaff, David Andrew Stewart and Francis Thomas Talty received the Helen Kaiser Scholarship Award.
Benjamin C. Ramger earned the Student Recognition Award.
Physics
John Franklin Crenshaw won the Daphne Chang Memorial Award.
Policy, Journalism & Media Studies
William David McCarthy received the Fischer-Zernin Award for Local Journalism.
Julia Renee Donheiser earned the Melcher Family Award for Excellence in Journalism.
Political Science
Qiang Zhang won the Alona E. Evans Prize in International Law.
Rachel Elizabeth Sereix won the Elizabeth G. Verville Award.
Xinchen Li earned the The Jerry B. and Callie Irene Stone Award.
Katherine McKinney won the Ole R. Holsti Award in American Foreign Policy and International Relations.
Jackson Childers Dellinger won the Robert S. Rankin Award for Leadership and Academic Achievement
Samuel David Frederick earned the Robert S. Rankin Award in American Government and Constitutional Law.
Sarah Sibley received the the Robert S. Rankin Award in American, National, State, and Local Governments.
Program II
Erick Daniel Aguilar and Likhitha Butchireddygari won the Vagwala Service and Leadership Award.
Psychology
Alisa Bedrov earned the Jerome S. Bruner Award for Excellence in Undergraduate Research.
Julia Karen Nicholas won the Karl E. Zener Award for Outstanding Performance of an Undergraduate Major in Psychology.
Public Policy
Kushal Tushar Kadakia won the Joel Fleishman Distinguished Scholar Award.
Shandiin Heather Herrera received the Terry Sanford Leadership Award.
Madison Ann Mastrangelo is the winner of Best Honors Thesis.
Religious Studies
Sage Garcia received the Best Paper Award.
Romance Studies
Tiffany Sierra de Guzman won the Guido Mazzoni Prize in Italian.
Tyler Jordan Goldberger received the Richard L. Predmore Award in Spanish.
Julie Christina Uchitel received the Robert J. Niess /Alexander Hull Award in French.
School of Nursing
Christina S. Merrill received the Annie Beery Bieber Award for Outstanding Leadership Award.
Breanna Jean Anderson received the Bonnie Jones Friedman Humanitarian Award.
Kayla Marie Fisk received the Outstanding DNP Scholarly Project Award.
Blair Elizabeth Collins won the Ruby L. Wilson Excellence in Clinical Practice Award.
Bonnie Pope Matthews earned the Thelma Ingles Excellence in Clinical Expertise and Scholarly Activities Award.
Student Affairs
Rachel Aron Berlowe Binder received the Distinguished Leadership and Service Award for Building Alliances Through Collective Engagement.
Anya Bali won the Distinguished Leadership and Service Award for Commitment to Diversity.
Keitavious Elijah Trevon Walk won the Distinguished Leadership and Service Award for Demonstration of Integrity.
Dorothy Alexis received the Distinguished Leadership and Service Award for Expanding the Boundaries of Learning.
Brian Bok-Kee Buhr earned the Distinguished Leadership and Service Award for Respect for Community.
Matthew Oliver Conley and Anya Bali earned the William J. Griffith University Service Award for Outstanding Contribution to the Duke Community.
Keitavious Elijah Trevon Walk earned the William J. Griffith University Service Award for Outstanding Contribution to the Durham and Local Community.
Dillon Stewart Leovic won the William J. Griffith University Service Award for Outstanding Contribution to the Global Community.
Theater Studies
Onastasia Belle Ebright won the Faculty Award for Entrepreneurship in Theater.
Nancy Merlin and Morgan Fears received the Forlines Family Theater Studies Grant.
Rebekah Davis Harvey Wellons received the Harold Brody Award for Excellence in Musical Theater.
Alexus Ashley Wells earned the John M. Clum Distinguished Theater Studies Graduate Award.
Nancy Merlin won for Outstanding Acting Student.
Reilly Mavis Johnson won for Outstanding Technical Theater and Design Student Award.
Morgan Fears received the Reynolds Price Award for Best Original Script for Stage, Screen, or Television.
Trinity College of Arts and Sciences
Tae Catalina Markey and Jack Bradford earned the Bascom Headen Palmer Literary Prize.
Edward H. Benenson Award in the Arts were presented to Jane Louise Booth, Gabriel Braunstein Guedes, Ashley Caitlin Manigo, Nancy Merlin, Amulya Vadapalli, Aaron Christopher VanSteinberg, Zhongyu Wang and Samantha Woog.
Julie Christina Uchitel and Elayne Shau Wang won the James Rolleston Prize for Best Literary Honors Thesis in a Foreign Language.
Rhys Johnevan Morgan received the Louis B. Sudler Prize in the Creative Arts and Performing Arts.
Undergraduate Awards
Seniors John Franklin Crenshaw, Kushal Tushar Kadakia and Mumbi Makena Kanyogo received the Faculty Scholar Award in 2018. Honorable Mention went to Louden Paul Richason and Laura Catherine Naslund.
Sarah J. Pleasant, Madelynn Rae Norton and Rohan Sheth received the Phail Wynn Leadership Award.