How to Pack a Healthy Lunch
Tips for sprucing up your brown bag lunch at work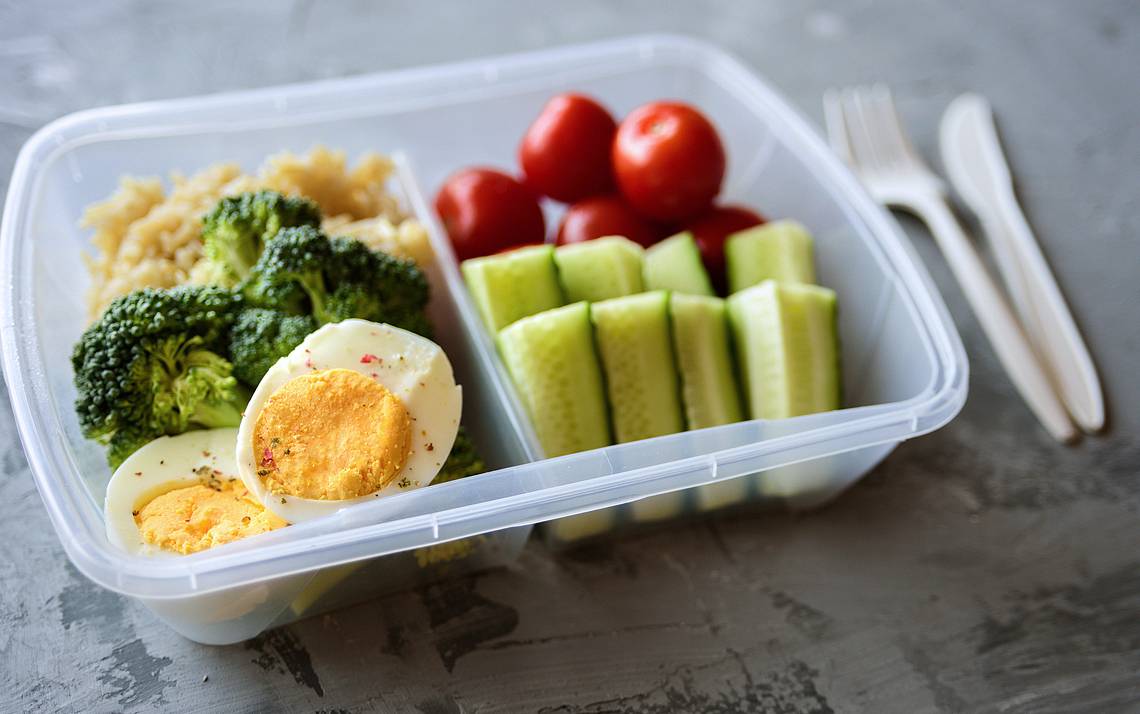 Sunday is meal prep day for Minoka Gunesekera and her boyfriend, Christopher.
The couple spends the afternoon slicing and cooking vegetables and chicken for a stir fry, browning ground turkey for tacos and packing containers of carrots and hummus for snacks.
"Since my boyfriend and I knock out our cooking on Sunday, we don't have to buy something quick and unhealthy if we get busy during the week," said Gunesekera, an admissions recruiter for the Duke Divinity School.
Save money and pack in nutrition by preparing your own lunch, said Esther Granville, a registered dietitian and manager of nutrition and health coaching programs for LIVE FOR LIFE, Duke's employee wellness program.
A 2016 study by the Journal of the Academy of Nutrition and Dietetics found that 92 percent of meals from large-chain and local restaurants have more calories than recommended for an average person. Eating out is also linked to increased intake of fat and sodium, according to the Centers for Disease Control and Prevention.
"When you pack your lunch, you have more control over portion size and what ingredients you're choosing to eat," Granville said. "You control how much salt to add, what oils to cook with and how much you're serving yourself."
Pack away these tips to prepare a healthy lunch.
Keep the meal balanced
While the food may differ in Mary Story's lunch every day, the food groups remain the same.
Some days, she includes banana, broccoli, brown rice and chicken. Another day, she has a yogurt with fruit and a mixed greens salad. What matters is she eats a mix of fruits, vegetables, whole grains and lean protein.
"I try to balance different food groups," said Story, professor of Global Health and Community and Family Medicine at Duke and director of Healthy Eating Research, a national program that supports healthy eating among children.
Story bases her meal selection on the U.S. Office of Disease Prevention and Health Promotion's "2015-2020 Dietary Guidelines for Americans." The guidelines recommend half of your meal include fruits and vegetables. The guidelines also suggest eating low-fat or fat-free milk or yogurt, sticking to lean or low-fat proteins like chicken and beans, and making half the grains consumed whole grains.
"Packing your lunch becomes a bit easier when you have guidelines telling you what to do," Story said. "Try making a grain bowl, soup or salad. They are all easy to pack and easy to incorporate most of the food groups you need in a day."
Cook extra for leftovers

One of Esther Granville's favorite cold-weather recipes is a heaping pot of bean soup.
She mixes kidney and pinto beans, carrots, celery and tomatoes in a crockpot to cook for eight hours. The soup is large enough to serve a family, or in Granville's case, it provides four lunches for the week.
"When I meal prep, I'm not cooking for me but a family of four," she said. "I always try to make extra food to have for meals throughout the week."
Granville recommends doubling recipes for an easy way to stock up on meals.
"You have to think a little bit in advance, but the payoff is worth it," she said. "I reduce the number of nights I have to cook throughout the week."
Include snacks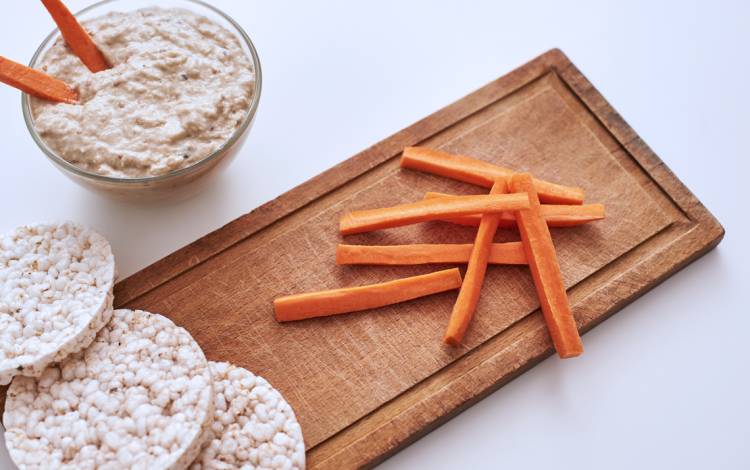 Minoka Gunesekera's relies on snacks when her energy dips around 10 a.m. and 3 p.m.
She typically eats hummus and carrots mid-morning and saves something sweet for the afternoon. Usually, trail mix with a piece of dark chocolate.
"Knowing I have a big sweet tooth I try to have something I really enjoy in the afternoon," she said. "It's a little perk and energy booster to get through the final load of work."
Mary Story said it's fine to snack as long as you keep your caloric intake for the day at the recommended level. The "2015-2020 Dietary Guidelines for Americans" recommends 1,600 to 2,400 calories per day for adult women and 2,000 to 3,000 calories per day for adult men.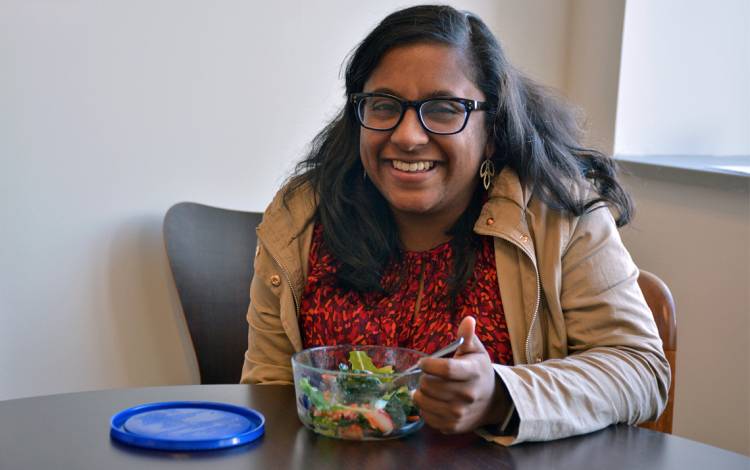 Story advises people to go no longer than four hours without eating. Waiting too long can lead to overeating. Try a snack of apple slices dipped in almond butter, a handful of raw nuts, a half-cup of cottage cheese or hummus with vegetables, or one container of low-fat Greek yogurt.
"For a lot of people 2,000 calories per day looks very different," Story said. "It can be four to five small meals or three large meals. The main point is to do what's best for you."
Join the conversation the Working@Duke Facebook page.
Do you have a story about your health and fitness efforts? Share it with Working@Duke.