Duke Employees Dance Their Way To Fitness
There's less than one week left in the Get Moving Challenge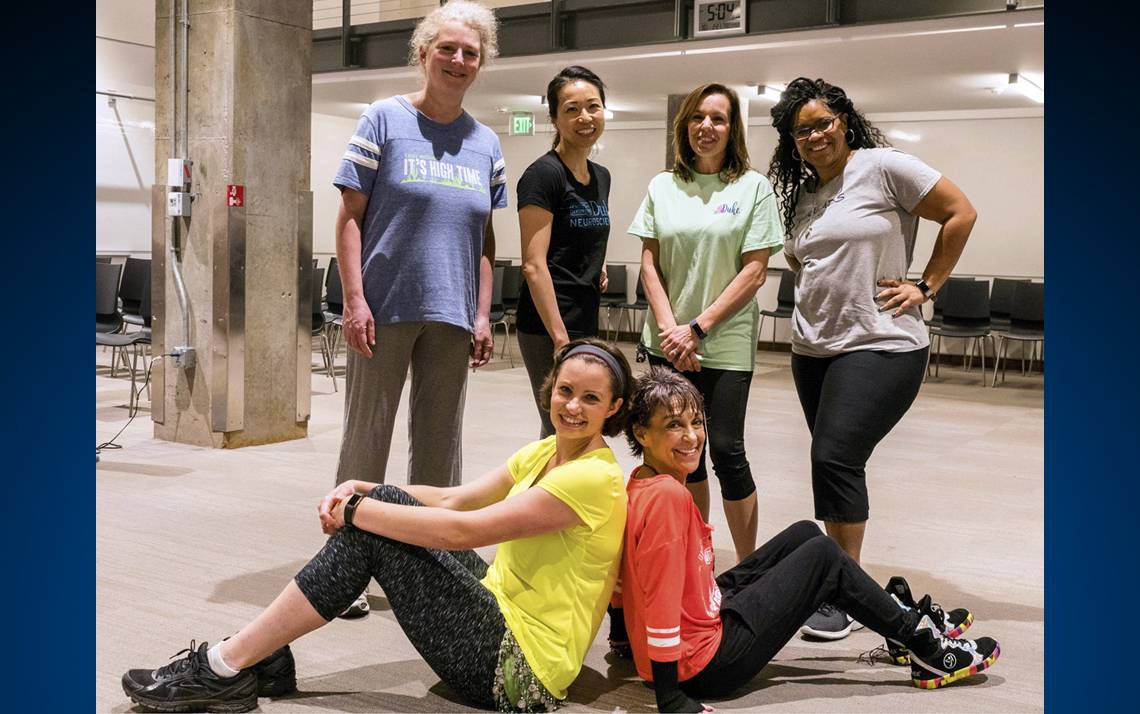 Tina Turner's song "Proud Mary" filled the hallways of the Duke Institute for Brain Sciences one February afternoon.
The institute's Get Moving Challenge team, "Bird Brained," danced to the song in a Zumba class organized by Tyler Lee, the team's captain. Lee, program coordinator for the Duke Institute for Brain Sciences, participates in Zumba two to three times a week and asked her instructor to lead a class for the Get Moving team.
"Being the leader of Bird Brained, I thought it'd be a unique opportunity to let my team members learn something new and also have the chance to work out together," said Lee, who's sitting in the yellow T-shirt in the photo.
Bird Brained is currently in 23rd place in the Get Moving Challenge, which ends on March 17. This week, we award Lee with a free chair massage for sharing a picture after the Zumba class.
We'd love to see your exercise and wellness pictures during the final week of the Get Moving Challenge. Photos can be a selfie or more organized picture, but the image must reflect your participation in the challenge and note why fitness and wellness are important to you.
As of March 13, "Medicine_IM_Pheidippides" was in first place in the team challenge with about 1.3 million steps. Beverly Hester, a financial analyst in oncology, remained in first place in the individual competition with about 4 million steps.
Dance together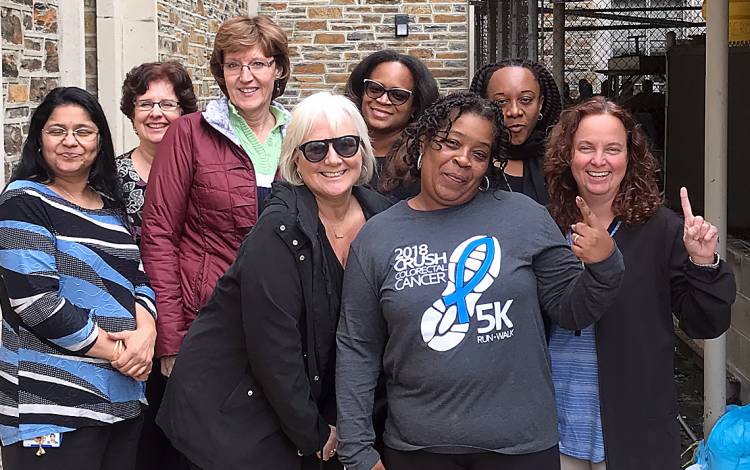 "The GI Bod Squad," made up of Duke Gastroenterology employees, dance together for five minutes every Wednesday morning. Dawn McCain, in the 5K T-shirt, organizes the dance session.
"I decided to motivate my group with 'One Song Wednesday,'" said Dawn McCain, senior data technician for Duke Gastroenterology. "We play one song, and it takes less than five minutes. I love to dance and move, and that is what this challenge is all about!"
Adrenaline Rush

Kanisha Madison, information specialist for Duke Human Resources Information Center, ran for 20 minutes on the treadmill and did about 20 sit-ups and squats during a workout at the gym.
"I love the rush of adrenaline after working out," Madison said.
Resistance Training

Duke Faculty Club snapped a photo of participants working out with "TRX" trainers. TRX refers to total resistance exercises that use the body weight to develop strength, flexibility and stability.
"In fitness, choose quality over quantity," said Carrie Summers, recreation program manager for Duke Faculty Club. "Even if you have to lower the number of repetitions, good form will bring better results and decreased risk of injury."
Here's how to share your Get Moving Challenge picture:
Post the photo and use #HealthyDuke on Twitter, Instagram or Facebook. Note what you're doing and why fitness and wellness are important to you. Remember, use #HealthyDuke so we see your snapshots on social media;
Post a photo and caption on the Working@Duke's Facebook page: facebook.com/workingatduke;
Or, upload your picture here.