Staying Motivated to Lose Weight
Emma Albright shows off weight loss during Get Moving Challenge
Emma Albright was tired of the way she looked in photos. 
Eager to get more fit, Albright enrolled at Gym:30, a small workout facility in Creedmoor, in January 2018. She attends weight training and conditioning classes three to four times a week, and she's been watching her diet, baking vegetables with olive oil and sea salt and incorporating healthy options into meals. 
Albright is using the Get Moving Challenge as a motivator to get to the gym after work and take walks on her lunch breaks. Her efforts over the past 14 months resulted in her losing 65 pounds. She's competing in the fitness competition with colleagues on "Team Teer."
"I went into the lifestyle change with an attitude to do the best I could," said Albright, a staff assistant for the Pratt School of Engineering's administration office. "It's mind-boggling how much better I feel about my appearance and attitude."
This week, we award Albright with a "Healthy Duke" T-shirt for sharing a photograph of weight loss progress during the challenge. 
We'd love to see your exercise and wellness pictures during the Get Moving Challenge, which ends March 17. Photos can be a selfie or more organized picture, but the image must reflect your participation in the challenge and note why fitness and wellness are important to you. 
As of Feb. 12 "Medicine_IM_Pheidippides" was in first place in the team challenge with 729,346 steps. Beverly Hester also stayed in first place in the individual competition with 2,275,000 steps. 
Here are some photos from the first four weeks of the Get Moving Challenge.  
Working out for the body and mind

Lashunda Thorpe, a clinical services nurse for Duke Oncology, uses a cable crossover machine to build chest strength. She also visits the gym nearly every day to work on strength or do cardio. 
"I have incorporated the gym in my daily schedule for the last two years," she said. "It is healthy for my body, mind and soul."
Competing for CrossFit gold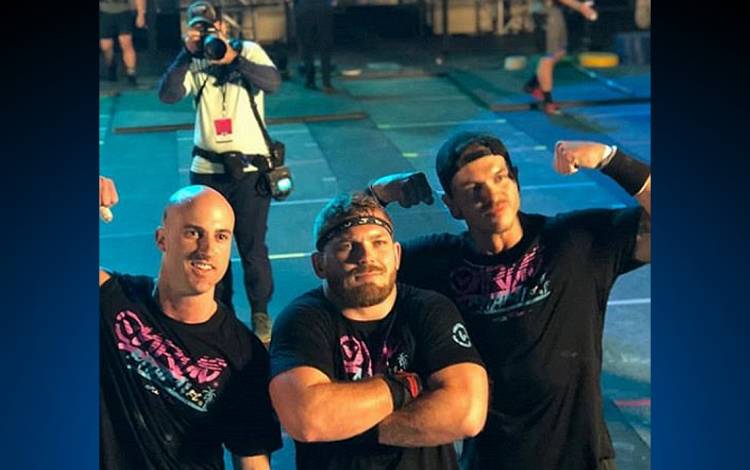 Zach Jones, an exercise physiologist for Duke University Hospital, competed in the "Wodapalooza Fitness Festival" in Miami with two members of his Raleigh CrossFit team. 
They did nearly a dozen workouts in front of judges, including a 5K run on the beach, burpee jumps onto 2-foot boxes, 250-meter swim and push-ups into a handstand. Jones' team finished in third out of 60 teams. 
"The whole weekend was a blast," he said. "There were a lot of ups and downs, but I'm proud that we kept moving forward." 
Becoming a morning person

Jill Adelson, research scientist for the Duke Talent Identification Program, snapped a selfie after her 5:30 a.m. run on a weekday morning during the Get Moving Challenge. 
"Being with my family in the evenings is a priority to me," she said. "I have goals related to my health and fitness, so early morning workouts have become a norm for me." 
Moving for mutts

Lisa Pickett and her daughter, Grace, ran the "Mutts & Marshmallows 8K" in January to support the SPCA of Wake County. 
"It was a blast, despite the 35-degree weather," said Pickett, trauma and critical care surgeon at Duke University Hospital. "We really enjoyed the hot chocolate with marshmallows at the end!"
Here's how to share your Get Moving Challenge picture:
Post the photo and use #HealthyDuke on Twitter, Instagram or Facebook. Note what you're doing and why fitness and wellness are important to you. Remember, use #HealthyDuke so we see your snapshots on social media;
Post a photo and caption on the Working@Duke's Facebook page: facebook.com/workingatduke;
Or, upload your picture here.