Cirque De Sore Legs. Die Lard. It's All In The Name
Get Moving Challenge teams match wit with steps in 2019 competition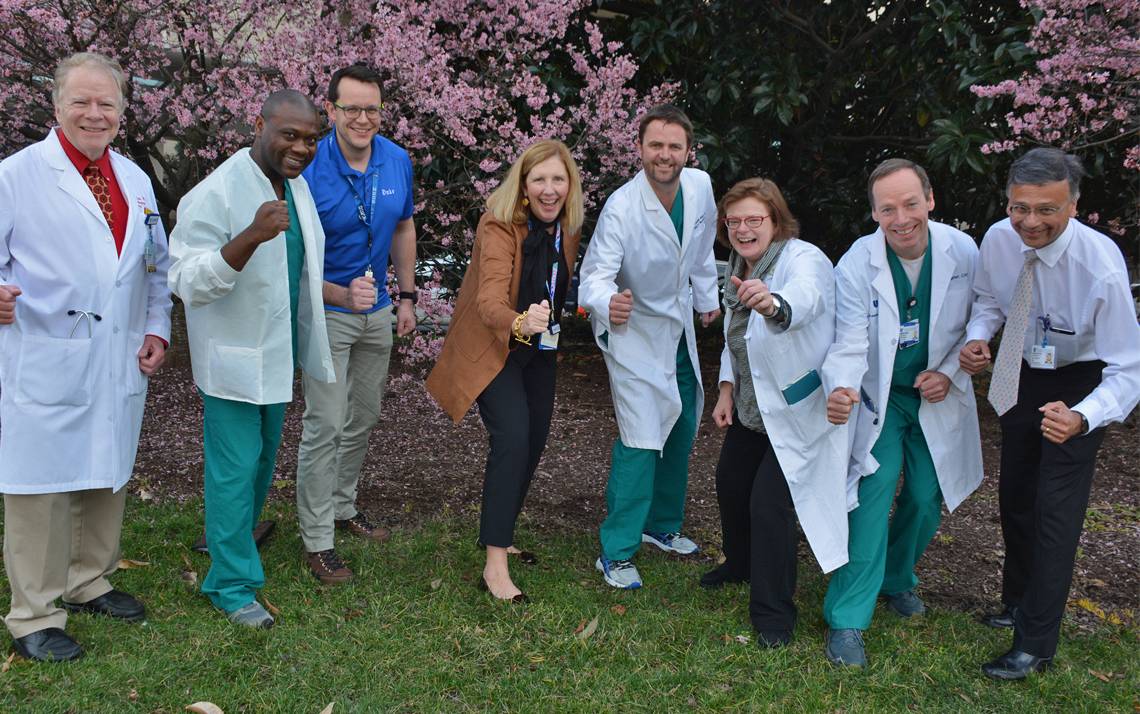 Bruce Willis. A circus. And an egg appetizer.
These aren't the keys to a successful day.
Instead, they're the inspiration for some team names in this year's Get Moving Challenge. The fitness competition, which ends March 17, includes 319 teams and 2,979 participants competing to take the most steps, exercise the most minutes and lose the most weight.
"Seeing the team names is one of my favorite parts of the Get Moving Challenge," said Nick Beresic, health promotion manager with LIVE FOR LIFE, Duke's employee wellness program. "There's always so much anticipation to see what clever names the participants come up with."
Here are some team names in the competition:
Die Lard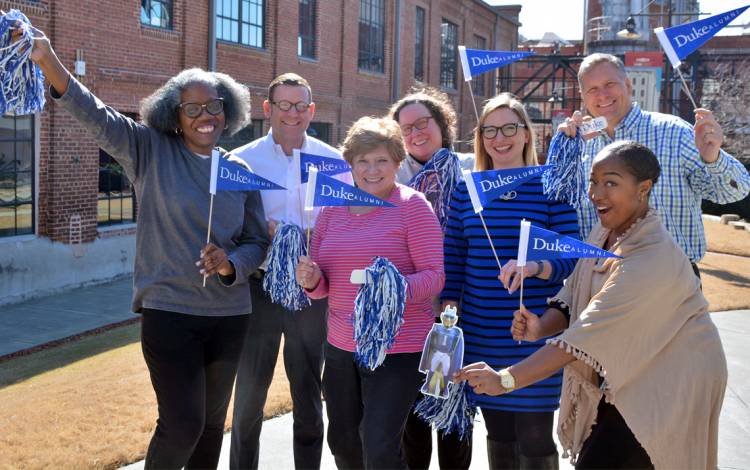 Is the 1988 film "Die Hard" a Christmas movie?
That question prompted a lengthy argument between Nicole Kempton and her sister over the holidays. Kempton, who believes "Die Hard" is a Christmas movie because it takes place during the holiday, used the film to name her team in the Get Moving Challenge.
"Die Lard" is one of two Duke Alumni Association teams competing in the challenge. The teams maintain a friendly competitive spirit with healthy potlucks and walks outside their office at the American Tobacco Campus.
As of Feb. 15, Die Lard is in 52nd place.
"We may not get in the most steps, but we'll definitely have the most team spirit," said Kempton, senior director of Graduate and Professional School Alumni Affairs. "Our goal is to not feel like lard by the end of the challenge."
Cirque De Sore Legs

While this team of employees from the Duke Children's Specialty Services of Raleigh, Cary and Apex chose their name from the high-flying circus company, Cirque du Soleil, they're keeping their feet firmly on the ground.
Aleshia James, a certified medical assistant for Specialty Services, chose the name after doing a Google Search for running puns.
"The team kept bouncing names off one another and Cirque de Sore Legs is what we all could agree on," she said.
The nine team members of Cirque de Sore Legs use lunch breaks to walk and email each other with updates on their steps and workout minutes for encouragement. As of Feb. 15, Cirque de Sore Legs is in 135th place.
Rapid Thigh Movements

John Whittle wanted the team representing Duke Anesthesiology to have a sleep-related name.
He brainstormed until one night, while watching television, "Rapid Thigh Movements" popped into his head. The name is a play on rapid eye movement, a stage of sleep in which the eyes move rapidly in various directions.
"We're trying to move our feet as fast as our eyes," said Whittle, assistant professor of anesthesiology.
Duke Anesthesiology chairman Joseph Mathew is leading the team. He's accumulated 859,222 steps since the start of the competition, enough to be in the top 25 of the challenge.
"The first and last thing I do every day is walk on the treadmill for an hour," he said.
Rapid Thigh Movements is in 25th place.
Deviled Legs

After competing individually in last year's Get Moving Challenge, Carolyn Quarterman, an instructor in the English for International Students program in The Graduate School, wanted to form a team and select a name that packed a punch.
Quarterman considered and rejected "Deviled eggs' as she brainstormed team names before realizing "Deviled Legs" was an appropriate pun for walking and running. All of her colleagues in the English for International Students program joined the team, and they encourage each other to get their steps and exercise in.
Deviled Legs is in 71st place.
"I don't particularly like deviled eggs, but it's worth the pun," said Quarterman, instructor in The Graduate School. "The team agreed it was essential to have a fun team name."
Lab Ladies

"Lab Ladies" is a group of Duke employees and students working in an epigenetics lab for Susan Kay Murphy, associate professor in Obstetrics and Gynecology.
The team gets steps in with lunchtime walks and runs with their dogs. As of Feb. 15, Lab Ladies is in 190th place
"It's fun that we can share each other's success in and outside the lab," said Emma Dolan, a graduate student at the Duke University School of Medicine.
Share your exercise pictures on social media using #HealthyDuke or submitting here.