The 2018 Holiday Cookie Contest Winners Are ...
Intricate icing, replicas of Duke University Chapel and a heavenly mix of chocolate and peanut butter take home the wins
While the weather outside dropped to below freezing, Duke employees' kitchens heated up to prepare for the annual Working@Duke Holiday Cookie Contest.
The winners were chosen by five judges who tasted samples of 27 submissions from employees across the University and Health System.
"Judging the cookies was such a unique experience," said Tyler Lee, a judge and program coordinator for the Duke Institute for Brain Sciences. "It was fun to try new recipes and make new connections across the Duke community."
Best Overall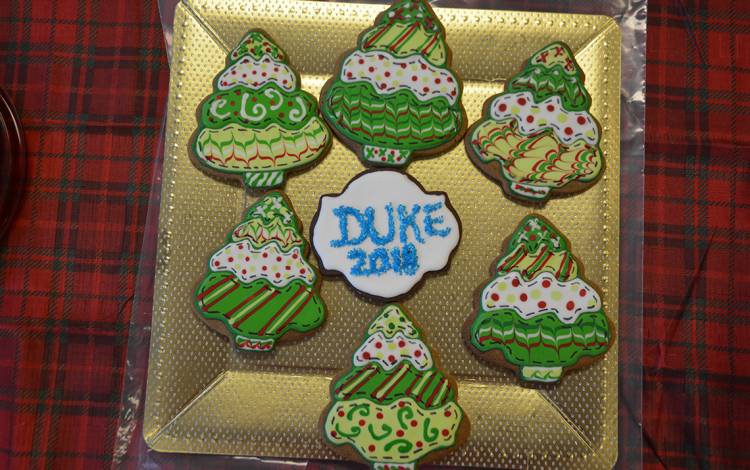 The "Best Overall" winner was Karen Courtney, associate dean of executive MBA programs at the Fuqua School of Business. Courtney's "Ginger Patchwork Holiday Surprise" was decorated like Christmas trees in multiple shades of green, red, white and yellow. She also included a cookie with "Duke 2018" written on it in blue sprinkles. Courtney's cookies received a perfect score on appearance.
It took her about three hours to decorate the six cookies using royal icing and a toothpick to make the intricate designs. She made the cookies for the first time last year.
"I saw someone doing a YouTube video with a similar pattern last year and wanted to try it out," Courtney said. "It's a little therapeutic. I just sit down and let the world go by while I decorate and listen to Christmas music."
Best Tasting

Heather Mabry, nursing informatics systems specialist for Duke Health Technology Solutions, won best tasting for her "Puppy Chow Cookies." The cookie is based on the classic holiday treat of peanut butter, chocolate and powdered sugar.
"My nephew's favorite dessert is anything peanut butter and my mom is a huge chocolate fan," Mabry wrote in her submission. "When I found a recipe that had both I had to give it a try."
Best Decorated

Evan Heisman only had to take a short walk for his cookie inspiration. Heisman, staff assistant for the Office of Parents & Families in Student Affairs, baked sugar cookies in the shape of Duke University Chapel.
He baked the cookie dough in large rectangles and then cut out the shape of the chapel immediately after taking them out of the oven. Heisman added a peanut butter icing and sprinkles to create the details of the Chapel.
"I decided to go crazy with my snow day and use up all my time making these cookies," he said. "It's very awesome that the judges appreciated them."
Last year, Heisman baked cookies in the likeness of Duke University president Vincent Price for the contest. One was even delivered to the president so he could see his cookie doppelganger.
Working@Duke Honorable Mention

Cassandra Mendez, clinical services nurse at Duke Regional Hospital's Oncology Infusion Clinic, was selected as the Working@Duke honorable mention winner for her uniquely designed cookies. Mendez made sugar cookies in the shape of Tyrannosaurus rex and wrapped presents. She decorated the sugar cookies with a royal icing she makes from scratch using powdered sugar, meringue powder and water.
It's a holiday tradition for Mendez to make the T-rex cookies for her six-year-old son, Richard.
"He's been obsessed with dinosaurs from such a young age," Mendez said. "We bought a dinosaur cookie cutter a few years ago and get a lot of use out of it."
Mendez will receive a "Proud to be Working@Duke" T-shirt.
A special shout-out to our volunteer judges in this year's competition:
Gregg Hilker, general manager of the JB Duke Hotel
Amanda Hodges, clinical nurse for Duke University Hospital's Pediatric Cardiac Intensive Care Unit (2017 best overall cookie contest winner)
Tyler Lee, program coordinator for the Duke Institute for Brain Sciences (Working@Duke T-shirt winner for the 2018 Blue Devil Halloween Photo Contest)
Eric Lipp, senior clinical research coordinator for The Preston Robert Tisch Brain Tumor Center
Michael Palko, informatics educator with Duke University Health System (shutterbug award for 2018 Duke Time Off contest)
Anyone can download a digital copy of the 2018 contest recipes here.