Winners named in Working@Duke Holiday Cookie Contest
Detailed decorations on a minty chocolate creation won the overall prize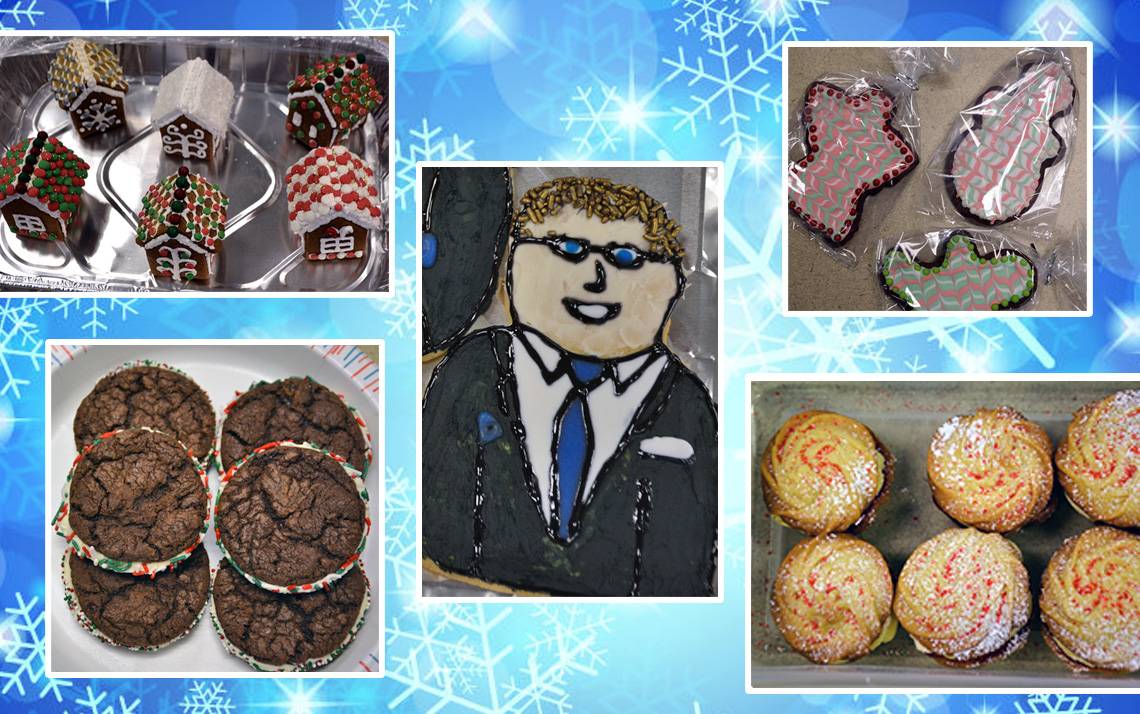 Toothpicks, toaster ovens and plenty of patience were essential tools for this year's Working@Duke Holiday Cookie Contest winners.
The "Best Overall" winner was Amanda Hodges, a clinical nurse in the Pediatric Cardiac Intensive Care Unit at Duke University Hospital. Hodges' "Mint Chocolate Cutout Cookies" were decorated in shades of blue, green, white and pink using royal icing.
"Oh my god, that's crazy," said Hodges, when she was told she won.

Hodges says chocolate chip cookies are her staple, but she wanted to try something new for the cookie contest. She made only one batch.
"It took a couple hours to pipe the icing onto the cookies," Hodges said. "I did a base color then used a toothpick for the stripes. I needed pretty steady hands."
The fourth annual Working@Duke Holiday Cookie Contest received 37 submissions, 12 more than last year.
"It was a joy that they all took so much time to make these cookies taste and look incredible," said Kelsey Liddle, a staff specialist in the Office of the University Registrar and a judge in this year's competition.
One of Liddle's favorites was the "President Price is Right Sugar Cookies" by Evan Heisman, a staff assistant for Student Affairs. Heisman made the cookies in the likeness of Duke president Vincent Price by drawing, with icing, a black suit and Duke blue tie. He also drew Price's round glasses and used brown sprinkles for hair. One of the extra cookies was later delivered to President Price, who sent Heisman an email to thank him.
"That email definitely made my day yesterday," Heisman said. "Since he's new to Duke I thought it would be a fun way to welcome him."
Best Tasting

Rachel Kaufmann, clinical trials coordinator at Duke Clinical Research Institute, used a toaster oven to make her "Turtle Thumbprint Cookies." Kaufmann baked the cookies at her parent's house, which didn't have an oven because of kitchen renovations.
The cookies get their sweet-salty taste from melted Werther's Original Soft Caramels, semi-sweet chocolate and chopped pecans.
"I'm always trying out new recipes," she said. "My family is a fan of nuts and I'm a fan of chocolate, so these cookies are the perfect combination of sweet and salty."
Best Decorated

Elizabeth Jones' "Extra Spicy Gingerbread with Lemon Icing" packed a punch for the taste buds and eyes. Her cookies, filled with cayenne and black pepper, were shaped into homes smaller than a computer mouse.
Each of the six cookies were shaped into homes with uniquely made roofs and designs of Christmas trees and windows on the walls of the homes. Jones, assistant managing editor for Duke University Press, said they each took about 40 minutes to design.
"They were a commitment, but it was lots of fun," she said. "It's a recipe I've played around with the last year or so."
This year's Best Overall winner will receive a $50 gift card to Duke Stores. The winners of Best Tasting and Best Decorated will each receive a $25 gift card. All three winners will receive printed recipe books featuring this year's cookie contest entries. Anyone can download a digital copy of the 2017 contest recipes here.
The four volunteer judges for this year's competition were:
Marti Brauer, Information Security Analyst for Duke Health Technology Solutions
Kate Collins, assistant librarian and coordinator of the Rubenstein Test Kitchen
Mark Turner, executive chef of Duke Dining
Kelsey Liddle, staff specialist for the Office of the University Registrar and last year's Best Overall winner