Student Laurels and Honors for 2017
National, university and department awards honoring student achievement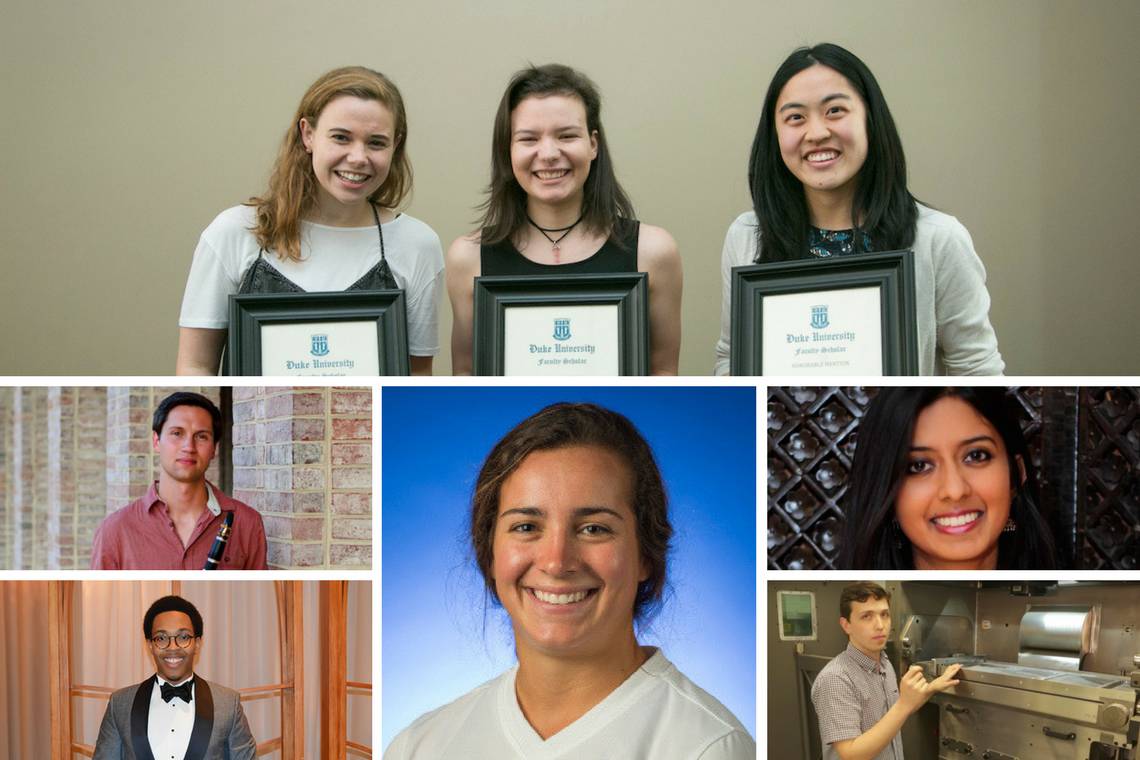 NATIONAL AWARDS
Truman Scholars
Duke junior Maya Durvasula is among 62 students selected as 2017 Truman Scholars. Durvasula, a Robertson Scholar from Albuquerque, New Mexico, studies economics, with a minor in mathematics and a certificate in politics, philosophy and economics.  She has been involved with research through the Duke-UNC Initiative on Poverty and Inequality and the UNC Institute for Global Health & Infectious Diseases.
Students are selected based on their records of leadership, public service and academic achievement, and their likelihood of becoming public-service leaders.
Gates-Cambridge Scholars
Duke senior Jessica Van Meir is among 36 U.S. recipients selected from roughly 800 applications for a Gates-Cambridge Scholarship, which covers a student's tuition and living expenses while completing a graduate degree at the University of Cambridge.
Beginning this fall at Cambridge, Van Meir plans to pursue a master's of philosophy in development studies.
In addition, Duke alumna Liangliang Zhang is among 55 international recipients selected for the Scholarship.
Schwarzman Scholars
Seniors Justin Bryant of Johns Creek, Georgia, and Julian Keeley of New York, New York, and 2015 graduate David Robertson of Fairfax, Virginia, were named to the second class of Schwarzman Scholars, which provides for one year of study at Tsinghua University in Beijing, China.
Bryant is a Reginaldo Howard Memorial Scholar majoring in public policy studies and pursuing a certificate in information science and information studies.
Keeley is an economics major pursing a minor in philosophy with a focus on politics and economics.
UNIVERSITY AWARDS
African & African American Studies
Henry Lafond Washington Jr. won the John Hope Franklin Award for Academic Excellence. He also received the Karla F. C. Holloway Award for University Service
Mina Ibiye Ezikpe received the Walter C. Burford Award for Community Service.
Lindsey Alexander Hallingquest, Shameka Carolynn Rolla and Dorothy Ruo-shi Wu won the Mary McLeod Bethune Writing Award.
Nikolas Oscar Sparks received the Graduate Teaching Award
Art, Art History and Visual Studies
Tiange Zhang received the Mary Duke Biddle Foundation Visual Art Award
Charlotte Ellen McKay and Frances Gambee Sensenbrenner won the Nancy Kaneb Art History Award
Victoria Katherine Bilas earned the Sue and Lee Noel Prize in Visual Arts
Zarah Udwadia and Indrani Saha earned the Visual Studies Initiative Award
Arts of the Moving Image
Elaine Seoyoung Pak and Abhi Shah won the Outstanding Undergraduate Filmmaker Award
Upasana Chandra received the Rodger Frey Film Essay Award
Asian/Pacific Studies
Felix Forest Kung, Ning Olivia Zhao, Megan Ye and Mirai Matsuura received the Sirena WuDunn Memorial Scholarship
Athletics
Christina Marie Gibbons earned the ACC Plaque for Excellence, Scholarship and Athletics
Benenson Awards in the Arts
Neha Agrawal, Mariana Calvo, David Geng, Elliot Golden, Amanda Hedgecock, Yizhou Jiang, Erin Mathias, Robert Meese, Rhys Morgan, Elise Nelson, Elaine Pak, Paul Popa, Alex Sanchez Bressler, Quinn Scanlan & Hunter Stark, Madeline Taylor and Christopher White received Benenson Awards for summer arts projects.
Biology
Samantha Atieno Kisare won the James B. Rast Memorial Award in Comparative Organismal Biology
Anthony Hung received the Edward C. Horn Memorial Prize for Excellence in Biology
Jade C. Lu received the Excellence in Plant Science Prize
Samantha Ann Huff earned the Maggie Schneider Award in Marine Biology
Biostatistics and Bioinformatics
Tianhui Zhou received the Overall Academic Excellence Award
Rachel Gottron Greenberg earned the Student Leadership Award. She also won the Outstanding Master's Project Award
Hengshi Yu received the Outstanding Methodological Master's Project Award
Chemistry
Christopher McGee Jernigan received the American Chemical Society Undergraduate Award in Analytical Chemistry
Brandon Quoc Vinh Ngo won the American Chemical Society Undergraduate Award in Inorganic Chemistry
Luke Tseng won the American Chemical Society Undergraduate Award in Organic Chemistry
Debbie Charlotte Louise Burdinski earned the Merck Index Award
Benjamin John Guy Rousseau won the Hypercube Scholar Award
Erin Frances Brooks received the Department of Chemistry Award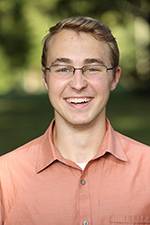 Classical Studies
Zachary Dean Heater won the Classical Association of the Middle West and South Award for Outstanding Accomplishment in Classical Studies
Zachary Dean Heater and George Slade Mellgard received the David Taggart Clark Prize in Classical Studies
Computer Science
Arun Ganesh, Aditya Mukund and Zheqing Zhu won the Alex Vasilos Award
Mary Elizabeth Dowd received the DeNardis Award
Cultural Anthropology
Fei Yi Kuai earned the Judith McDade Prize in Cultural Anthropology
Briana Danielle Acosta and Mina Ibiye Ezikpe won the Paul Farmer Award for Justice and Social Responsibility
Dance
Haylee Paige Levin won the Julia Wray Dance Award
Cindy Li received the Dance Writing Award
Sara Yuen earned the Clay Taliaferro Dance Award
Divinity School
Mary Spears Dance Berry and James William Myers won the Award for Excellence in Bible
Victor Andre Greene received the Frederick Buechner Writing Award
Yucheng Bai earned the Richard P. Heitzenrater Award for excellence in History
Glenn Rees Stallsmith received the Hoyt Hickman Award for excellence in Liturgics
Samantha Kate McKean won the Jameson Jones Preaching Award
LaDonna Wharton Farrish and Stacy Jissel Guinto-Salinas earned the McMurry Richey Awards in Field Education
Seung Kwon (Joseph) Yang won the McMurry Richey Awards in Missions
Cynthia Sherre Jacko earned the Seminarian Award of the fellowship of United Methodists in Music and Worship Arts
Kendal L. McBroom was named the university's Julian Abele Award for Divinity Student of the Year      
Documentary Studies
Christopher Michael White won the Julia Harper Day Award for Documentary Studies
Duke Global Health Institute
Devon Wayne Paul received the Outstanding Master of Science in Global Health Student
Duke Human Rights Center at the Franklin Humanities Institute
Madeleine Octavia Roberts, Carolina Gisela Robledo, Jenna Zhang and Symonne Rachelle Singleton earned the Oliver W. Koonz Human Rights Prize
Duke Service-Learning
Kristen Michele Larson and Christina Cherise Williams won the Betsy Alden Outstanding Service-Learning Award
Earth and Ocean Sciences
John McDermott won the Thomas V. Laska Award
Economics
Ibanca Anand won the Class of 2016 Award for Exceptional Growth in the Master of Economics
Jaikun Xu, Shiv Shyam Gidumal and Roland Douglas Muench won the faculty vote for Outstanding Honors Poster; Ricardo Javier Martinez-Cid and Gonzalo Pernas won the student vote.
Kai Yu Lee earned the Outstanding Symposium Presentation Award
Zhao Ting Lim and Ren Hao Tan received the Allen Starling Johnson Jr. Award for Excellence in Undergraduate Research for Best Honor Thesis; Sachet Bangia was a finalist.
Chenyu Wang and Xirui Zhang won the Master's Program Award for Academic Excellence
Education
Gwen Elizabeth McMahon won the D.T. Stallings Award
Jennifer Acosta, Arielle Rebecca Kahn, Gabrielle Rose Weiss, Christina Cherise Williams and Chloe Marissa McIntosh earned the Holton Prize for Education Research
Paige Elise Prather received the Virginia S. Wilson Excellence in Teaching Award
Engineering
Lauren Alison Harper and David Chapman Rosen won the Aubrey E. Palmer Award
Elijah Henry John Cole won the Charles Ernest Seager Memorial Award
Gautam Sai Chebrolu earned the Charles Rowe Vail Memorial Outstanding Undergraduate Teaching Award
Alden Timothy Harwood received the David Randall Fuller Prize
Aubrey Lynn Presnell won the da Vinci Award
Zachary David Brown received the Edward D. "Ned" Light Memorial Award
Rekha Subhashini Korlipara won the Eric I. Pas Award
Efe Aras earned the George Sherrerd III Memorial Award in Electrical and Computer Engineering
Anchi Wu and Grace Ying won the Helmholtz Award
Matthew Tyler Tobin and Jacob Ryan Wirfel received the Mechanical Engineering and Materials Science Faculty Award
Aubrey Lynn Presnell won the Otto Meier, Jr. Tau Beta Pi Award
Sanford Douglas Morton received the Pi Tau Sigma Scholarship Award
Sebastian Rodolfo Baquerizo Queirolo earned the Pratt School of Engineering Student Service Award
Andrew John Broaddus Gayle earned the Raymond C. Gaugler Award in Materials Science and Engineering
Daniel Archer Hull won the Theo C. Pilkington Memorial Award
Aubrey Lynn Presnell and Jeremy Elias Schreck received the Walter J. Seeley Scholastic Award
David Chapman Rosen won the William Brewster Snow Environmental Engineering Award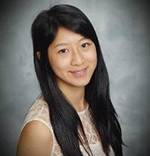 English
Anna Elizabeth Mukamal won the Award for Most Original Honors Thesis
Aaron Montgomery Baum and Haley Marie Enos received the Lucaci Award for Creative Non-Fiction
Elise Laurie Nelson earned the Terry Welby Tyler Jr. Award for Creative Writing
Chloe Hooks received the Academy of American Poets Prize. Emily Otero earned honorable mention
Vivian Lu received the Anne Flexner Memorial Award for Creative Writing in Fiction
Andrew Tan-Delli Cicchi won the Anne Flexner Memorial Award for Creative Wrtiting in Poetry
Martha Addison Cady won the Francis K. Pemberton Scholarship
Vivian Lu, Carmen Pharr and Haley Enos received the Margaret Rose Knight Sanford Scholarship
Grace Li received the Reynolds Price Fiction Award
Louis Garza, Yulia Kozina and Elizabeth Krogman earned a William M. Blackburn Scholarship
Nicholas School of the Environment
Donovan Loh won the Sara LaBoskey Award
Fuqua School of Business
Aiyappa Chengappa Maruvanda earned the Alan D. Schwartz Award for Mentorship
David Anthony Gross won the Asa T. Spaulding, Sr. Award for Leadership
Ross Thomas Boomer, Owen McGowan Boyce, Catherine Nicole Carter, Saad Duraiz, Diego David Granados Hernández, Erika Jacqueline-Simone Hines, John Edward Huisman III, Noelle Elizabeth Kelly, Evelyn Kim, James Jordan Kozlow, Jennifer Nicole Miller, Jarrett Haywood Nobles, Maria Peverelli, Hunter H. Rudd, Elizabeth Ann Rybacki, Abraham Joshua Saldana Jr., Monique Stone, Vedant Tomer, Andrew Robert Tuttle and Nicholas Durwood Williams received the Deans' Recognition Awards
Alejandra Rossi received the Distinguished Service Award
Christopher James Castro and Anna Rose Cottone earned the Keohane Leadership Award
Kimberly Ann Whelan Runge won the The Breeden Award in Finance
Jarrett Haywood Nobles, Hunter H. Rudd and Robert Darnell Sinyard III received the 2017 Forever Duke Student Leadership Award
Gender, Sexuality and Feminist Studies
Dana A. Raphael received the Dora Anne Little Award
The Graduate School
Nicole Marie Dalzell and Erin Alison McKenney received the Dean's Awards for Excellence in Teaching
Juan Ramirez Jr. earned the Samuel DuBois Cook Award
Julia Hamilton Roberts won the WomC Campus Impact Award
Emily Elizabeth Blankinship Boehm, Dalmacio Dennis Flores III, Abigail Leavitt LaBella and Mary Caton Lingold earned the 2017 Forever Duke Student Leadership Award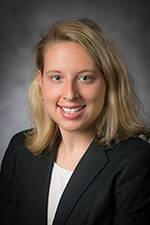 History
Paige Alexis Newhouse received the William T. Laprade Prize
International Comparative Studies
Chinyere Nnenna Amanze and Mina Kim won the Capstone Research Prize
Diana Wang Dai earned the Distinguished Thesis Award
The Kenan Institute for Ethics
Amulya Vadapalli earned top prize in the Kenan Moral Purpose Award contest. Honorable mention went to Richard Phillips and Alexandra Zrenner.
Linguistics Program
Taela Donalda Dudley received the Distinguished Thesis Award
Mathematics
Zhicheng Qiao won the Karl Menger Award
Efe Aras and Alexander John Pieloch received the Julia Dale Prize in Mathematics
Medicine
Maria Crisalli Andrews, Heather Ashley Burrell, Martha Marguerite Cullen, Daniel Joseph Cunningham, Jacqueline Boykin Henson, Alexandra Jordan Horne, Phillip M. Kemp Bohan, Collin L. Kent, Daniel Bowman Loriaux, Eric Michael Mastria, Benjamin Ryan Murray, Matthew Liam O'Sullivan and Lowell Thorndike Nicholson received the Academic Award
Heather Ashley Burrell, Jing Light Han, Morgan Scott Hardy and Kelly Ryan Murphy earned the Albert Schweitzer Fellowship
Jong G. Park and Vinayak Venkataraman received the Andrew C. Puckett Essay Award
Neil Anjon Ray earned the Arnold P. Gold Foundation Leonard Tow Humanism in Medicine Award
Perez Agaba, Beteal Getachew Ashinne, Javier Galán, Elizabeth Wanja Mathenge, Mya DeBoer Sendak and Arthurine Kulubo Zakama won the Brenda Armstrong Living the Dream Award
Kathleen D. Campbell, Nikita Chapurin, Godefroy Sullyvan Chery, Daniel Joseph Cunningham, Ajay Gopalakrishna and Chinmay Shivaram Paranjape won the Clinical and Translational Science Award
Beteal Getachew Ashinne, Kathleen D. Campbell, Bora Chang, Rathnayaka Mudiyanselage Kalpanee, Dhanushika Gunasingha, Collin L. Kent and Conrad Nelson Stern-Ascher received the Davison Scholarship
Daniel Joseph Cunningham, Ajay Gopalakrishna, Benjamin Joseph Hoover, Yoon Young Mun, Jong G. Park, Jeffrey Tadashi Sakamoto, Kevin Denis Schwartz, Alissa Rose Stavig and Hanci Zhang won the Dean's Merit Scholarship
Taylor M. Broome, Heather Ashley Burrell, Samuel Harrison Farber, Rathnayaka Mudiyanselage Kalpanee, Dhanushika Gunasingha and Jinh Light Han earned the Dean's Recognition Award
Rajvi Mehta, Emily Wai Yan Ngan, Michael Sena Quist, Mark Phillip Sendak, Robert Darnell Sinyard III, Christopher M. Sterwald and Cecilia Jing Zhang earned the Dean's Tuition Scholarship
Vinayak Venkataraman won the Doris Parrish Cardiology Award
Collin L. Kent received the Doris Parrish Oncology Award
Michael John Maranzano and Divya Natesan won th Duke Translational Medicine Institute Award
Taylor M. Broome, Zachary Eugene Holcomb, Yoon Young Mun, Lowell Thorndike Nicholson, Robert Bo Qi, Vinayak Venkataraman and Cecilia Jing Zhang won the Eugene A. Stead Student Research Scholarship
Jennifer Min Wang received the Glaxo Smith Kline Award
Montgomery Joy Zachary and Kun Wei Song won Howard Hughes Medical Institute Research Training Fellowship
Jennifer Min Wang received the Palmer Award
Zachary Eugene Holcomb earned the Palumbo Family Award
Maria Crisalli Andrews, Kathleen D. Campbell, Javier Galán, Mya DeBoer Sendak, Conrad Nelson Stern-Ascher and Arthurine Kulubo Zakama received the Primary Care Leadership Track
Collin L. Kent won the Rauch Family Foundation
Heather Ashley Burrell, Marguerite Martha Cullen, Adam Daniel Glener, Michael R. Harowicz, Zachary Eugene Holcomb, Alexandra Jordan Horne, Kelly Ryan Murphy, Emily Wai Yan Ngan, Lowell Thorndike Nicholson, Robert Darnell Sinyard III, Zachary Y. Walker and Timothy Y. Wang earned the Senior Scholarship
Adeola Phebean Awodele, Brian Gabriel Jiang and Jeffrey Tadashi Sakamoto won the Singapore Fellowship
Kelly Ryan Murphy and Daniel Bowman Loriaux received the Wilburt Davison Award
Jong G. Park received the Vice Dean's Research Award -- Basic Sciences
Godefroy Sullyvan Chery earned the Vice Dean's Research Award -- Clinical Sciences
Military Science
Gabrielle Renae Lucero won the Daughters of the Revolution Award. She also was named the Distinguished Military Graduate and received the George C. Marshall Award
Erik James Kennelly won the Reserve Officers Association of North Carolina Medal
Music
Justin Olivier Bryant earned the Ann-Marie Parsons Memorial Prize
Ilhan Gokhan won the Henry Schuman Music Prize
Melody Cari Lin earned the Julia Wilkinson Mueller Prize for Excellence in Music
Alexander John Pieloch and William Robert Harris earned the Paul R. Bryan Award
Jonathan Louis Aisenberg earned the William Klenz Prize in Music Composition
Naval Science
Conner Benton Silveria earned the Admiral Frank Bowman Leadership Award
Julianne Elizabeth Dahlman received the CNO Distinguished Graduate Award
Liam Kelly Brennan won the USAA Spirit Award
Office of Health Professions Advising
Chukwuma Nnanyelu Eruchalu won the Raymond Lublin, M.D. Award
Physical Therapy
Mariel A. Hammond won the Duke Doctor of Physical Therapy Diversity Award
Thomas Joyce, Ryan Koter, Alexander Reiley, Whitney Gore, Sarah Funderburg, Melissa Gunner, Sara Regan, Amber Penna, Derek Mitchell Poulson and Ashlee Price received the Helen Kaiser Scholarship Award
Thomas Eugene Hammett earned the Student Recognition Award
Physics
Tianji Cai won the Daphne Chang Memorial Award
Political Science
Thamina Jasmin Stoll and Robert Phillip Allred received Alona E. Evans Prizes in International Law
John Jesse Villa won the Elizabeth G. Verville Award
Kevin Matthew Lewallyn and John Lawrence McMichael earned the Ole R. Holsti Award in American Foreign Policy and International Relations
Dana A. Raphael and Apara Sivaraman received the Robert S. Rankin Award for Leadership and Academic Achievement
Connor Michael Phillips won the Robert S. Rankin Award in American Government and Constitutional Law
Delaney Patricia King won the Robert S. Rankin Award in American, National, State, and Local Governments
Psychology
Joseph Henry Levy earned the Karl E. Zener Award for Outstanding Performance of an Undergraduate Major in Psychology
Jennifer Acosta received the Jerome S. Brunner Award for Excellence in Undergraduate Research
Public Policy
Parker Colburn Gilbert and Jessica Elisabeth Kalili Van Meir won the Joel Fleishman Distinguished Scholar Award
Osasenaga Kelly Aghayere and Jessica Elisabeth Kalili Van Meir won the Terry Sanford Leadership Award
Religious Studies
Kristen Lee Buehne received the Best Paper Award
Romance Studies
Rinzin Dorjee earned the Guido Mazzoni Prize in Italian
Emily Kathryn Aarons and Benjamin Francis Brissette won the Richard L. Predmore Award in Spanish
Chi Dat Lam and Benjamin Mirman received the Robert J. Niess / Alexander Hull Award in French
School of Nursing
Ian Power Ryan won the Ruby L. Wilson Excellence in Clinical Practice Award
Susan Clime Herndon earned that Thelma Ingles Excellence in Clinical Expertise and Scholarly Activities Award
Ariella Rosalie Jolly received the Outstanding DNP Scholarly Project Award
Statistical Science
Lun Yin received the Statistical Science TA of the Year Award
Student Affairs
Lindsey Alexander Hallingquest, Alexandria Renee Miller, Manish Nair, Sophia Khan, Dayton Parker Grogan and Shivram Ayyappan Chandramouli earned the Distinguished Leadership and Service Award
Chinyere Nnenna Amanze, Nur Cardakli, Manish Nair, Christina Elizabeth Oliver, Richard Aidan Phillips, Steven Jonathan Soto and Sydney Ann Speizman won the William J. Griffith University Service Award
Theater Studies
Yizhou Jiang won the Alex Cohen Award for Summer Initiatives in Theater
Carolina Gisela Robledo and Emily Hope Levinstone received the Outstanding Acting Student
Emily Hope Levinstone earned the Harold Brody Award for Excellence in Musical Theater
Rory Berend Strauss Eggleston won the John M. Clum Distinguished Theater Studies Graduate Award. She also won the Reynolds Price Award for Best Original Script for Stage, Screen or Television
Ashley Morgan Sage received the Kenneth J. Reardon Award for Theater Design, Management or Production
Sophie Caplin won the Award for Excellence in Directing
Reilly Johnson won the Dale B.J. Randall Award in Dramatic Literature
Alex Felix and Madeleine Taylor received the Forlines Family Theater Studies Grant
Onastasia Ebright won the Kevin Gray Musical Theater Award
Trinity College of Arts and Sciences
Anna Elizabeth Mukamal won the Bascom Headen Palmer Literary Prize
Abhi Shah received the Edward H. Benenson Award in the Arts
Vania Jiayi Ma, Lydia Bradford and Hannah Dean Morris won the James Rolleston Prize for Best Literary Honors Thesis in a Foreign Language
Danielle Rene Mayes earned the Louis B. Sudler Prize in the Creative Arts and Performing Arts
University Union
Will Francis and Danny Kim won the Hall Kammerer Memorial Prize for Film and Video Production
Bass Connections
Bass Connections Award for Outstanding Mentorship
Bass Connections Follow-on Student Research Awards
Bass Connections Poster Awards
Judges' Selection: Identifying the Needs and Barriers to Patient-Family Education to Improve Neurosurgery Patient Outcomes in Mulago National Referral Hospital (MNRH), Uganda (Joao Ricardo Vissoci, Chinemerem Nwosu, Sandra Batakana, Silvia Vaca, Stephanie Lim, Linda Xu, Michael Muhumuza, Hussein Ssenyonjo, John Mukasa, Joel Kiryabwire, Emily Smith, Anthony Fuller, Gerald Grant, Michael Haglund), Improving Neurosurgery Patient Outcomes in Uganda
Audience Choice: Automated Building Energy Consumption Estimation from Aerial Imagery (Mitchell Kim, Sebastian Lin, Sophia Park, Eric Peshkin, Nikhil Vanderklaauw, Yue Xi, Samit Sura, Hoël Wiesner, Kyle Bradbury, Leslie Collins, Timothy Johnson), Energy Data Analytics Lab
Faculty Scholar Award
Lauren Bunce (Gender, Sexuality and Feminist Studies), John Lu (Chemistry) and Gabrielle Stewart (Classical Studies) received the 2017 Faculty Scholar Award. Presented annually to juniors who have conducted independent research and show potential for innovative scholarship and a potential career in academe, the award is the highest honor presented by Duke faculty to undergraduate students. Honorable mentions went to Caroline Fernelius (English) and Karen Xu (Biomedical Engineering).