Philanthropist Urges Duke Graduates to Lead Meaningful Life
Trustee Chair David Rubenstein advises new graduates at 2017 commencement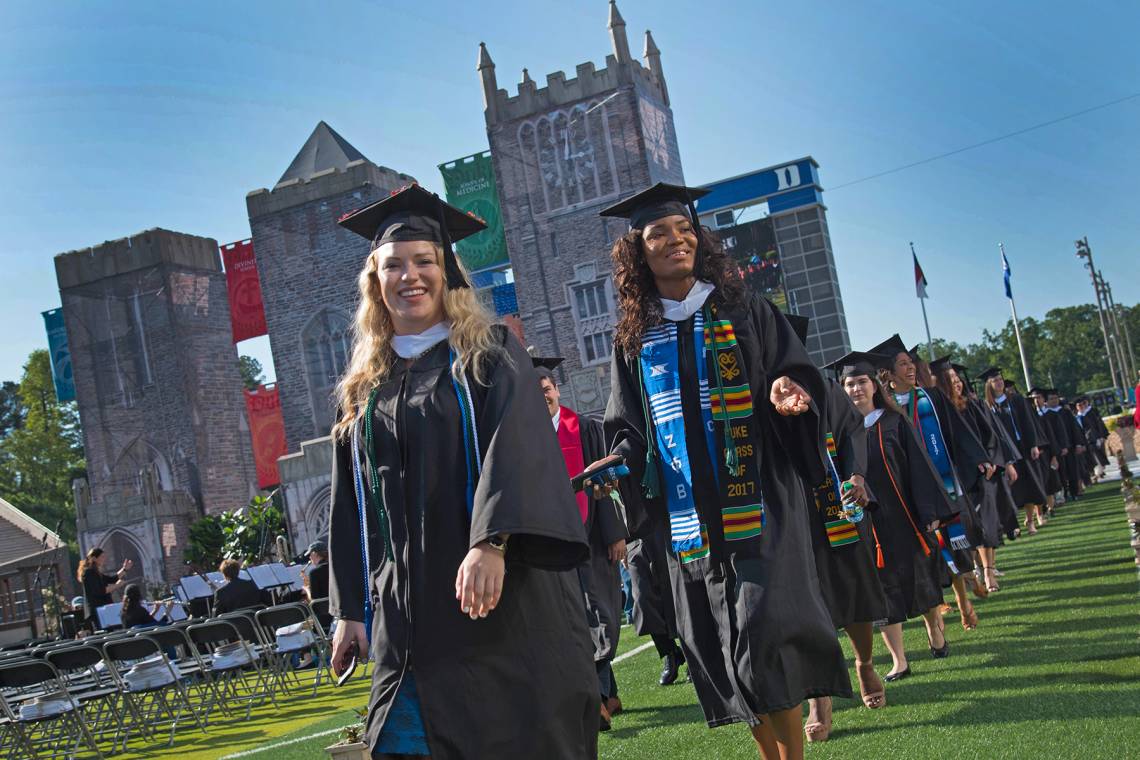 Duke University graduates on Sunday were advised that two keys to leading a fulfilling and meaningful life are to possess the right values and to be able to enjoy yourself.
"Experiment. Try many different things. But you have to enjoy what you're doing," said commencement speaker David Rubenstein, a philanthropist and financier who currently chairs the university's Board of Trustees. "Nobody ever won a Nobel Prize hating what they were doing."
On a warm, sunny morning, Duke President Richard H. Brodhead presided over his final Duke commencement ceremony, where more than 5,300 undergraduate, graduate and professional degrees were awarded before a stadium filled with cheering family and friends.
Brodhead, who is stepping down June 30 after 13 years as Duke president, was a focus of attention during the ceremony. Prior to the students proceeding into Wallace Wade Stadium, a video reflecting on Brodhead's time at Duke was played on the scoreboard, and it drew loud applause from those sitting in the stands. 
And in his commencement remarks, Rubenstein said, "The great leader of this university, Dick Brodhead, has been the guiding force that's made this university's degree worth so much more than before. And in his honor, yesterday the Board of Trustees decided to honor him and keep his name alive here at Duke … by renaming West Union the Richard H. Brodhead Center for Campus Life.
"Over the years I have met many university presidents and I have worked with many of them, but I have never met a university president who is as hard-working, as smart, as articulate as Dick Brodhead, and all of you are the beneficiaries of this extraordinarily talented person. The university will certainly miss him."
The ceremony, which was webcast live on Duke's YouTube channel and covered on Twitter at #Duke2017, also honored students who graduated in September or December 2016. Also recognized was the dean of Duke's medical school, Dr. Nancy Andrews, who is stepping down after 10 years at the helm.
Rubenstein, a 1970 magna cum laude graduate of Duke, is co-founder and co-CEO of The Carlyle Group, one of the world's largest private equity firms. He also is one of the nation's leading and most innovative philanthropists. His gifts in his home city of Washington, D.C., have helped to restore Mount Vernon, the Kennedy Center and the Lincoln Memorial, and repair the Washington Monument after a 2011 earthquake.
He has also been a generous donor to Duke as well as co-chair of the $3.25 billion Duke Forward campaign. Rubenstein, who was the first in his family to attend college and who chose to attend Duke because it offered him the most financial aid, recently endowed a scholarship program for first-generation, low-income students at Duke.
Rubenstein told the graduates he had the good luck "to realize that making a lot of money, while it seemed pleasurable and interesting at the time, really wasn't as good a thing as I had once thought. There's no doubt a great benefit to making money, I thought I had the good luck to realize that giving it away in a sensible, intelligent way was a much more meaningful way to lead my life.
"And so I had the good fortune to learn that before I was too old to do something about it."
On Mother's Day, Rubenstein credited his mother, who passed away a few weeks ago, with making clear to him what she considered to be the right values.
"When I was building my firm, she never would call me to say congratulations on buying a new company. … When I started giving away money and doing things to give back to society, she started calling me all the time and said you're actually doing something useful with your life."

Rubenstein told the graduates that as they move on in life, they should remember a secret formula -- "the DaVinci Code of being a Duke graduate" -- that can be found in the acronym "Go Duke."
The letter G represents gratitude, he said. "Nobody can do anything worthwhile by him or herself. … As you go through life, remember, try to express appreciation to others for helping you, and do it with humility."
The letter O stands for originality. "Try to think of something that no one else has done. … If you really want to make a mark in the world, try to do something that is truly original."
The letter D is for difference. "As Duke degree recipients, you have a responsibility, in my view, to make a difference in the world. So cherish this responsibility, accept this responsibility, be proud of this responsibility … try to make the world a slightly better place than you inherited."
The letter U stands for unrelenting. "Persist, persist, persist. And if you do, I think you will make yourself a much happier individual and make a difference in the world."
The letter K is for knowledge. Noting that 30 percent of college graduates never read another book after school, Rubenstein said not only is knowledge essential, but "the great pleasure of life is exercising your brain."
And the letter E represents enjoyment. "If you're going to accomplish something on life that's worth of note, you have to enjoy it."
"If you express gratitude, if you're original, if you try to make a difference in the world, if you're unrelenting, if you pursue knowledge and enjoy what you're doing, you will make a life that will make your parents proud, that will make your children proud, that will make Duke proud and that will make you proud," said Rubenstein, whose tenure as board chair also ends June 30.
The student speaker at commencement, Elena Elliott from Dallas, Texas, also spoke about the role that the graduates "can play in creating big days for others."
Elliott spoke of her own journey to Duke, which included her grandparents emigrating from Mexico to the United States in 1980 and her mother putting her education on hold so her daughter would have a better chance at success.
"Our lives were altered by these moments, and the people that helped us through them," said Elliott, who will work for Teach for America in Oakland, California. "We'll face more adversity in our lifetime, and hopefully someone will be there to help us through.
"We'll also encounter moments where we might choose to help others through. In those moments I hope we decide to take that on, for those instances of kindness and caring could change a life forever."
(A series of other stories about graduating seniors is available here)
Duke also awarded seven honorary degrees during the commencement ceremony. The recipients were: Harvard Business School professor Clayton Christensen; scientist George Church; Deborah Lee James, former secretary of the Air Force; former U.S. Attorney General Loretta Lynch; documentarian Stanley Nelson; novelist and essayist Marilynne Robinson; and Luis von Ahn, a computer scientist and entrepreneur.
In addition to Sunday's ceremony, Duke's graduation weekend was filled with special events held by individual schools, departments and programs.
On Friday afternoon and twice on Saturday, graduating seniors gathered in Duke Chapel for baccalaureate services. Speaking at the services, Brodhead emphasized the importance of resilience.
"I hope there is some difference you want to make," Brodhead said. "I hope that's the success you aspire to. And differences have been made in the world, differences of many kinds, made by men and women not fundamentally different in strength from you.
"But differences aren't made by complaining that they are needed. They're made with work, through struggle against obstacles, by people who are defeated every day perhaps but who rebound, who say with some never-extinguished inner voice: still I rise."
The senior class also heard Friday from NBA Commissioner Adam Silver and WNBA Commissioner Lisa Borders, both Duke alumni, who spoke about the power of connections among Duke graduates.
"The Duke experience is not an ending. It's just a beginning," Silver said.
Also on Friday and Saturday, graduates of Duke's graduate and professional schools gathered at ceremonies where they heard from an array of notable speakers. The speakers included Loretta Lynch, 83rd attorney general of the United States, who spoke at the Duke University School of Law hooding ceremony; Deloitte CEO Cathy Engelbert, who spoke to graduates of The Fuqua School of Business' Cross Continent and Weekend Executive MBA classes; and Pablo Arenas, director general of the Mexican National Fisheries Institute, who spoke at the Nicholas School of the Environment's recognition ceremony.
The weekend also included commissioning ceremonies for ROTC graduates, special events for many of Duke's scholars and fellows and dozens of other events. Many graduating seniors received their degrees at departmental ceremonies following commencement.