Duke Announces Health Initiative for Campus Community
Photo contest offers healthy prizes to students, faculty, and staff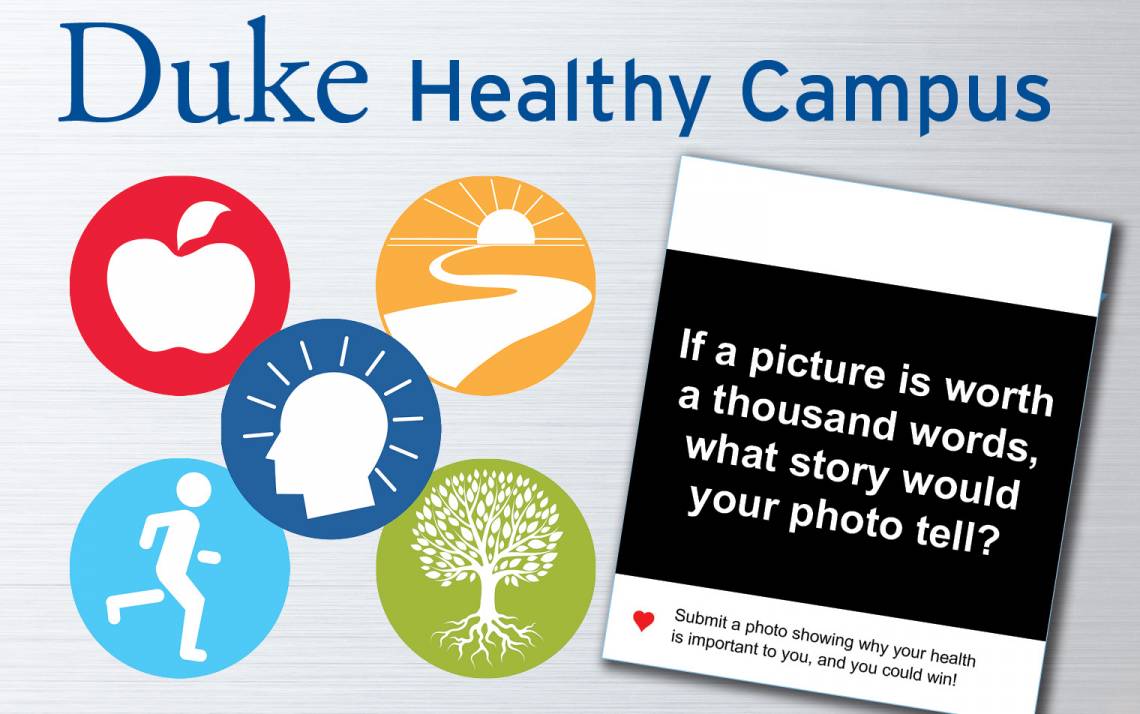 Duke has long been considered among the top providers of healthcare in the country. Now, it is embarking on a journey to fully embrace the many resources, benefits, and services within its community to become the healthiest campus in the country, too.
Duke Chancellor Eugene Washington announced the Duke Healthy Campus initiative saying much work had been done in recent months by a steering committee of passionate and dedicated leaders across Duke to develop the framework for the program and more details would be announced in a formal introduction later this fall.
"This effort will engage students, faculty, and staff across the Duke community to help each of us live healthier, improve our quality of life, and realize our full human potential," said Washington, who also serves as the president and CEO for Duke University Health System.
The framework for the initiative consists of five core areas:
Food & Nutrition
Mental & Emotional Wellbeing
Physical Activity & Movement
Fulfillment & Purpose
Environment & Culture
Kyle Cavanaugh, vice president for Administration and co-chair the Duke Healthy Campus Steering Committee, said that health and wellbeing are central to success in all aspects of life, and the success of effort will require the active and broad participation among students, faculty, and staff.
"Too often we take our health and wellness for granted until we have to deal with some issue that limits our ability to do everyday activities," he said. "Then we realize how central our health and wellbeing are to everything we hope to achieve in our personal, academic, and professional lives."
Washington said the reasons why someone's health and wellness are important to them are as unique and varied as the individuals who work and study at Duke, so they have introduced a photo contest to learn more about what drives people to take the necessary steps to sustain improvements in their health and quality of life.
"As we introduce this initiative, we invite everyone to start by considering the reasons why their health and wellbeing are important – to you, your family, and your loved ones," he said.
Students, faculty, and staff who submit a photo that best reflects why their health and wellbeing are important will be entered into a weekly drawing to win one of several healthy prizes, including the grand prize of a trip for two to the Grove Park Inn and Spa in Asheville, N.C.
For more about the initiative and the photo contest, visit the Duke Healthy Campus website.