Vacation Doesn't Slow Down Get Moving Challenge Winner
Duke Orthopaedics' Cara Gambill kept striding toward victory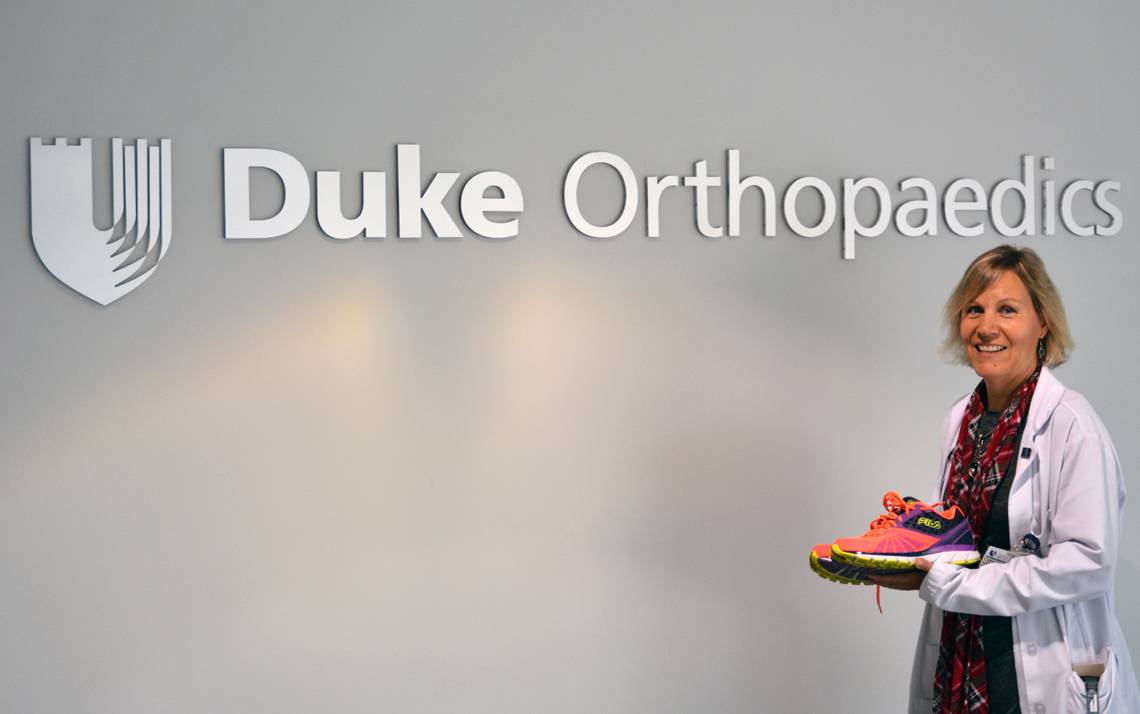 For people who know Cara Gambill, the idea of her taking it easy on vacation is laughable.
True to form, when the energetic physician assistant at Duke Orthopaedics went to Costa Rica in February, her action-packed trip had her shooting down zip lines, rappelling and horseback riding. But in the midst of an attempt to win Duke LIVE FOR LIFE's Get Moving Challenge, it still wasn't enough.
"You could kayak and I got in the pool and swam, but you couldn't wear this," Gambill said, pointing to her Fitbit, a device on her wrist that keeps track of her steps. "You couldn't do steps but you could do minutes."
Gambill, a former Duke soccer player who got her bachelor's from Duke in 1991 and her master's in health science in 1997, was taking part in the 10-week program for the first time. And in an attempt to inspire office mates and fellow participants – as well as stoke her own competitive fire – she wanted to win.
When the program wrapped up this week, Gambill had done just that, logging more steps – 2,710,477 – and minutes of exercise – 16,952 – than any other individual competitor.
Gambill said her varied schedule left her able to take advantage of recent mild weather and go for long walks and runs around her Chapel Hill neighborhood and the leafy office park near the Page Road clinic. Her personal goal was 40,000 steps per day during the week and 50,000 per day on the weekend.
The only hurdle came after her trip to Costa Rica. After she returned, she saw that her lead in the overall categories had been whittled down considerably.
"I knew for the last few weeks, I had to step it up," Gambill said.
Gambill had plenty of competition.
This year, the Get Moving Challenge drew 241 teams - matching the organizers' registration goal – and nearly 2,400 total participants combined to post 755,290,747 steps, 2,317,623 minutes of exercise and 796 pounds lost.
"The big thing that I noticed with this one was 61 percent of the people who registered, logged data for at least five weeks of the challenge," said Nick Beresic, health promotion manager at LIVE FOR LIFE, Duke's employee wellness program and Get Moving organizer. "That's great because you don't want people to register for the challenge and not do anything. They were active at least half of the weeks. That's a high water mark for the program."
While Gambill racked up the most steps and minutes of exercise, there were other Get Moving Challenge winners.
Brian Rothfuss, an application analyst with Duke Health Technology Solutions, had the highest percentage of weight lost. Competing with the Core Clinical Tenderfoots team, Rothfuss shed 16.4 percent of his total weight.
Exercise is a Lifestyle!, a team of Duke University Hospital staffers, finished with the highest average of steps – 1,014,056 per member – and highest average minutes of exercise – 5,127 per member.
The Colonel's Troopers, a team from Duke Heath Technology Solutions, had the highest average of weight loss percentage, dropping 5.2 percent per person. Dan Bruno, the team captain and chief operating officer of DHTS, said that he knew how serious his group was when more salads, vegetables and lean proteins started popping up in the meals he saw while eating lunch on the 12th floor of Hock Plaza. He did his part, too, dropping 30 pounds during the challenge. "They actually motivate me," Bruno said. "If I'm going to be their leader, I've got to set the example."
Check out some of our favorite Get Moving Challenge team names.