House of Lards. Phat Pharm … It's All in the Name
Get Moving Challenge team names that will make you want to move more
"Chiseled Chaplains." "Move Your Assays." "Mission Slimpossible." "Phat Pharm."
Duke's Get Moving Challenge got bodies moving and minds going as participants got creative with team names in the annual challenge that drew 241 teams to this year's competition.
"I get to read all the names and I just crack up," said Nicholas Beresic, health promotion manager with LIVE FOR LIFE, Duke's employee wellness program and host of the 10-week fitness and wellness challenge.
Coming up with a team name was one part of the annual competition that saw nearly 2,400 staff and faculty across the University vying to take the most steps, exercise the most minutes and lose the most weight. Winners of the 2017 Get Moving Challenge were announced this week.
For now, here are some of Working@Duke's favorite team names:
Chiseled Chaplains
The Chiseled Chaplains team is comprised of, you guessed it, chaplains.
"We were Chiseled Chaplains because we're trying to be fit," said Zach Hutchinson, of Duke University Hospital's pastoral services department and team captain. "It brings the department together in a new way."
Hutchinson said team members worked independently, logging daily steps through activities like walking, running and taking aerobics. Hutchinson said a chaplain's duties call for special attention to the body-mind connection, since chaplains need to care for themselves in order to serve others.
Carmichael Crazies
The Carmichael Crazies looked to their workspace and college sports for team name inspiration. Team members, all part of the Duke Molecular Physiology Institute, work in the Carmichael Building, a relatively new building in downtown Durham's "Innovation District," and Crazies is an homage to Duke Basketball, said Sarah Broz, a staff assistant at the Institute. Members participated in various activities to reach 10,000 steps daily, such as taking daily team walks. Broz even danced. "My primary activity is increasing the number of hours spent taking Latin Dance classes," said Broz, who has participated in the challenge at least four years.
Move Your Assays
An assay is defined as an investigative laboratory procedure and a play on . . . you know, so the name seemed a perfect fit for the Duke Human Vaccine Institute team led by Tara McNair, a lab research analyst 1 who's been with Duke for four years.
"Our experiments, we call them assays," said McNair, who has joined the challenge each of her four years at Duke. "This is an easy way to keep fitness on the forefront of your mind," McNair said, noting that members of her team reached a goal of 10,000 steps in all sorts of ways, including walking, playing tennis and even hula hooping while watching television.
Bird Brained
Though the term "bird brain" is typically an insult, that wasn't the impetus behind this team's moniker. The team's brain-related work inspired the name. "I work in the Duke Institute for Brain Sciences where there are some very smart and incredibly talented individuals, certainly not the kind who you'd call simpleminded," said Tyler Lee, a staff specialist. Lee was inspired to start the team after she invited colleagues to attend a nutrition presentation entitled "Forks & Feet" (see above photo) given by her sister Jordan Lee, a doctoral student studying human movement science at UNC-Chapel Hill. "I have done this challenge for four years now and have met some great people through it," Tyler Lee said. "It was nice to see just how many steps I took each day while the challenge was going on."
CIT Ate Too Many Cookies
The sweet inspiration for the name came from a common workplace diet foe: brought-in treats. "Every day during the month of December, someone from our department brings in cookies. That is a lot of cookies! So in January, we all like to get more active and leave behind the cookies in favor of steps," said Kim Manturuk, Ph.D, a program evaluator at Duke's Center for Instructional Technology (CIT). The team reached its daily step goal by hosting meetings while walking and talking when possible. One day alone, Manturuk logged more than 25,000 steps. "I'm especially a fan of walking the quad loop on West Campus," she said. "That was a fun way to take meetings when the students were still tenting because there was always something new to look at."
Mission Slimpossible
"Everyone likes a little Tom Cruise," said Terrance Lawrence, captain of the team based out of GI Clinical Research, which developed its name as a pun of the well-known Tom Cruise-starring action movie franchise.
Lawrence likes fitness and jumped at the chance to take part in the challenge. He helped other Mission Slimpossible members make fitness a part of their lifestyle by giving them "positive reminders" to get moving with their independent walks, the team's main form of activity.
"Even here at work we can partake of healthy habits," Lawrence said.
DGHI Globetrotters
This team called themselves "Globetrotters" because they work at the Duke Global Health Institute. One team member was a DGHI spouse. Team members took walks together at lunch, when the weather cooperated, said staff assistant Monica Roberson, a 26-year Duke employee who's participated in the challenge every year since it started. "I usually try and walk four times a week during the year, but when I need to keep track of my steps, I am amazed at how many steps I am accumulating when I walk during the year," Roberson said.
Phat Pharm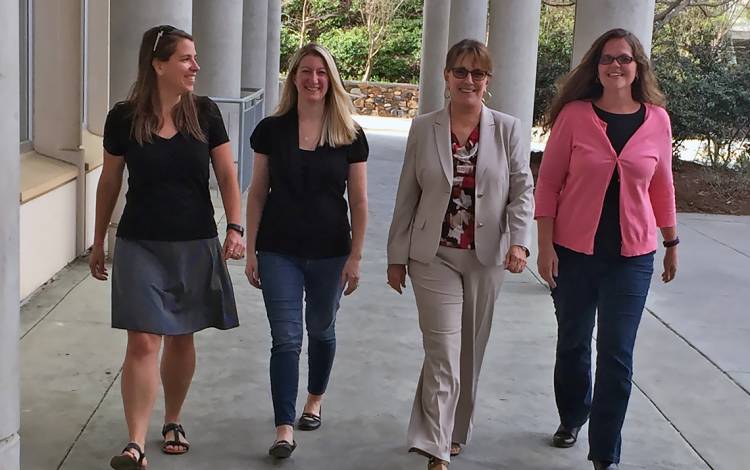 "It's a play on pharmacology," said Lucy Taylor, a human resources specialist and captain of the team based in the Pharmacology and Cancer Biology Department.
The department has done the challenge in the past. "It's a nice way to bring in Spring," Taylor said.
Taylor, who's training independently for a 10K run, said Phat Pharm team members got moving by taking walks together throughout the week and celebrating other team members' successes, such as weight loss milestones.
"I appreciate the LIVE FOR LIFE program and that Duke encourages being active and healthy," Taylor said.
Root Vegetables Forward
A mantra often heard in the Undergraduate Admissions Office during January and February is "route forward" as staff members pore over applications for first-year students. The mantra's taken as encouragement to keep reading and processing applications and routing them toward final decisions, said Christopher Briggs, the office's assistant director. "Our team name is a play on our office's seasonal mantra meant to encourage healthy choices and staying focused for the 10 weeks of the challenge," Briggs said. Among other activities, team members ran and practiced yoga.
Looking Lean in Seventeen
This team's name isn't looking back to teenage years, but looking forward to a healthy 2017.
"I was thinking about doing something to encourage movement because we do sit a lot, and because it's 2017 and we're starting it off fresh," said Geraldine McGhee, team captain and a patient service associate at the Orthopedics at Page Road clinic, where the team is based.
Team members took walks whenever possible to reach a daily 10,000-step goal. This was McGhee's first time competing in a Duke Get Moving challenge, and she said she appreciated Duke for encouraging health at work.
Several More Team Names
House of Lards
Department: 2F & 2G
Dope-A-Mean Team
Department: Counseling & Psychological Services (CAPS)
Just because he moves a little, doesn't mean he's awake!
Department: DN Anesthesia
Weapons of Mass Reduction OG
Department: Lab Animal Resources
Sauntering to Starbucks
Department: Anesthesiology-Neuro Division