Smokehouse at Center of Unique Duke Project
Duke overseeing building of temporary wooden smokehouse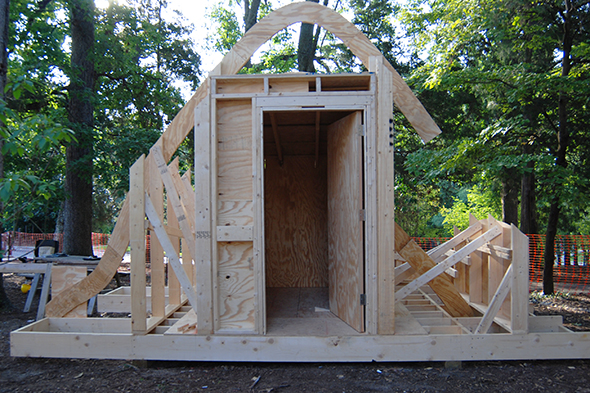 An interdisciplinary project being constructed on West Campus this week will soon lead to culinary treats for Duke community members.
Visiting professor Tom Parker, along with Duke's Facilities Management Department, is overseeing the construction of a temporary wooden smokehouse in the picnic area outside the east entrance of the Allen Building. The 25-by-14-foot structure will be used by Parker and Duke faculty from various departments to smoke meat and even butter as part of a larger fall semester project examining food and culture.
Work on the smokehouse is expected to wrap by the end of this week so pork, shrimp and more can be smoked starting Sept. 2. The goal is to cure food between 120 and 180 degrees that will be served at a dining event Sept. 18 on the East Campus quad. Duke Dining is partnering with Parker to host the event, which will be open to all students, faculty and staff.
Construction of the smokehouse and programming is supported with a grant from Duke's Humanities Writ Large.
Tom Parker, visiting fellow from Vassar College, discusses his work with Duke's Humanities Writ Large on the 'Subnature and Culinary Culture.'
"As an academic project, it sounds a little crazy, but there's a level of seriousness to it as well," said Parker, an assistant professor of French and Francophone studies at Vassar College. "Bringing in people from all different academic backgrounds, it's exiting to do it together because everyone sees something different in it."
Along with Parker, five Duke faculty are also working on aspects of the food and culture project from departments like Romance Studies, Women's Studies and Classical Studies.
The smokehouse structure is built from plywood, similar to any backyard shed. In addition to a smoking feature, palettes will be created on the side of the smokehouse to hold herbs like oregano, thyme and pea shoots. Two sides of the structure will have benches so visitors can stop and sit and half a 55-gallon drum will serve as the smoke source, connected to the smokehouse by metal piping.
Between Sept. 2 and early October, Duke faculty and staff will oversee up to six meat-smoking sessions.