Die-Hard Duke Fans: Maybe UNC Isn't so Bad
Employees wrestle with feelings toward Duke's sport rival
John Caccavale reluctantly poses with the latest addition to his wardrobe.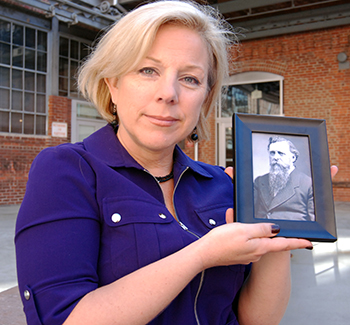 Malinda Whitson recently discoverd her great-great grandfather is a UNC alum.
There's no denying John Caccavale's love for all things Duke. He's a 1981 graduate, current executive director of the university's Financial Economics Center and die-hard fan for Duke sports and student-athletes.
But lately, he's felt guilty. His outfits routinely lean toward his favorite shade of dark blue, but there's a new piece to his wardrobe lurking at the back of his closet.
"I literally do not have anything in my house that is Carolina blue," he sighed. "But my wife bought me a Carolina-blue sweatshirt and you know what? It makes my eyes stand out when I wear it, which she likes."
Caccavale feels off when he wears the shirt but appreciates compliments about his eyes when he wears it.
"It's a little awkward to wear that shade, but it feels nice when people notice these chestnut browns," Caccavale said, pointing at his eyes.
Fellow Duke fan and employee Malinda Whitson also felt her allegiance tested recently while compiling family genealogical information. Whitson discovered her great-great grandfather, William Marshall Benedict II, was a UNC graduate in 1887.
"I never thought I'd have an appreciation for UNC, but William was able to start a sugar refining business because of the education he received at Chapel Hill," said Whitson, regional development director with University Development. "Duke does amazing things for its students, and I'm glad UNC has a history of that, too."
Related Stories
Whitson, who feverishly roots for Duke's sports teams and has been a season ticket holder to football games for years, said learning about her great-great grandfather made her reflect on her impression of the collegiate rivalry.
"Maybe UNC isn't so bad," she wondered out loud. After a pause: "Nope. I know which blue is best."
---
April Fools!
In reality, you'd have a hard time convincing John Caccavale or Malinda Whitson to root for the Tar Heels. Both have been selected as "Honorary Captain" for the Duke football team - Whitson in 2012 and Caccavale in 2013. Duke employees can join both at home football games this season for deeply discounted prices.