Pushing Limits by Running Through Hot Coals
Employee wellness program creates obstacle course to test runners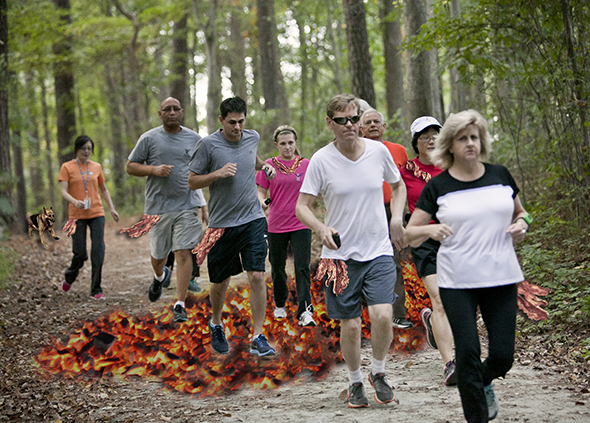 Tired, sweaty and smelling of meat, a dozen Duke employees stood bent over with their hands bracing themselves on their knees and bacon flapping outside their pockets.
The cool shade of Duke's Al Buehler Trail offered respite from Sunday's warm afternoon, where staff gathered to train for this month's Rock 'n' Roll marathon as part of the Duke Endurance Team.
The group has been meeting since January to prepare to run the half or full marathon in Raleigh on April 13. Staff members from LIVE FOR LIFE, Duke's employee wellness program, are coaching the runners, providing them with workouts, diet tips and more.
On this particular day, LIVE FOR LIFE's guidance stepped up a notch with final preparations for the marathon.
"At this point, we've been training for 13 weeks and some people are in a rut," said Katie MacEachern, fitness specialist with LIVE FOR LIFE. "That's why we wanted to offer a new approach."
To better focus on mental fortitude, agility and speed necessary to finish a marathon, MacEachern set up an obstacle course along the Al Buehler Trail to test each runner.
"Running a marathon isn't a cake walk, which is why we had our runners go over burning coals and work on their dexterity by avoiding errant golf balls from the nearby course," she said. "Playtime is over!"
To ensure participants completed the workout, each person carried pieces of bacon in their pockets, causing dogs on walks with owners to chase after runners.
"I mean, we're called the Duke Endurance Team for a reason," MacEachern said.
---
April Fools!
LIVE FOR LIFE doesn't have any threatening obstacle courses for employees, but they do offer a variety of programs for faculty and staff who want to work toward health and wellness goals. Duke Endurance Team members really are training for the Rock 'n' Roll marathons. Learn more at the LIVE FOR LIFE website, where you can also sign up for the weekly Run/Walk Club, a social exercise group that meets twice a week.