How to Build a Better Breakfast
Mark 'Nutrition Month' with a healthy start to your day
Like the old adage goes, breakfast may be the most important meal of the day.
At least, if you want to have more energy and even more focus, that is.
"People who eat at regular intervals throughout the day and don't wait for one main meal have better success with weight management," said Esther Granville, nutrition program manager for LIVE FOR LIFE, Duke's employee wellness program. "I always reiterate the importance of breakfast because it's commonly left out of people's routine despite the fact that it is an essential habit to embrace."
Taking the simple step of eating breakfast is just one aspect of nutrition Duke community members can focus on this March as part of National Nutrition Month, an annual education and information campaign sponsored by the Academy of Nutrition and Dietetics. The campaign focuses attention on the importance of making informed food choices and developing sound eating and physical activity habits.
When it comes to meals like breakfast, Granville said it's helpful to focus on four components: protein, whole grains, fruit and healthy fat.
"That could mean having a piece of fruit with oatmeal and a container of fat free yogurt sprinkled with a handful of almonds or walnuts," she said. "Try to find about 25 percent of a day's total calories at breakfast to give you the energy to start your day."
Starting the day with a healthy meal has been beneficial for Wanda Olowu-Are, a nursing care assistant at Duke Hospital. It was among the first changes she made to her lifestyle when she joined LIVE FOR LIFE's Pathways to Change program, a year-long health management program that pairs participants with coaches who guide them along a path to wellness.
"I used to love honey buns and junk food because I'd eat on the go," Olowu-Are said. "Now I'll get cereal bars and a banana and eat on my way to work."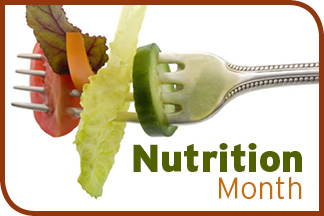 She's also focusing on portion sizes, eating three full meals during the day with a small snack of fruit, vegetables or nuts in between.
"I focus on portion size and measure servings on a scale to make sure I'm not eating too much," Olowu-Are said.
Along with portion control, Granville also suggests following Olowu-Are's path and eating in intervals, which means eating three full meals during the day, but don't be afraid to snack. She noted that because humans crave sugar, fat and oils, poor diet decisions are most likely to happen when we're hungry and just want something to eat.
That's why it's a good idea to start the day right by always eating breakfast, she said.
"What matters is the total number of calories you eat throughout the day and by eating breakfast, you're already on your way to a balanced, daily diet," Granville said. "If you don't go into your day hungry, you're more likely to plan and prepare for better choices later in the day."