Duke Chaplain Lifts the Spirits of Catholic Patients
Omoviekovwa Nakireru plays an important role in patient care at Duke University Hospital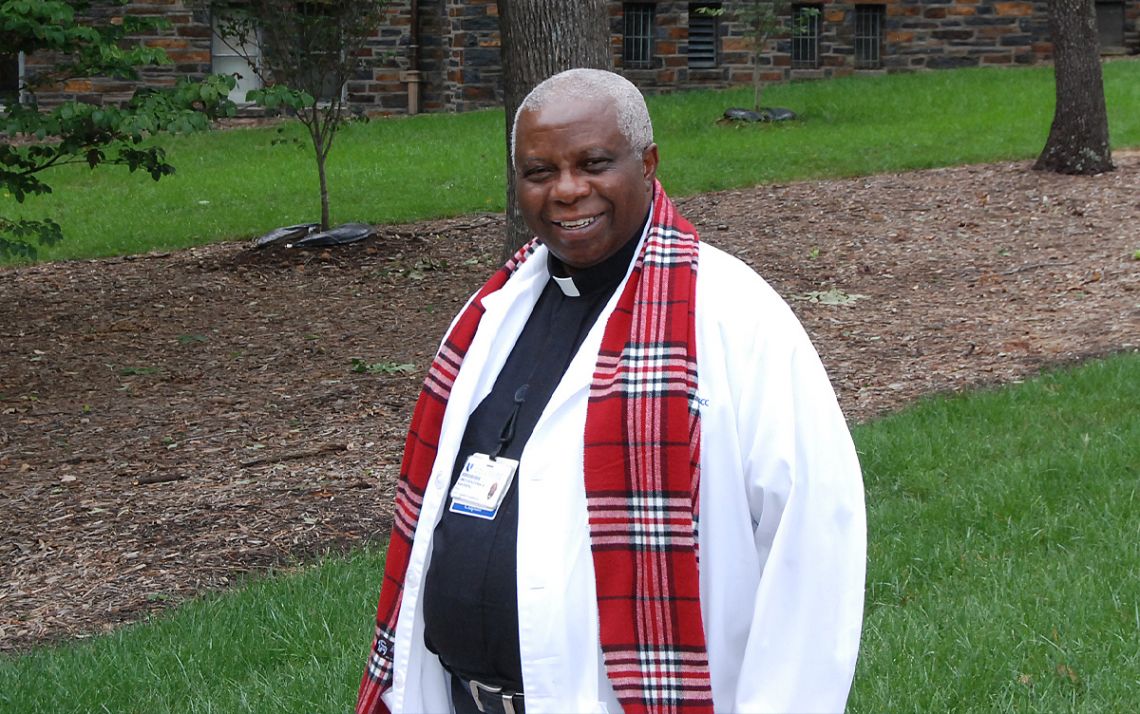 Patients at Duke University Hospital sometimes misinterpret Omoviekovwa Nakireru's starched black shirt and white clerical collar as portending bad news.
After 45 years as a Catholic priest — a calling with an important role to play in the Sacrament of Anointing of the Sick or Last Rites — Nakireru has learned to anticipate that association between his clothing and unwelcomed news. So, when he enters a patient's patient room, he arrives with a soft smile. He'll ask how the patient is doing and then he takes a seat and starts a conversation.
Since joining Duke in 2013, Nakireru, Duke University Hospital's only Catholic priest, has provided spiritual guidance and healing to approximately 2,000 patient congregants each year. Nakireru is there for patients, no matter what time — day or night — his pager goes off. As one of eight Duke Chaplain Services chaplains who work on the medical campus, Nakireru and his colleagues play a vital role in patient care, tending to emotional and spiritual wounds, as doctors and nurses focus on mending physical ones.
"It's well known that your mind controls the body, and if you feel emotionally down, your body follows," Nakireru said. "You must lift the person up emotionally. Make them smile, make them chuckle."
Nakireru grew up in Nigeria, where he entered seminary at age 14. At age 28, he completed training and was ordained as a Roman Catholic priest. Shortly after, he moved to the United States to pursue further education, setting a path that landed him in North Carolina and later a job at Duke.
Though he completed a Ph.D. in Communications from Ohio University and began teaching at Methodist University in Fayetteville in 1986, Nakireru felt called to his work as a priest. When he received a phone call from a minister at Fort Bragg asking if he could volunteer four hours a week to meet with soldiers in his free time, Nakireru could not say no. A few years later, he moved to full-time chaplaincy, staying at Fort Bragg for 18 years, then spending one year with the U.S. Marine Corps in Cherry Point, North Carolina.
After working with the military, an opportunity as a chaplain at Duke led Nakireru to working with civilian patients. Using the tools at his disposal — humor he inherited from his father, and prayer, wisdom and a listening ear — Nakireru lives out his life's calling at the intersection of meaningful interactions and often, deep sorrow.
While he has no bearing on a patient's physical progress, Nakireru knows his value comes in helping patients and their families through the moment.
"Nobody likes to be sick, and nobody likes to stay in the hospital even if they're sick," Nakireru said. "But sometimes we can't change that. We have to stay in the hospital. Being a patient is a difficult adventure."
As the on-call chaplain for all Catholic patients admitted to Duke University Hospital, Nakireru has seen patients on the verge of death exhale their final breath while he prayed for them. He's provided spiritual guidance to numerous young people facing terminal illness, held confession for a prisoner and comforted countless families who have had to say goodbye to loved ones, suddenly or at the end of a lengthy health battle.
He's also seen and experienced plenty of joy as patients' conditions improves enough that they can leave the hospital to return home or celebrate the birth of a child.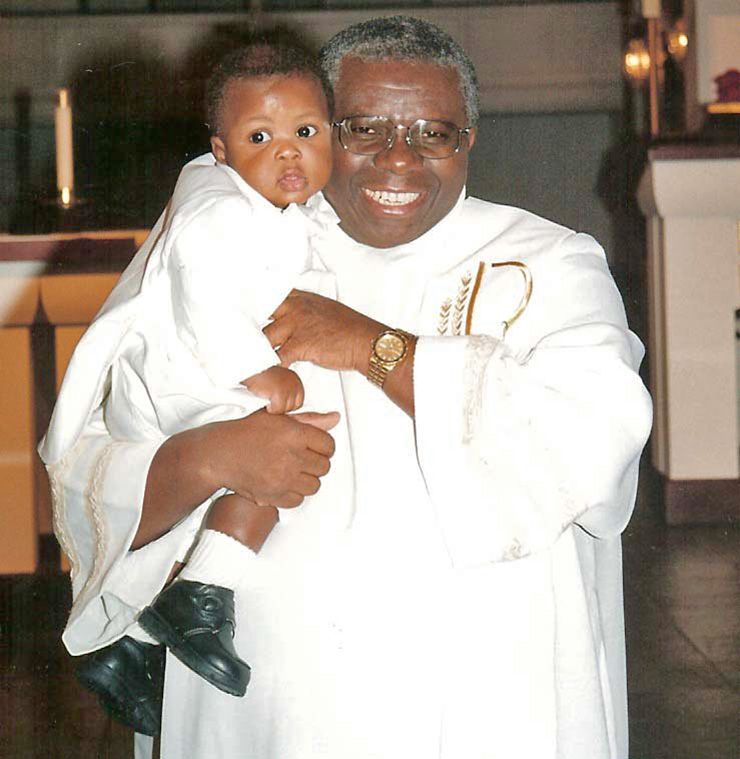 Colleague David Hormenoo, a clinical pastoral education supervisor for Duke Chaplain Services, has been impressed by Nakireru's ability to approach each unique patient situation with kindness and authenticity. Nakireru has written letters of recommendation for patients; helped them search for answers to difficult questions; and spent hours in deep conversations with people who later passed away.
"He's an encourager," Hormenoo said. "He can walk with you and listen to your story and stay with you and offer necessary advice."
As much as Nakireru serves patients, he also helps Catholic staff members. Before the pandemic, he held weekly Mass on Wednesdays on the first floor of Duke Medical Pavilion, a half-hour service of encouragement for patients, family members and medical professionals. As part of that, Nakireru secured a visit from two different bishops during his tenure at Duke.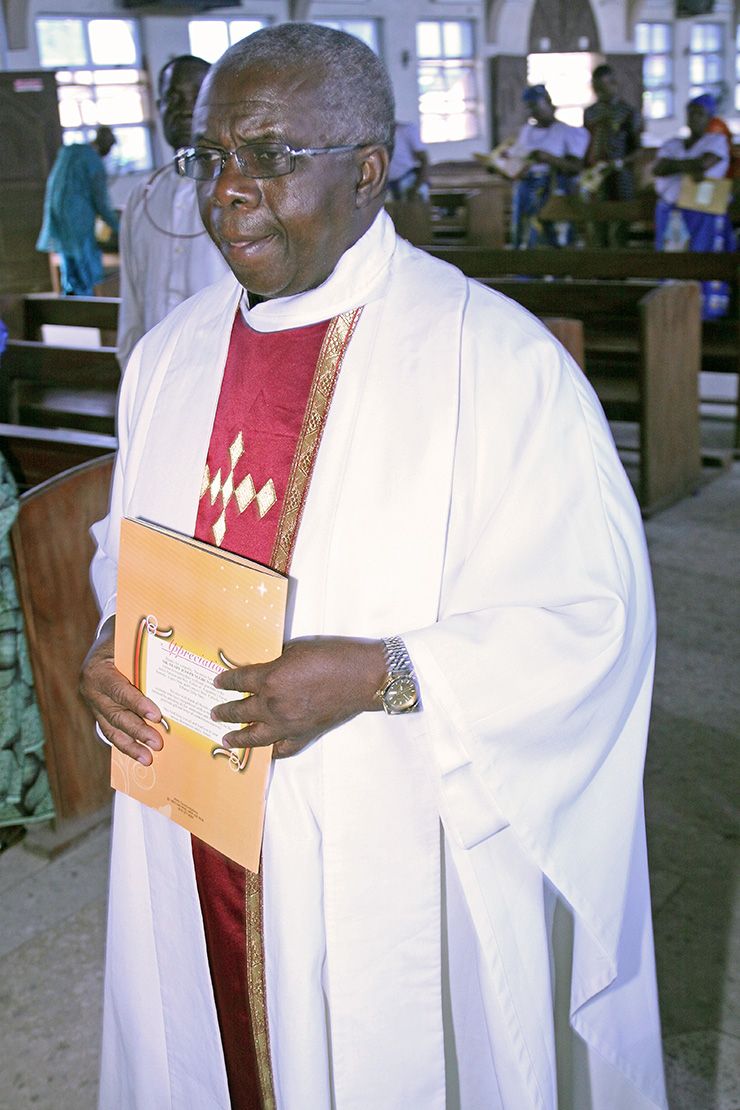 Each week, Diane Wright, a clinical research coordinator in Infectious Diseases at Duke, attended mass and appreciated how Nakireru wove homilies with personal stories, humor and lessons, especially around showing gratitude and kindness.
"Masses were always brief because he knew people had to get back to work, especially staff," Wright said. "But his homilies always have a personal message that went with the gospels that we could take away."
Send story ideas, shout-outs and photographs through our story idea form or write working@duke.edu.