Unique Perks As a Duke Employee
From the Chapel to the Libraries, staff and faculty value non-traditional benefits
In 21 years at Duke, Morgan Hendrix can list off several instances when her employee benefits intersected with her life's journey.
Her medical plan covered the bulk of the expenses from the birth of her two children at Duke University Hospital and her husband's treatment for testicular cancer by Duke doctors, and the employee tuition assistance program helped her pay for her master's degree in Liberal Studies at Duke.
Along the way, her employment has enriched her life in other, less formal, ways. She and her husband, Brian, whom she got to know at Duke, were married at Duke University Chapel in 2004. And their children – son Harrison and daughter Mary Eleanor – have enjoyed the summer camps at Sarah P. Duke Gardens.
"I've been here for my entire adult life, and it's felt as much like a home 
as a workplace," said Hendrix, director of admissions operations at the Divinity School. "For every step in my life outside of work, there was a benefit that supported me. I don't think that other workplaces can boast that kind of care and community."
On the strength of its benefits packages and work climate, Duke has long been singled out as exemplary place to work. Forbes ranked the university and health system among the nation's best employers this year.
During the past fiscal year, Duke paid around $3.1 billion in direct pay and $695 million on total benefits for its workforce, contributing $126 million to retirement plans and spending $398 million on health care expenses for the 74,663 people covered by Duke's medical plans. 
And for many staff and faculty, Duke offers rewards that go beyond paychecks and medical plans. From the Sarah P. Duke Gardens and Duke University Chapel to the Libraries and more, employees cherish non-traditional perks that build community and connection.
"To me, Duke has never lost its majesty," said Antwan Lofton, interim vice president of Human Resources who joined Duke in 2017 but grew up in Cary and visited campus landmarks such as the Chapel as a child. "I can tell you, as an employee, if I'm running from one meeting to the next, walking across campus and seeing those sites just helps me recharge."
A Peaceful Pause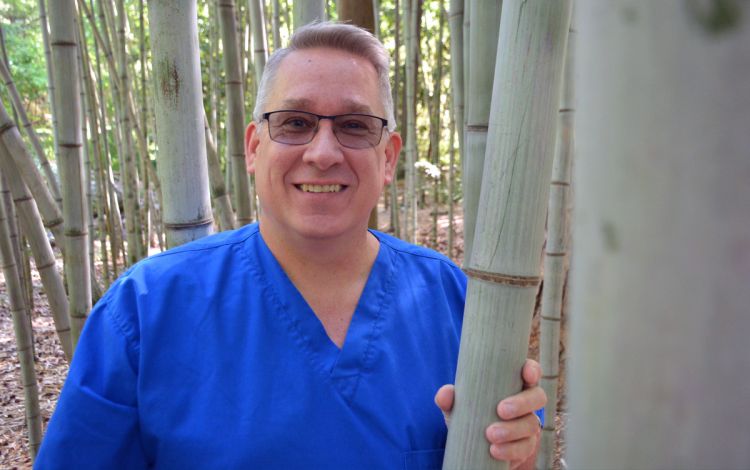 At 50, Ron Ryen, assistant nurse manager with Duke University Hospital's Pediatric Intensive Care Unit, gains more appreciation for Duke's medical and retirement benefits with each passing year. The same goes for Sarah P. Duke Gardens, where Ryen and his family have been regular visitors since he started working at Duke in 1996.
Like most visitors to the beloved 55-acre piece of campus, Ryen relishes the chance to see the vibrant spring colors. But it's in the clusters of bamboo found in the W.L. Culberson Asiatic Arboretum where he spends time in quiet, nourishing contemplation, letting stress melt away.
At one point, Ryen lived in Hawaii, where he hiked among breathtaking volcanos and waterfalls. He recalled a hike into a dense bamboo forest, where the only sound was wind rustling leaves and bamboo stalks clinking against one another.
"That was the most peaceful place I've ever experienced," Ryen said. "This part of Duke Gardens is as close as I can get to that."
Fuel for Curious Minds
On the day she interviewed for a position at Duke in 1989, Kathy Phillips visited Perkins Library and was enamored by an exhibit about advertisements. Since then, Phillips, associate dean in Undergraduate Admissions, can track her 33-year career through moments at Duke Libraries.
The Music Library helped Phillips find flute sheet music for her wedding. When her two daughters were in high school, they made many weekend and evening trips to Lilly, Bostock and Perkins libraries to borrow books for projects about poetry, dance and the Civil War. 
"I was able to accompany them to the library and check out books on their behalf that wouldn't have otherwise been available," Phillips said. 
When Phillips pursued a master's degree in Liberal Studies at Duke, she often visited the Rubenstein Rare Book & Manuscript Library for primary sources for her thesis on the history of Trinity Park School. She 
now uses library resources available to all staff and faculty at no charge such as ancestry.com to uncover her family's history.
"The benefit of the libraries lies in the access they provide to a wider variety of sources," Phillips said. "For my children, it enhanced their ability to perform well in school, and it made my own scholarly work much better."
A Game Getaway
In September of 2021, Duke Children's Hospital Financial Care Counselor Craig Fuller was among the thousands at Brooks Field at Wallace Wade Stadium to watch Duke's football team host visiting 
North Carolina A&T.
The Blue Devils won the game, leaving Fuller, who began working at Duke University Hospital as a patient transporter in 2019, with a fun memory.
"I love the game of football," said Fuller, who played college football as a defensive tackle for Fayetteville State in the 1980s. "Going to a game is like a little getaway for me."
This season, Duke staff and faculty can cheer on the Blue Devils for free when the Duke Football Employee Kickoff Celebration returns September 17. University and Health System employees were able to get up to four 
free tickets to the home game against North Carolina A&T.
The opportunity to enjoy the game, and support the community he's happy to be a part of, is something he can't pass up this year.
"It was a really nice time," Fuller said of last season's game. "I saw a few faces I recognized from the hospital and got to say 'Hello.' I really enjoyed that." 
Send story ideas, shout-outs and photographs through our story idea form or write working@duke.edu.