Meet the 2022 'Duke Stars' Celebrating Career Service Milestones
Staff and faculty marking 10, 15, 20 or more years of service share what they value about their time at Duke
Each day, roughly 43,100 staff and faculty at Duke University and Duke University Health System devote their time, expertise, and energy to fulfilling Duke's mission of delivering world class education, patient care and research.
And each year, Duke honors employees reaching career milestones of 10, 15 and 20 or more years of service. Recognized as "Duke Stars," this year's group of staff and faculty include 3,409 employees, including Hilliard F. Seigler, who has hit the 55-year mark.
"Our work of educating students, caring for patients and conducting ground-breaking research wouldn't be possible without our dedicated faculty and staff," said Duke Interim Vice President for Human Resources Antwan Lofton. "We're very appreciative to their commitment to Duke's vision and mission. And the longevity of the commitment of people who are celebrating 10, 20, 30 or more years with us is worthy of celebrating."
In recognition of these employees, Working@Duke caught up with a few of them to hear what they've valued about their time at Duke.
---
Kelly Strawberry
Chief of Staff
Duke University Hospital, Finance
10 Years
Kelly Strawberry didn't expect to put down roots when she joined Duke University Hospital's finance team as a temporary receptionist roughly a decade ago. But wanting to make a good impression, she approached every task, from stocking the break room to answering phones, with professionalism.
She remembers a colleague telling her to keep it up, her efforts weren't going unnoticed. A decade later, Strawberry, 35, said very little has changed as she still pours herself into her role on a team that feels invested in her growth.
"I always enjoy coming to work because I feel valued and my work feels appreciated." said Strawberry, who moved into the chief of staff role earlier this year.
Now, Strawberry works closely with the hospital's financial leadership team, organizing meetings and events, and supporting strategic planning work. As she handles work that's much more complex than what she did a decade ago, Strawberry said she's grateful her colleagues created the right environment for her to thrive.
"They have all been mentors in my life and taken the time to teach me things along the way," Strawberry said. "They've gone above and beyond to always include me and make me feel like one of the team."
---
Beky Branagan
Web Manager
Duke University School of Medicine, Office of Strategic Communications
15 years
As the person who manages the website for the Duke University School of Medicine, Beky Branagan gets to read and share every bit of news about the cutting-edge research and groundbreaking advancements in patient care that come from the school.
While sharing stories about bioengineered veins or hand transplants, she's constantly impressed with the work of her colleagues and grateful that she gets to help bring attention to it.
"How can you not be proud?" Branagan said. "It's a cool spot to be in. It's just so gratifying to see the work that we're doing, and also the national and international impact of that work."
Branagan, 52, came to North Carolina in 2007 after trying to escape the cold weather and the cost of living in Boston. When looking for a job, she wanted to find one with an employer with a mission that, in some way, enriched society.
Fifteen years after arriving at Duke, where she's enjoyed seeing exhibits at Rubenstein Library and appreciated the positive change Duke has helped spur in Durham, Branagan feels as though she's found the right work climate.
"It's just a great place to be," Branagan said.
---
Dawn M. Laing
Vascular Technologist
Duke Raleigh Hospital
25 Years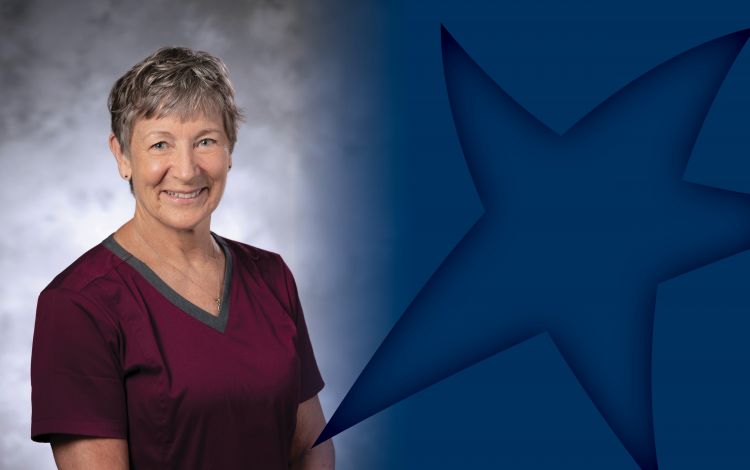 Each time Dawn Laing uses her ultrasound equipment to examine patients for blood clots, arterial disease or circulation issues, she's trying to give her patients and their caregivers clarity on potential health concerns. But a side benefit to these encounters is that Laing, 68, also gets to meet some fascinating people.
Laing, who had stops at Duke Regional Hospital and Duke University Hospital before joining the staff at Duke Raleigh Hospital 19 years ago, said that the opportunity to get to know the people that pass through her unit is a true perk of her job.
Sometimes her role is to calm nervous patients, other times she gets to build a rapport with those she sees multiple times. While she's one of many people a Duke Raleigh Hospital patient may encounter during the course of their care, Laing said that it's the human touch she gets to bring to her work at Duke that she values the most.
"They become some of our best friends," Laing said of patients. "They keep me going. Every once in a while I can give them a high-five and help them get through their day. That's why I work. I just like the interactions I get to have with patients."
---
Jimmie Banks
Senior Electrician
Duke Facilities Management
25 Years
As a senior electrician and gifted artist, Jimmie Banks' work has been appreciated wherever it's found on  campus.
The portraits in pencil and paint, which have been displayed in a solo exhibition in the Rubenstein Art Center and in permanent installations in buildings, have earned him fans. And he said the work he does maintaining electrical systems, while less colorful, also feels appreciated.
"I always get a lot of 'Thank yous' for keeping things working," Banks said.
A quarter century ago, Banks went from working as a contractor who did jobs on campus, to a full-time role with Duke Facilities Management. After working in the electrical shop where he repaired equipment, he's now part of a team that performs preventive maintenance on key electrical systems such as emergency lighting in campus buildings.
Whether it's been students he's met from around the globe or coworkers who've encouraged his art, Banks said, through it all, he's valued being part of a supportive, positive community.
"Duke has awesome opportunities, awesome pay and awesome people," Banks said. "I've been around a lot of awesome people with great attitudes, from management to coworkers. It's just overall been a great experience."
---
Jennifer Gentry
Nurse Practitioner
Duke University Hospital Palliative Care
30 Years
Over the past 30 years at Duke, including 20 as a nurse practitioner, Jennifer Gentry has lived out her dream working at Duke University Hospital.
While contributing to Duke's standards of excellence in medical care, she has found deep meaning in helping patients with serious illnesses find comfort in palliative care, amid chronic pain, cancer or other serious and often complicated diagnoses.
"For me, working anywhere else would have been disappointing," Gentry said. "I have loved the opportunity to care for patients and families in an environment that sets the standards that others only hope to achieve."
Though the job can be challenging, the moments that mean the most to her are the deep conversations with patients. The opportunity to combine Duke's excellence while doing work on what she calls "sacred ground" has meant she never considered working anywhere else.
"The essence of palliative care is that we listen deeply andhear their stories while being  part of conversations between family members that are absolutely remarkable," Gentry said. "We get to witness patients and families who deal with such challenging things with incrediblegrace and courage. I'm in awe of that. There's not a day that goes by that I take for granted how very privileged I am to be in this space."
---
Jeffrey D. Burney
Patient Transporter
Duke University Hospital Cardiac Diagnostic Unit (CDU)
35 years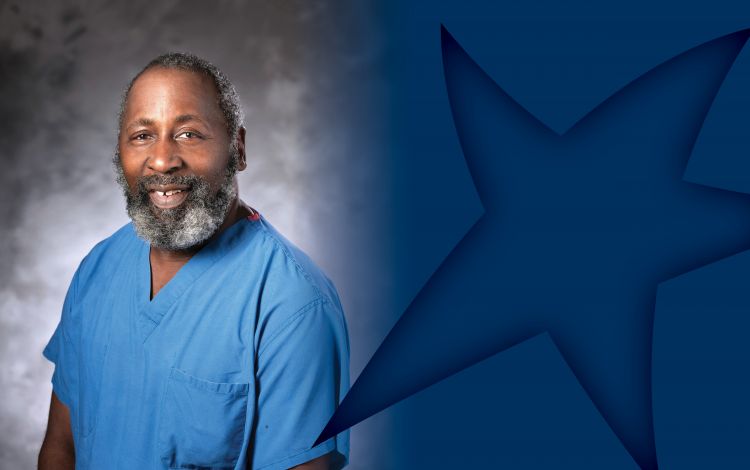 Jeffrey D. Burney saw the important role non-clinical workers can have in the day of patients when he made the trek from Kinston with his mother for her appointments at Duke in the early 1980s.
He knew immediately that he wanted to do what dedicated staff in Durham had done for his mom. He cherishes his role brightening the day of patients with a joke, a smile or kind word as he transports them to and from testing at Duke University Hospital.
Burney started as a patient transporter in Radiology in 1987. Then, 17 years ago, he moved to the same position in the Cardiac Diagnostic Unit. In both units, he has left a mark through ordinary conversations, helping strangers forget what they're facing, even for a few minutes.
"I've stayed at Duke because I enjoy what I do," Burney said. "I like making patients feel like everything will be OK, and I feel like I make a difference."
Burney also credits his career at Duke for helping him meet his wife, Edwina Woods, a medical assistant at the hospital. Shortly after she started at Duke in 2012, the two met working on the same floor. After several weeks, Burney mustered up the courage to ask her to dinner.
"It all came together somehow or another," Burney said. "The good lord had a plan for me."
---
Daniel Rittschof
N.L. Christensen Professor of the Environment
Duke University Marine Lab
40 years
As a research associate working at the University of Delaware with a small child, Dr. Daniel Rittschof decided to accept a research associate job at the Duke University Marine Lab in 1982 to work on a project for the Office of Naval Research.
The project was a goldmine. The move secured short term stability for his family and introduced him to a new opportunity to research barnacles and to figure out how to keep them from sticking on boats. The job was fun and productive. Rittschof successfully competed for a tenure track job in 1989.  Now 40 years later, he still works on barnacles and their adhesive properties that allow them to stick on boats, rocks and other surfaces.
Over 40 years at Duke, Rittschof has carved out a niche as a unique expert straddling the line between ecology and biochemistry. At Duke, he has continued to love his daily work teaching small groups of bright and passionate students, while furthering his research to understand the evolution of chemical systems for marine organisms.
His research has allowed him to establish relationships across the globe, including with a program in Singapore and working closely with the United States Navy on the applications of his research.
"I stayed because I really like my day-to-day job and colleagues," Rittschof said. "My family was happy, and Duke had excellent benefits."
---
Carl McMillon
IT Senior Manager
Duke Office of Information Technology Computer Operations
45 years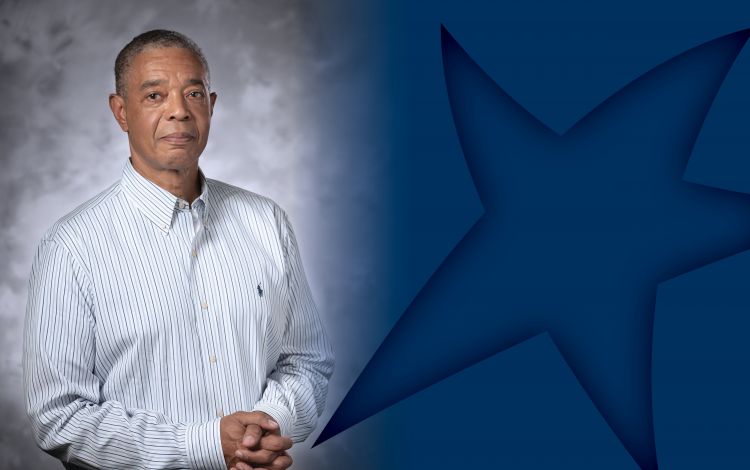 When Carl McMillon dropped out of N.C. State and started full-time at Duke in 1977, personal computers hadn't yet become a standard part of the office. And it would be nearly 25 years before he remembers Wi-Fi being installed on campus.
McMillon can't help but smile when he thinks about how different his first job was at Duke, submitting card decks to a mainframe computer system as a data expediter for the Duke University Hospital Business Office.
Today, he manages nine people in the Office of Information Technology Service Operations Center, which keep vital systems across campus like servers, payroll, student information systems systems and data centers up and running.
Over a 45-year career, he's navigated all the changes to technology by making time to grow his own skills every year. He credits colleagues and supervisors along the way for pushing him to grow, completing certifications like the Information Technology Infrastructure Library (ITIL).
Colleagues also helped him adjust his work schedule to go back to school. In 2016, he finished his bachelor's degree at North Carolina Central University, a continuation of his goal to never stop growing.
"I have worked with great people my entire career, and I have had the opportunity to learn, grow and contribute to Duke's missions in education, healthcare and research," McMillon said. "The combination of a great benefits package and the ability to continuously learn and grow had me stay at Duke."
Send story ideas, shout-outs and photographs through our story idea form or write working@duke.edu.