Every Art Piece Has a Story
The tales behind some pieces of art that dot Duke's campus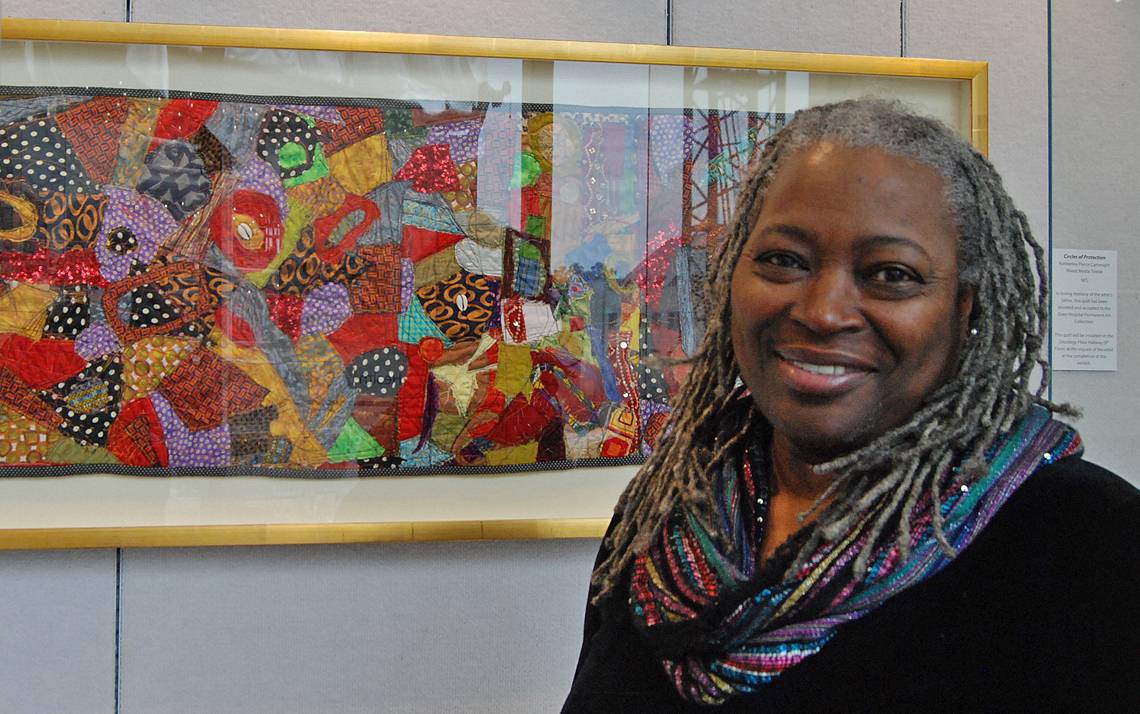 When one of Kimberley Pierce Cartwright's quilt takes its place on the wall of the oncology unit on the ninth floor of Duke University Hospital this spring, people who pass by it might enjoy the organic shapes of contrasting colors and textures. They may also appreciate the cowrie shells – which are powerful symbols of prosperity and protection in some parts of Africa – sewn into fabric.
But they likely won't know the story behind the quilt.
"The name of the quilt is 'Circles of Protection,' so I want everyone who sees it to be blessed by that and hopefully get some joy from it," said Cartwright, a longtime member of the African-American Quilt Circle of Durham.
Duke's campus is filled with pieces of art, both large and small. And odds are, there's a compelling story behind each one. From a painting in a quiet corner of campus to massive sculptures of metal, here are the stories of a few art pieces.
Reginaldo Howard Portrait
Friedl Building
Whenever Jimmie Banks, a senior electrician with Duke Facilities Management, is in the Friedl Building on East Campus, he stops by a second-floor classroom to check the framed painting on the wall.
An accomplished artist, Banks has had work displayed at Duke and galleries around the Triangle. But in 2006, he created a piece that has special meaning: the portrait of former Duke student Reginaldo Howard that hangs in the Friedl classroom.
"It's awesome," Banks said. "Students every year come in here and see my artwork."
The painting's story began when a student involved with the Mary Lou Williams Center for Black Culture asked Banks to create a portrait of Howard, the first African American president of Duke's student government. Howard was killed in a car accident in 1976. The Reginaldo Howard Memorial Scholarship is given annually to students who display a commitment to leadership, community service and social justice.
Banks created the portrait in a single day using colored pencils and acrylic paint. It was initially displayed in the Mary Lou Williams Center and eventually moved to a classroom used by Duke's Department of African and African-American Studies.
His favorite aspect of the painting is the eyes.
"They tell so much," Banks said.
In the painting, Howard's gaze is aimed forward and the area around his eyes is aglow, seeming to reflect whatever brightness is ahead.
"When I look at a person, I look deep within," Banks said. "I don't want it to be just a portrait. When you look at it, I want you to see much more."
"Geometry Ascending a Staircase"
Fitzpatrick Center for Interdisciplinary Engineering, Medicine and Applied Science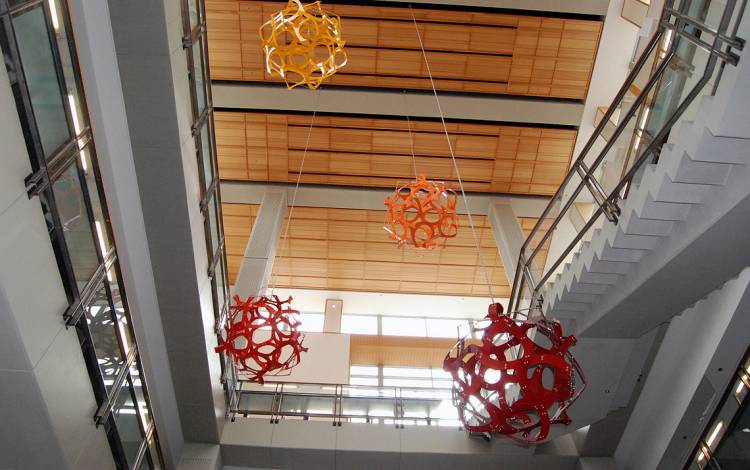 Ingrid Daubechies, the James B. Duke Professor of Mathematics and Electrical and Computer Engineering, says that when you take pure math – the kind that lives on whiteboards and inside brilliant minds – and apply it to real world problems, you have to be ready to make adjustments and be at peace with things that don't fit perfectly.
Sometimes, she says, you have to be willing to sacrifice "the beauty of math."
Since 2013, people who pass through the atrium of the Pratt School of Engineering's main building can enjoy math in one of its most beautiful forms.
Four massive spheres, constructed with the help of volunteers, are suspended from the ceiling inside a circular staircase. Each sphere is made of pieces of powder-coated aluminum, bolted together to be both powerful and light.
Daubechies, who commissioned the piece by artist George Hart, points out that when standing on the ground, the spheres appear to be the same size, an illusion created by the higher ones being slightly larger. The colors get lighter as they go up, creating a fun interplay with the light that shines through the glassed-in space.
But to Daubechies, and she suspects to other math-minded students and faculty who pass by, there's plenty of beauty in the geometry.
"There spheres have lots of symmetries, but they're not immediately evident," she said. "You have to think a little bit. There are a lot of pentagonal symmetries in there, but you don't see them immediately. The fact that something is symmetric but not too simple, makes you look and see how it fits together. There's a lot going on with these spheres."
"Circles of Protection"
Duke University Hospital
When her father was diagnosed with prostate cancer in 2002, Kimberley Pierce Cartwright knew she needed to act.
Her parents lived in Hallsboro, a small town nearly two-and-a-half hours south of Durham. Cartwright's father, Thomas Jefferson Pierce, didn't have a reliable way to make the hour drive to Wilmington for his daily treatments.
Cartwright, the news and public affairs director at WNCU, North Carolina Central University's campus radio station, convinced her parents to move in with her so her father could get his treatment at Duke.
For six weeks, Cartwright shared an apartment with her parents, arranging transportation to-and-from Duke University Hospital each day and helping them feel comfortable navigating the sprawling complex.
Duke's doctors defeated her father's cancer, allowing Cartwright's parents to move back to Hallsboro, where her father remained cancer-free until his death in 2013. But her appreciation of how Duke University Hospital became a place of healing for her family never went away.
Last spring, Cartwright agreed to donate the "Circles of Protection" quilt to Duke, for display in an area where cancer patients can experience it.
"I just wanted to show my gratitude for the care that he got," Cartwright said
In October, she found out she had breast cancer. She is now getting radiation treatments at Duke. While her path through the hospital won't take her past the quilt, she gains inspiration from the fact that it will be a part of Duke.
"My father was a Baptist minister and he always talked about faith and hope and love and charity," Cartwright said. "I wanted the essence of that to be a part of the artscape at Duke."
Have a story idea or news to share? Share it with Working@Duke.