Welcome to the Duke Football Elko Era
New Duke Football head coach Mike Elko aims to lead Duke to new gridiron heights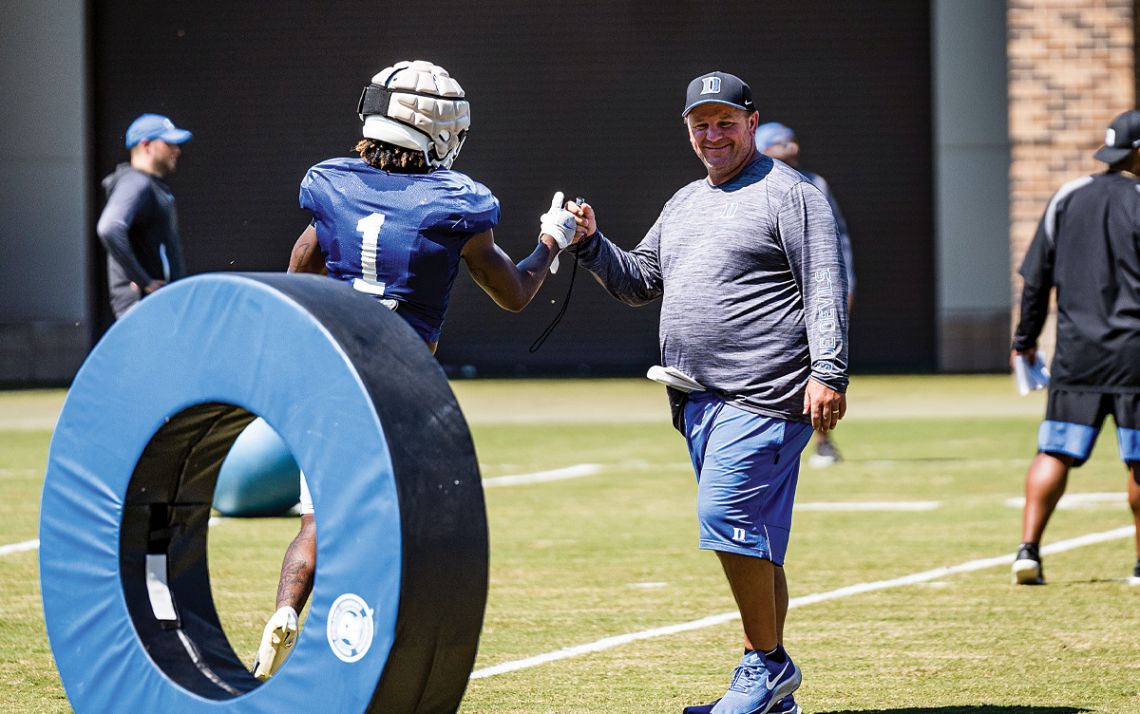 Amid the measured mayhem of a recent football practice, Duke head coach Mike Elko quietly keeps watch with a whistle swinging around his left index finger.
Elko's words are sparing as he moves about practice as 300-pound bodies collide, air horns ring and players and coaches move through drills at breakneck speed. It's a fast-paced work environment of organized chaos, one Elko fell in love with long ago.
Elko, 45, has spent his 23-year coaching career working toward this moment, where he now leads a program of 110 players and 45 staff as Duke's 22nd football coach.
"I enjoy getting to make the decisions that help lead the path for where we want to go," Elko said. "And I've worked really hard and for a long time to get ready for this."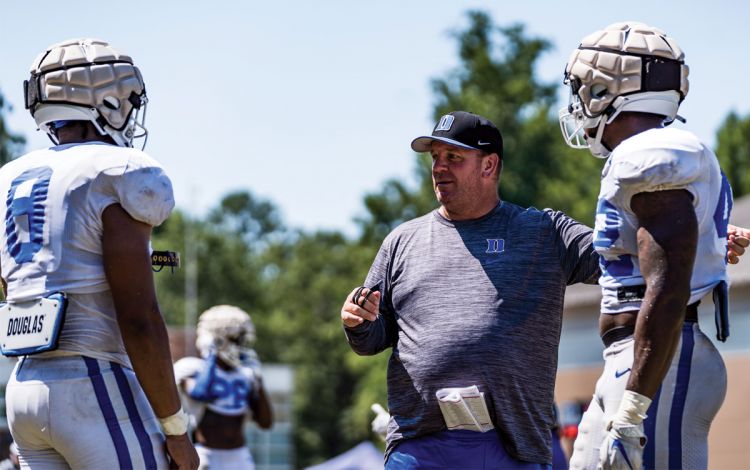 Working his way through the coaching ranks at 10 other schools, Elko arrives at Duke through hard work and dedication. He was drawn to coaching not wanting his days on the gridiron to be over after his time as a South Brunswick High School quarterback, and safety at the University of Pennsylvania ended. He followed in the coaching footsteps of his father, a Pop Warner coach, and his great uncle, Mike Elko, long-time head coach at South Brunswick in New Jersey.
Over the past few years, Elko's ambition to become a head coach for the first time began to take shape. He learned the ropes of handling the CEO-type role from mentors Dave Clawson, head coach at Wake Forest; Brian Kelly, whom Elko worked under at Notre Dame; and Jimbo Fisher, head coach at Texas A&M. So when Duke Vice President and Director of Athletics Nina King came calling at the end of last season, Elko was ready.
Following 18 seasons as a defensive coordinator at colleges such as Wake Forest, Notre Dame and most-recently Texas A&M, Elko was introduced as Duke's new head coach and the successor to David Cutcliffe on Dec. 10, 2021, alongside Elko's wife, Michelle, and three children, Michael, Andrew and Kaitlyn.
"It's a great day to be a Duke Blue Devil," Elko said in a tweet on his first day as head coach.
On Sept. 2, the Blue Devils officially begin their 109th season for what has been dubbed the "Elko Era" with the season opener against Temple at Brooks Field at Wallace Wade Stadium. Led by Elko, Duke football's new chapter will be defined by the coach's emphasis on matching standards of excellence found across campus, including in Cameron Indoor Stadium, across Duke Athletics, in classrooms, and the health system.
"What Duke University stands for and represents is excellence across the board," Elko said. "Excellence with our faculty, in the quality of education we provide…you've got a lot of programs that have built elite-level programs, whether it's our academic programming, our athletic programming. You just say, 'OK, well, maybe with the right vision and the right direction, we could do the same with football."
Who is Mike Elko?
When he tells his own story, Elko starts by sharing that he grew up in a trailer park in South Brunswick Township, New Jersey, where his parents emphasized the importance of good grades and hard work.
Those elements are key for understanding his path to Duke. By the time he left the state of New Jersey to play football at the University of Pennsylvania from 1995 to 1999, Elko had made a name for himself as a strong student and the only athlete who played football, basketball and baseball as a Viking across four years at South Brunswick High School in New Jersey.
"He's kind of a throwback kid like the athletes of the 60's and 70's, where you'd have kids play three sports and that was just the way of life back then," Elko's high school football coach John Coppola said in a June 1995 article in The Central Post. "Each sport he approached with equal love for the game. When it's football season he'd dedicate himself to football, and then basketball, then baseball."
Elko learned as an athlete about the dedication it took to hone his coaching craft. He was a speedy all-conference high school quarterback in the fall season, playing at Mike Elko Memorial Stadium, named for his great uncle. In the winter, Elko captained the basketball team; and each spring, Elko was a reliable third baseman and pitcher.
High school baseball coach Bob Cleffi doesn't recall Elko as a flashy athlete, but he said he had the work ethic to reach goals.  
"Mike was just a coach's dream," Cleffi said. "He was everything you liked in a kid that would make your life easier as a coach. He was a hard worker."
Ahead of Elko's sophomore baseball season, he attended every preseason workout, while a senior player missed a week of scrimmages to go skiing. When the season began, Elko had earned the starting corner infielder spot. Making the most of that chance, he finished the season as the team's Most Valuable Player.
"I always like to tell that story to kids," Cleffi said. "Like, 'You know what? You never know when people will take advantage of opportunities like that.' He certainly did."
Though Cleffi said Elko could have been a college baseball player, the high school baseball coach watched with keen attention as Elko went on to Penn and continued his football career. While there, Elko was part of the program's Ivy League Championship team in 1998.
The next year, his football coaching career began at Stony Brook University in New York.
Path to Duke
After trying to talk himself into studying business and communications while at the University of Pennsylvania, Elko knew as a college junior that he wanted to be a coach. But he majored in history just in case, falling in love with a life revolving around the study of the game, at the intersection of many fields that stimulated him.
"A lot of people just see the football side of it, but I think really this job challenges you," said Elko, whose coaching career has taken him to 11 schools. "I can honestly sell marketing, sales, entrepreneurship, psychology, strategy, and fiscal planning. There's so many elements of football coaching that excite my brain and keep me entertained, and I think the challenge is ever changing."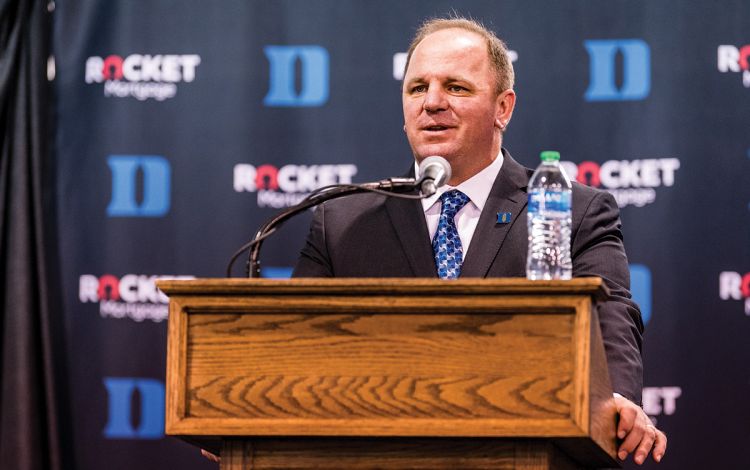 Along his coaching journey, Elko read leadership books by coaching legends like Nick Saban, Bill Belichick and Tony Dungy to prepare himself for an opportunity to lead a program. In passing, peers and former coaches have called Elko one of the brightest football minds they've ever encountered.
While he oversaw the Texas A&M defense as coordinator from 2018 to 2021, his last stop before Duke, the Aggies compiled a 34-14 record. Highlighted by an upset of top-ranked Alabama, Elko coached the No. 3 scoring defense in the country in his final season in 2021, a sharp rise from its No. 78 standing before Elko arrived, according to CBS Sports.
After Duke's 2021 season, Elko drew the attention of Duke Athletics administrators, who were in search of someone who could take hold of an opportunity and run with it. In a national search, he became the top candidate for King.
"We set out to find a leader that embodied the values of Duke University," King said at Elko's introductory press conference. "Someone that was committed to excellence in athletics as a part of a larger commitment to excellence in education. Someone who had outlined clear expectations for success both on and off the field, and someone who would be a teacher and mentor to the young men that he would be charged with developing during their time as Duke students and preparing them for life after Duke. Ladies and gentlemen, that is Mike Elko."
Elko's mutual interest in coming to Duke felt like a throwback to his time in college. Duke reminds him of Penn, where he was attracted to a mix of top academics and athletics.
Often using #BestOfBothWorlds on his Twitter account, he has the experience to understand what players he's recruiting may be looking for in a college experience. With a brand known nationally, players can find their field of study and continue athletic careers at Duke.
"There are different challenges to being a student-athlete at Duke than there is at other places. Everybody knows that," Elko said. "There's a benefit to me having some degree of experience at a school like this to draw from as we push through."
Goals for Duke
At the top of his list, Elko is working for on-field success.
In 16-hour days, he keeps a lengthy to-do list on an iPad to achieve that goal. But as a notable face on campus, he has other goals to accomplish. It's important to him that he's a good campus community member, too, living up to the words he believes best describe himself: genuine and approachable.
"You can't have football stand aside from what the University stands for, and what the University represents," Elko said. "I've been on campus, I've toured door rooms; I've bumped into students all over the place. I think that's really important to say that there's a recognizable face in athletics. That's what all really good coaches do."
Duke community members like Lori Jee look forward to seeing Duke football's trajectory with Elko at the helm. But even more than that, she hopes her family can continue to make personal connections with the program.
Jee, a season ticket holder, 2006 alumna and Duke University School of Nursing consulting associate, has taken her two sons, Colin, 14, and Kevin, 11, to annual meet-and-greets with the football team every year since they were born. Colin and Kevin are looking forward to a chance to meet Elko this season.
"It's fun when you go and you get to cheer on people that you've met personally," said Jee, who will be watching Duke with her family in seats near the 50-yard line.
At the opener on Sept. 2, Duke's new head coach will have his first shot at success. With the sun setting over the jumbotron before a home crowd, the "Elko Era" officially begins.
"It'll be a surreal feeling standing at the bottom of the tunnel, leading a team onto the field for the first time here at Brooks Field at Wallace Wade Stadium," Elko said. "That'll be something I'll remember for the rest of my life."
Send story ideas, shout-outs and photographs through our story idea form or write working@duke.edu.