Blue Devil of the Week: Leading Duke Athletics into the Future
Nina King is the first woman at Duke to hold the position of athletics director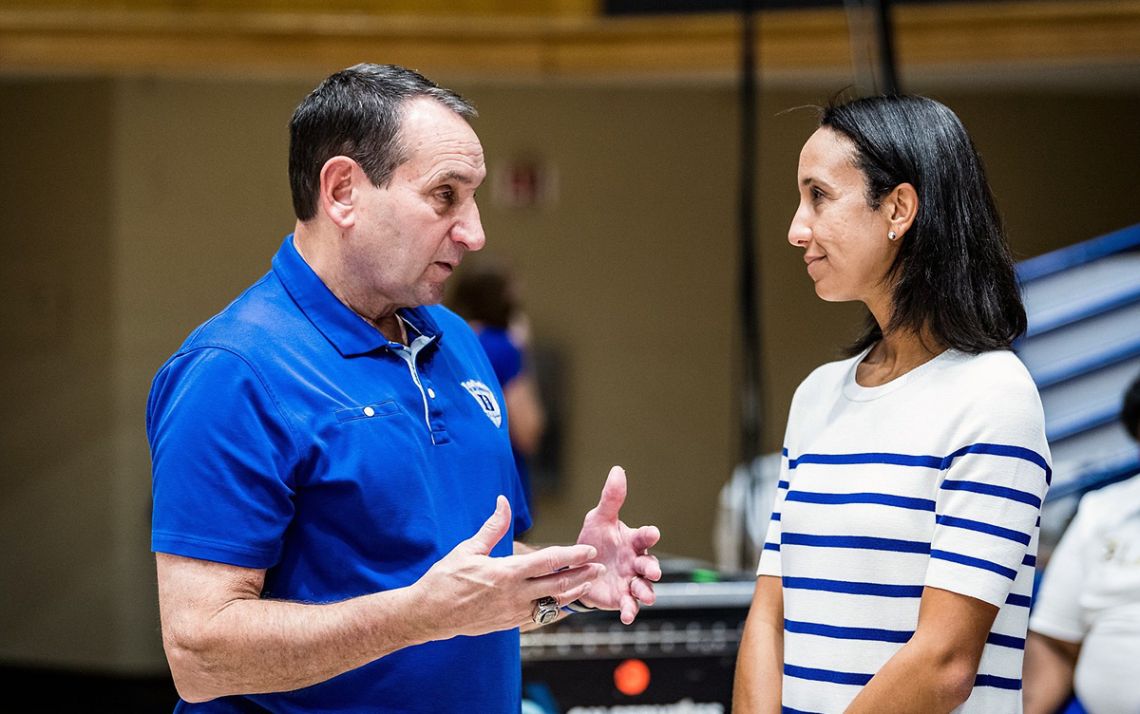 Name: Nina E. King
Position: Duke Vice President, Director of Athletics and Adjunct Professor of Business Administration in the Fuqua School of Business
Years at Duke: 13
What she does at Duke: In both a literal and figurative sense, Nina E. King oversees Duke Athletics.
Physically, a wall of windows in King's third-floor office at the Schwartz-Butters Athletic Center look out over Krzyzewskiville, Cameron Indoor Stadium and nearby Wallace Wade Stadium. The scenic view is symbolic of her important administrative role looking after the sports and athletic programs at Duke, which include 27 Division I Blue Devil teams, 750 student-athletes and 350 staff members.
King's chief charge is ensuring the success of athletic teams across campus on and off the field, leading Duke Recreation & Physical Education and managing the operations of one of the area's premier golf courses. Her duties include leading fundraising for the department and other administrative functions such as coordinating game schedules and leading searches for coaches, as she recently did with Mike Elko, Duke Football's head coach. King visits practices, attends home games for the Blue Devils and travels with teams when she can.
While there is no typical work day, King, the first woman to hold the athletics director position at Duke, usually starts her work day with various staff members to discuss priorities with athletics. In the afternoon or evening, she attends a game on campus. King is also teaching a sports business class in the School of Business.
"Every day is different," she said.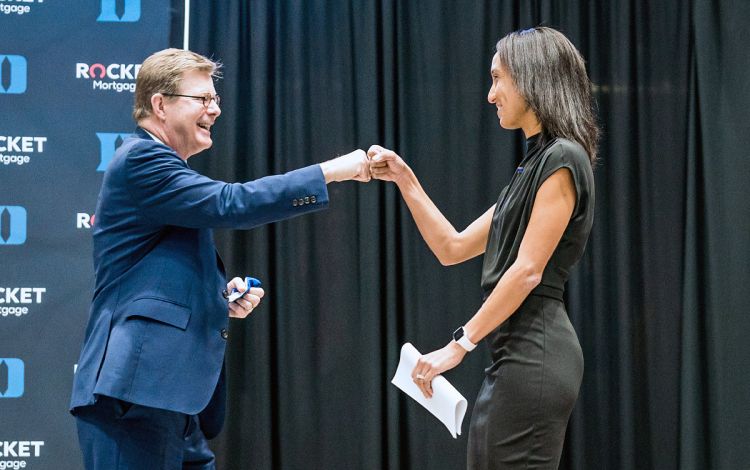 She started in her new role in September 2021, succeeding Dr. Kevin M. White, who retired after 13 years as athletics director. King spent her career working alongside White, had an office next to him and worked with him on key decisions. Now she's applying lessons learned to leading Duke Athletics into the future.
"Working side by side with Kevin, I was able to have a front row seat for 13 years," said King, who was Duke's senior deputy director of athletics for administration and legal affairs and chief of staff prior to her new role. "I knew I was prepared. I was ready for it. But once you actually sit in the chair, it's a whole other level."
Most memorable day at work: In June, she was tasked with helping to coordinate a huge announcement: after 42 seasons, Duke men's basketball head coach Mike Kryzewski would retire after the 2021-22 season. Soon after, Duke named longtime assistant Jon Scheyer his successor.
As she worked behind the scenes with colleagues to plan the announcement and press conference and navigate the fanfare, it sank in for the first time that she was in charge of leading Duke Athletics into the future.
"That was like, 'Oh wow, I'm the Duke AD," King said with a smile.
Topics on the horizon: While she helps to plot a course forward for men's basketball and football under new head coaches, King is monitoring issues facing intercollegiate athletics such as the permissive NCAA legislation that allows college athletes to profit off their own name, image and likeness, conference realignments, the impact of the NCAA transfer portal on college sports, which facilitates the transfer process of athletes from one school to another, and gender equity issues.
As college sports change, King will have the opportunity to make her mark on steering Duke through the challenges.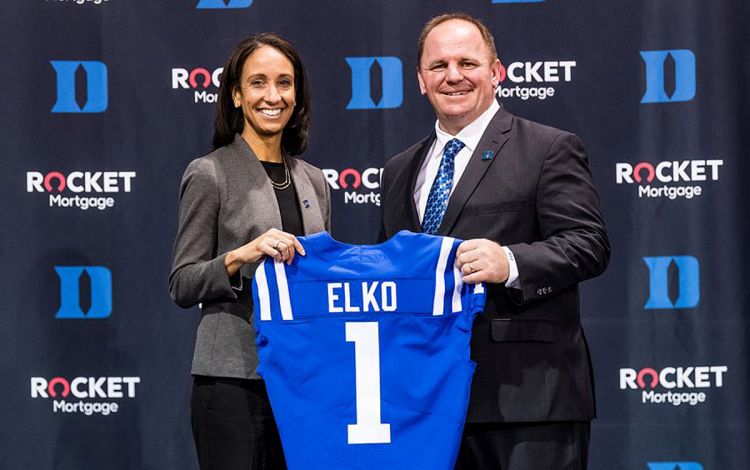 "It's my job to make sure Duke is well positioned to take advantage of the opportunities and be at the forefront of change," King said. "We will use it as an opportunity to make ourselves better."
What she loves about Duke: In addition to her role in athletics, she is an adjunct professor of Business Administration at the Fuqua School of Business. She co-teaches a sports business course as part of the Duke Master's of Business Administration program. Stepping into the classroom gives her the opportunity to interact with students and colleagues outside of athletics.
"Our whole Duke community is really a great place to be…" King said. "I love being with our student-athletes, but then having an opportunity to go over to Fuqua every week and teach a sports business class is so enjoyable."
Lesson learned during the pandemic: As a member of the NCAA Division I Women's Basketball Committee, King was in Indianapolis preparing to seed the upcoming tournament in March 2020 when sports seasons, including basketball, were canceled for the rest of the year because of COVID-19.
Baseball, softball and track were canceled shortly after, which was the start of many adjustments, including no fans at events throughout the 2020-2021 academic year.
"Can we never have a pandemic again?" she asked.
Along the way, working from home more often than not in the early days of the pandemic, King learned the value of resilience during a public health crisis that upended sporting events.
"We had to find all new ways of operating and communicating," she said. "And we did it by really great teamwork…I'm just really proud of the resilience of our student-athletes, coaches and then our staff, just the grit and some really long, crazy hours."
How she landed on a career in sports: King didn't play sports when was growing up. Instead, she danced – ballet, tap and jazz.
When she was an undergraduate at Notre Dame, King worked as a student manager in the athletics department for four years.
"As the head manager for women's swimming my senior year, I was turning in travel rosters and expense reports, so I was interacting with the Notre Dame administration," she said. "I thought, 'Oh, these people's jobs seem interesting,' so that's really what sparked exploring what it is these folks do."
Best advice received: White, the former athletics director, has served as a mentor to King throughout her career, including at Notre Dame, where they met. Along the way, White offered guidance that she has not lost sight of.
"Stay authentic to yourself," she said White told her. "Never relax your standards. Stay true to that."
Is there a colleague at Duke who has an intriguing job or goes above and beyond to make a difference? Nominate that person for Blue Devil of the Week.