Fearless Feline Helps Owner Earn Duke Time Off Photo Prize
Deadline to submit photos of your summer fun is 12 p.m. Aug. 8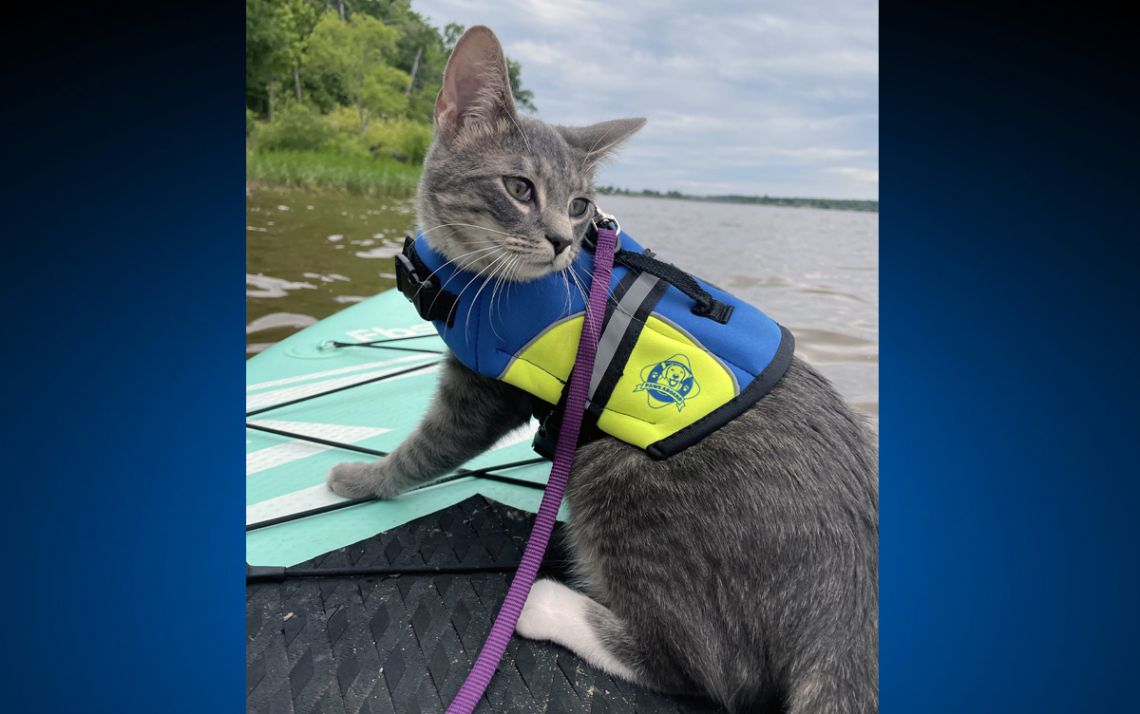 When Sydney Mitchell adopted her kitten, Chaco, in February, she hoped that she'd get a small furry companion for her outdoor adventures. While Mitchell admits that cats aren't usually wired to join their owners on hikes, or to venture far from home, the Duke University Hospital occupational therapist has been thrilled with how much Chaco has embraced her active lifestyle.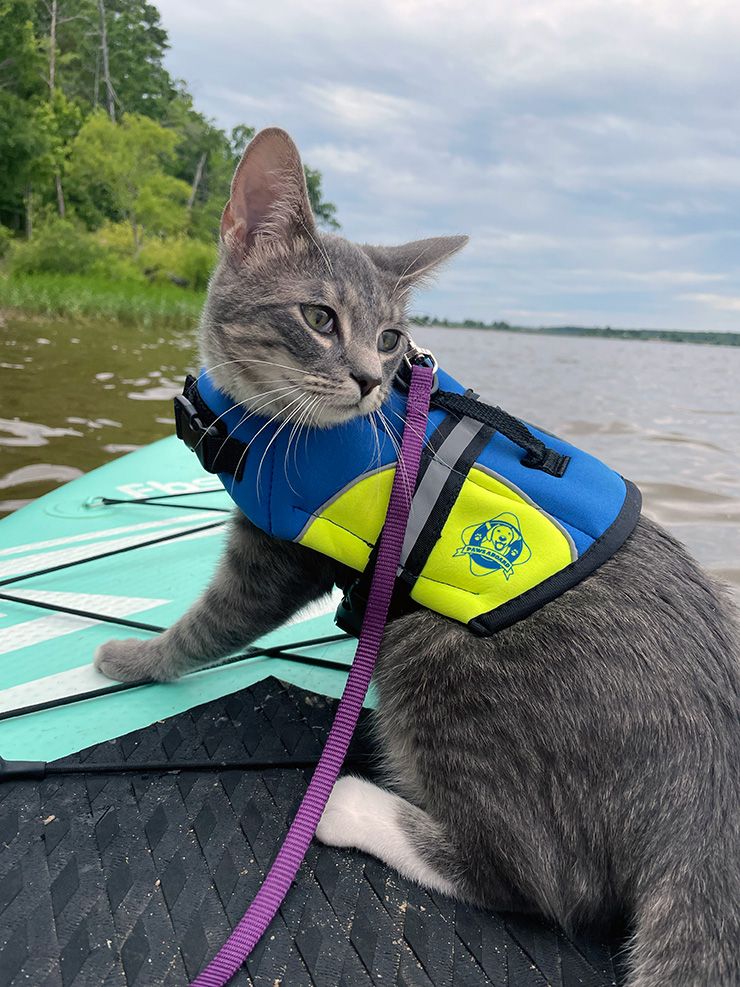 In June, Mitchell took Chaco on perhaps her most ambitious adventure yet. Wearing a small life jacket designed for dogs, Chaco joined Mitchell on a paddleboard expedition on Falls Lake.
"When I would tell my friends about my cat and say that I wanted to take her out on my paddleboard, they'd look at me like I was crazy, because cats don't like water," Mitchell said. "She was very skeptical at first, but once she got on the paddleboard, she loved it. She was kind of walking around on the board and looking out on the water, but avoiding jumping in the water for sure."
The photo Mitchell snapped of Chaco on the board was selected as the most recent winner in the 2022 Duke Time Off photo campaign. For the win, Mitchell will receive a Duke insulated lunch box, courtesy of Duke University Stores.
Celebrating the value of time away from work, the annual Duke Time Off photo campaign is in the home stretch. The deadline for current University and Health System staff and faculty to submit photos of their summer fun – and have a shot at the grand prizes – is 12 p.m. on Monday, August 8.
All pictures shared throughout the course of the campaign – May 25, 2022 to 12 p.m. on Aug. 8, 2022 – will be in the running for these grand prizes:
A "Classic Package for Two" at the Washington Duke Inn, which includes a king or double/double room for one night and full breakfast for two in the Vista Room or room service. Sunday brunch is not eligible.
A Walking with Lemurs tour for four with Lemur Center Executive Director Greg Dye – courtesy of the Duke Lemur Center
How to share your 2022 summer pictures:
Post and tag a photo on Twitter, Instagram or Facebook with #DukeTimeOff. Tell us what you're doing with your time away from work. Remember to include #DukeTimeOff in your post, so we can find your snapshots on social media.
If you're not on social media or prefer to share your picture another way, upload your picture here.
For submissions with multiple photos, only the first picture will be considered for the contest.
Collage photographs and videos are not eligible for prizes.
The Working@Duke editorial team thanks the Duke eStore for supporting our campaign with prizes through today.
Grand prize winners will be announced on Working@Duke in late August.
Send story ideas, shout-outs and photographs through our story idea form or write working@duke.edu.