And the 2022 Duke Time Off Photo Winners Are…
Learn the story behind our two grand prize winning photos and enjoy 14 amazing shots from Duke staff and faculty
By sharing images from far-flung adventures or quality time at home, Duke staff and faculty showed that cherished summer moments can come in many forms.
Around 315 photos were shared in the 2022 Duke Time Off Photo campaign, which ran from late May through Aug. 8 and highlighted the ways Duke University and Duke University Health System staff and faculty use their time off benefit.
Of the submissions, two were chosen by the Working@Duke editorial team as the grand prize winners. An employee-shutterbug was also selected, as well as 14 amazing summer moments.
Thank you to everyone who shared their summer fun, and a special thank you to Duke University Stores for providing summer-themed prizes for the campaign.
GRAND PRIZE: GRACE FABITO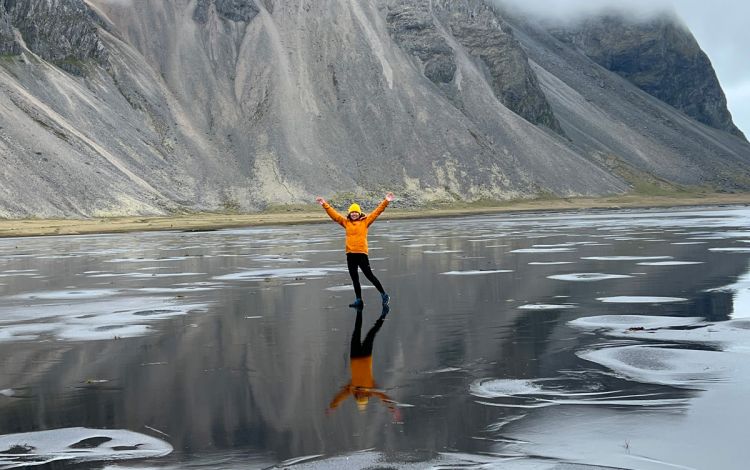 For nine days in late May and early June, Grace Fabito explored Iceland with her husband and some friends. It was the second time Fabito, an operating room assistant nurse manager at Duke University Hospital, had traveled to the country. Though this time, she was able to get out into Iceland's wilder side for some camping excursions and hikes.
"It's just beautiful," Fabito said of Iceland. "We love being outdoors and it's just so picturesque."
On one hike, she passed by a small body of water near the foot of Vestrahorn, one of Iceland's most photographed mountains. With shallow water providing a perfect mirror-like surface, Fabito posed for this winning photo. Fabito, who has worked at Duke for 26 years, will receive a one night stay with breakfast for two at the Washington Duke Inn, courtesy of the Washington Duke Inn.
"It's very important, it's like recharging your mind and body," Fabito said about time off. "Just like recharging a cell phone, I need to recharge myself."
GRAND PRIZE: ERICA THOMAS
While performing a preflight inspection, Erica Thomas' husband, Perry, had a special helper in their 2-year-old son, Hank.
Hank wanted to assist his dad, watching his every move looking over the four-seat Piper Archer at a special area of Raleigh-Durham International Airport. As the family prepared to depart for a weekend in Roanoke, Virginia, Erica captured a photo of the scene.
"My husband had to do his preflight checks, so he was crouching down and looking at everything in all parts of the plane," said Erica, who works for Duke Temporary Service. "Hank was imitating that."
The moment was a special part of the family's first time flying with Perry as pilot to enjoy a weekend getaway. During the trip, they visited the Virginia Museum of Transportation, where Hank picked out a toy plane at the gift shop.
"It was fun sitting up front and watching him practice all the things that he had trained for and learned," Erica said. "It was just a fun moment for us."
Thomas will receive a Walking with Lemurs tour for four with Lemur Center Executive Director Greg Dye –courtesy of the Duke Lemur Center.
EMPLOYEE SHUTTERBUG: MICHAEL ROYSTER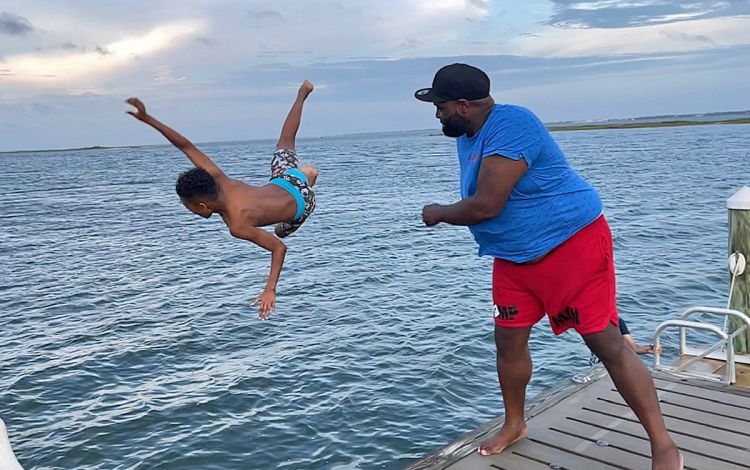 All summer long, Duke University Stores' Michael Royster documented his Duke Time Off through submissions of family fun, including ice skating, summer camp activities and a week-long beach trip to Emerald Isle, North Carolina.
In this photograph, Royster threw his son, Cameron, off the pier at their beach house.
14 AMAZING PHOTOS
ELMIRA ZADEH
Dr. Elmira Zadeh, house staff in the Department of Surgery, traveled to Tehran, Iran, at the end of May for a trip she called "the most memorable moment of my life."
She made the journey to reunite with her brother, Navid, a dental student, for the first time in seven years.
"I love him like no one else in my life," she said.
SKYLAR DAVIS
Skylar Davis, a Duke Neurobiology research technician, captured this image on a June camping trip to the North Carolina mountains. Spending a weekend backpacking, Davis took this moment to savor the view of Carver's Gap along the Appalachian Trail.
"It's great living in the middle of the state so trips to the mountains or beach are an easy drive away," Davis said.
JENNIFER PRATHER
On a late May visit to New York's Coney Island, Jennifer Prather, a communications and program assistant with the Center for Latin American & Caribbean Studies, snapped this photo of her husband Ken McDonald, assistant director of the Office of Research Support, being swarmed by sea gulls.
"It was a chilly day, but we enjoyed eating hot dogs and exploring the amusement park," said Prather, who shared the photo on Instagram. "These seagulls had found the tasty french fries that someone had discarded and didn't mind our approach one bit! It was fun to watch them hover and dive."
SHERONE KING
Sherone King, a human resources specialist with the Duke University School of Medicine used her time off to make some priceless memories with her new grandson.
"My grandson, Karson, took his first trip to Carolina Beach and I was able to share it with him," King said. "Fun times!"
CHRIS ERLEIN
During a five-day canoe trip on the Boundary Waters, a series of lakes that mark part of the border between Minnesota and Canada, Chris Erlein of the Duke School of Medicine Office of Research Development, took this photo of some family members jumping into the cool waters of Ima Lake.
"We had some trouble finding a campsite, but we eventually found this one, which had a great rock for jumping into the water, which as you see, we took advantage of," Erlein said.
LESLIE ALLEN
Leslie Allen of Duke University Law School's International Studies Department shared this photo of her family's 14-year old water-loving dog, Mr. Cooper, on a trip to Wrightsville Beach.
"At his age, he can't go for long walks anymore, so 'water therapy' is the best for his hips," Allen said. "I took this picture right before sunrise and it captures the silliness and kindness that Cooper brings to our lives every day."
KIMBERLY LANGSAM
Kimberly Langsam explored western Norway this summer with her husband, where they hiked, biked and kayaked around the fjords located there.
At the end of their adventure, she reported seeing "no bad weather, just bad clothes."
"The chill and rain felt great, especially compared to the rest of Europe (and Durham)!" said Langsam, program director for the Duke Center for the Advancement of Social Entrepreneurship (CASE) in the Fuqua School of Business.
BETSY ALBRIGHT
Betsy Albright, Nicholas School professor of the practice, posted this image on Instagram, showcasing one of the many great meals they enjoys while on trips to Ocracoke.
Albright said that time on the fragile barrier island "helps me refocus on what's important to protect, sustain and restore – the water and ecosystems we all rely on, as well as my own physical, spiritual and mental well-being."
AMY KAMPFER
Duke Urgent Care Morrisville patient service associate Amy Kampfer gathered for a special moment with much of her family in June to celebrate the 96th birthday of her Grandma King.
"We all came together for grandma's 96 birthday," Kampfer said. "In this photo there are five generations…She has Dementia and Alzheimer's and has good days and bad days. This was definitely one of her good days."
FELICIA SHUGARS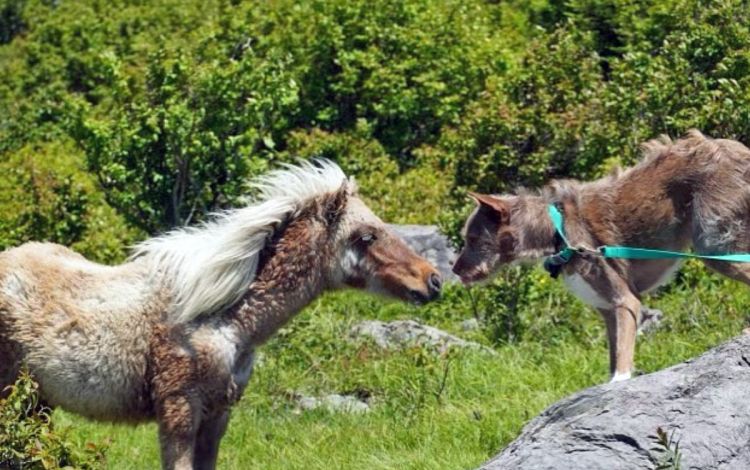 While hiking and camping in Grayson Highlands State Park in Virginia, Felicia Shugars and her dog, Finn, found themselves face to face with one of the wild ponies that live up around one of the state's highest peaks in June. The pony spent much of the afternoon following them around as they explored the area.
"This was his first time seeing a pony," said Shugars, a perfusionist at Duke University Hospital. "We thought they would be afraid of us and the dogs, but it was like they were drawn to one another."
LINDSAY JOHNSON
After being diagnosed with breast cancer in March 2022, Lindsay Johnson made an artistic decision, getting a Henna design on her head amid summer heat.
"I embraced the hot Durham summer and my newfound baldness by getting a henna crown design," said Johnson, coordinator of Student Records in the Duke School of Nursing. "I felt cooler and liberated!"
KARA BONNEAU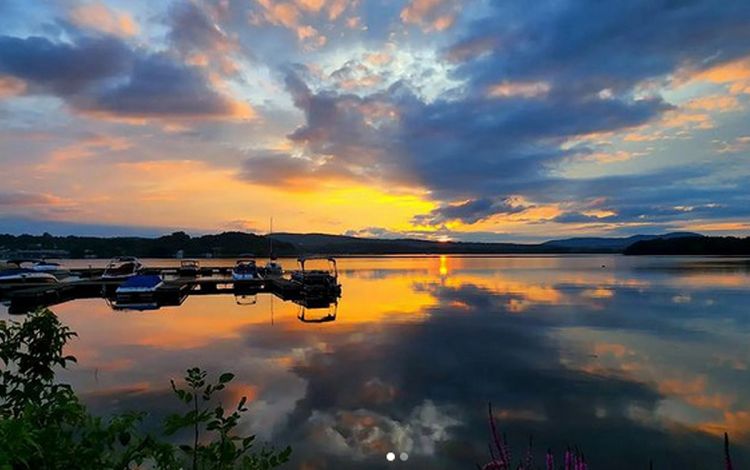 Database analyst Kara Bonneau capped off a special 72-mile bike ride on Aug. 4 by having dinner with her 11 aunts and uncles at a restaurant overlooking the water.
The photo of the sunsetting over the water came at the end of a long journey she'd always wanted to take from her childhood home in Champlain, New York, to her grandparents' farm in Troy, Vermont.
"Just when it seemed like I couldn't have asked for a better day, we left the restaurant to this sunset," Bonneau wrote on Instagram.
MELANIE CANGAS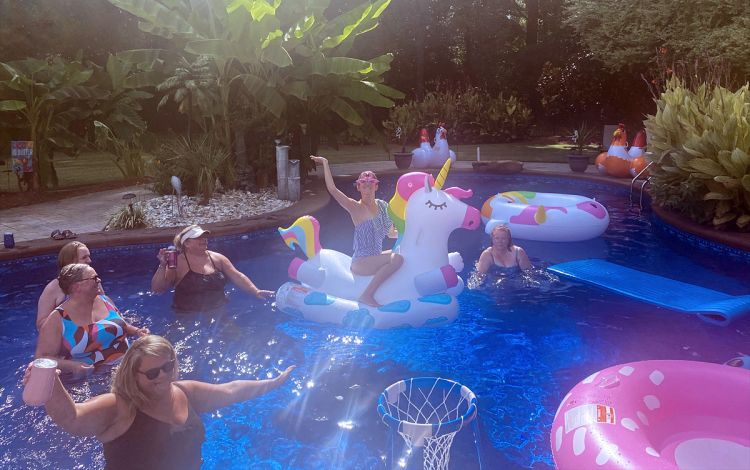 Colleagues at Duke Primary Care Butner-Creedmoor don't just enjoy seeing each other at work. They also routinely gather away from the office for fun activities, including a pool party this summer.
The event captured by Melanie Cangas, a health center administrator at the clinic, included time spent cooling off in the pool, eating and an open mic karaoke performance.
"This was our office pool party to celebrate all the hard work our employees do every day here at DPC Butner-Creedmoor," Cangas wrote. "All of our staff attends and we enjoy having fun as a work family!"
TAMBREIAL KENNEDY
Tambreial Kennedy caught a priceless picture of her husband, Yusef, and son, Isaias, fishing during a July trip to River Pines in Moore County. Kennedy, a certified ophthalmic assistant, was joined on the trip by a few of her Duke Eye Center colleagues and their families.
While they all had a good time, no fish were bothered.
"Unfortunately, we did not catch anything," Kennedy said.
See more 2022 summer photos by searching #DukeTimeOff on Twitter, Instagram and Facebook. And if you're doing something fun away from work, we still want to see it. Be sure to share photos from your adventures all year long through our story idea form or use #DukeTimeOff in your post on social media.