A 33-Year Restoration of Duke Chapel Windows Continues
Revisiting the Chapel stained-glass window restoration project
While the idea of university building projects may easily bring to mind new on-campus spaces that support the expansion of the Duke community and its endeavors, other university building projects serve to restore and preserve Duke's campus – and its legacy – for future generations. One such project is the Stained-Glass Window Restoration Project at Duke's most iconic building, Duke University Chapel.
The Chapel Stained-Glass Window Restoration Project is a multi-year, phased effort established to carefully restore Duke Chapel's stained-glass windows. There are no significant structural issues with the windows; nonetheless, weather-related expansions and contractions – especially with the windows facing south – result in movement and wear over time. The restoration also adds reinforcement to the frame surrounding the glass, to extend the life of the repairs.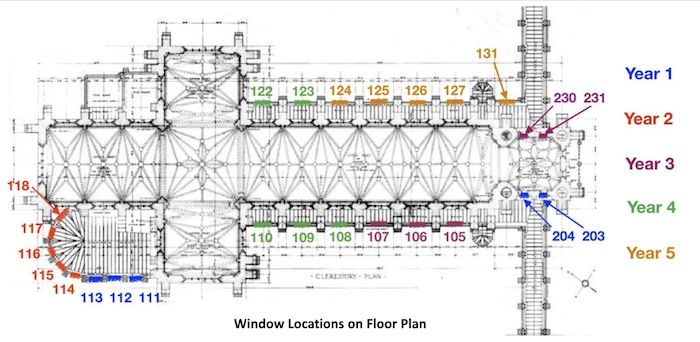 The project began when master craftsman, Dieter Goldkuhle was commissioned in 1993 to conduct a Stained-Glass Survey for Duke Chapel. From there, Phase 1 of the Duke University Chapel Stained-Glass Window Restoration Project began in 1994, with a successful pilot project for windows in the 200 section including Ruth (#201) and Naomi (#202). This led to the plan to restore the clerestory windows – the first of which was Adam (#205). Steadily working toward the Nave, the Goldkuhles restored each window one at a time. Phase 1 concluded in early 2020 with the installation of Samuel (#224).
Dieter's son, Guido Goldkuhle, worked with his father for eight years before taking over the project in 2011, after Dieter's passing.  Today the restoration is being carried out by three members of the Goldkuhle Family: Guido, his brother Andrew and Andrew's daughter Carolina.
Phase 2 of the project began in 2022 and will include the restoration of windows located in the lower level Nave Aisle windows, the small Chapel windows, the two Tower windows and the small hallway windows between the Tower and Nave. The second phase is scheduled to take place through 2027. When complete, a total of 51 of the Chapel's stained-glass windows will have been restored; 27 of them during Phase 1 and the remaining 24 during Phase 2.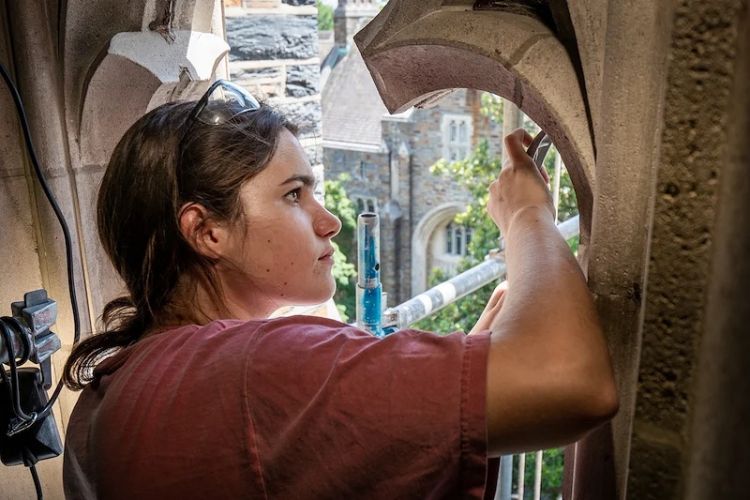 Duke Today highlighted the Chapel window restoration work in "Old Glass, New Life" in 2020 and "Restoration Begins for Duke Chapel" in 2014.