Old Glass, New Life
Restoration helps Duke Chapel's stained glass windows shine on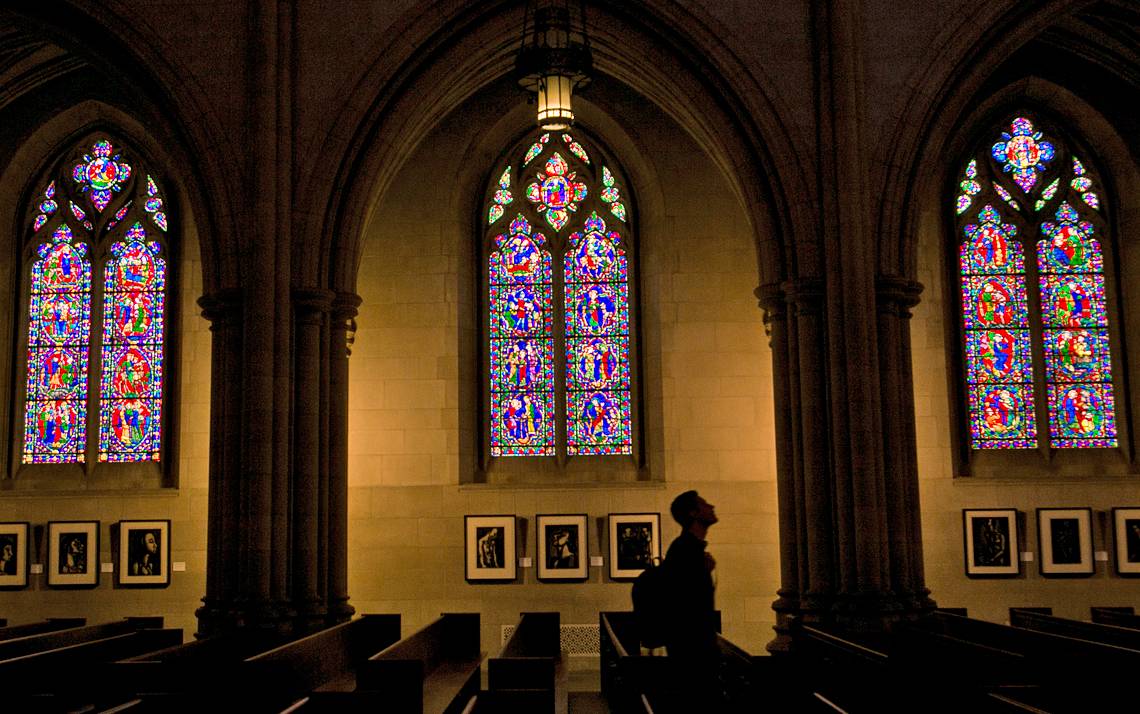 Lois Oliver, a longtime docent at Duke University Chapel, often sees visitors wowed by the vibrant colors of the towering stained-glass windows.
She also knows that Duke Chapel regulars are moved by the windows' magic, too.
"Members of the choir will say that, when the sun is right, the whole ceiling will be lit with a purple glow," Oliver said. "The windows bring so much life into the building."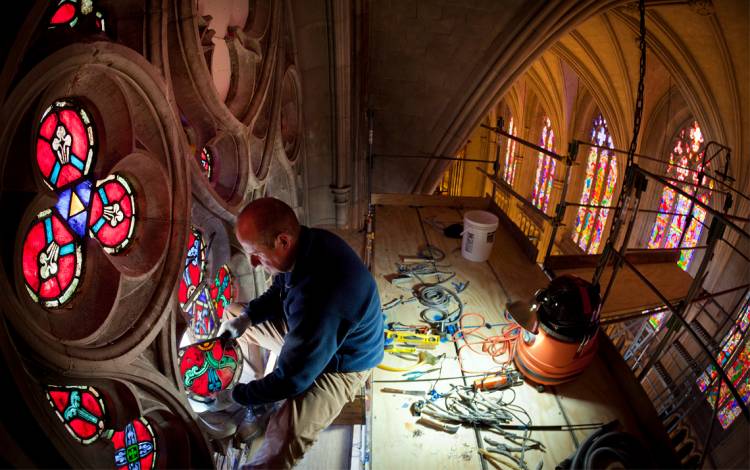 In February, when window No. 224 returned to the Chapel's east side, all 77 of the Chapel's windows shined once more, completing a 26-year restoration by craftsmen from a single family.
"These are big windows, but they're made up of many, many little pieces," said Guido Goldkuhle, who has worked on the Duke Chapel windows for nearly 20 years. "When you see them up close, you can't help but marvel."
Made by New York's Bonawit Company in the early 1930s, the windows have delighted visitors for decades. More than one million pieces of glass in varying thickness were used to create the windows over nearly three years. But over time, the glass panels bulged and buckled.
In the early 1990s, Duke enlisted the help of German-born artisan Dieter Goldkuhle to restore the windows. In March 1994, he began by removing the windows depicting biblical characters Ruth and Naomi, which face Chapel Quad.
In order to be restored, the windows, which are made of hundreds of tiny glass panels held in place by small pieces of lead, are taken apart. The glass is cleaned and reset in new, sturdier lead framing.
"There's virtually no automation, it's all handwork," said Ray Walker, staff architect with Duke Facilities Management. "It's a craft, and it's done the same way now as it was centuries ago."
Guido Goldkuhle joined his father's business full-time in 2001, eventually taking over the lead role in the project and repairing the Chapel windows in his Traverse City, Michigan, studio.
While the windows of Duke Chapel tell stories from the old and new testaments of the Bible, Guido sees his story in there, too.
He can pick out windows he was working on when his three children were born. He knows window No. 205 was the first he worked on with his father, and the South Transept window was the last. He was working on window No. 223 in 2011 when he found out his father died.
"It'll be really, really hard to walk away from it, but at the same time, it'll be really satisfying because my father loved the Chapel, loved the windows, the work and the people," Guido said. "Knowing that we started the job and now we're going to finish it is incredibly gratifying."
Visit chapel.duke.edu to learn more about Duke Chapel