Restoration Begins for Duke Chapel
A temporary stair tower went up at the exterior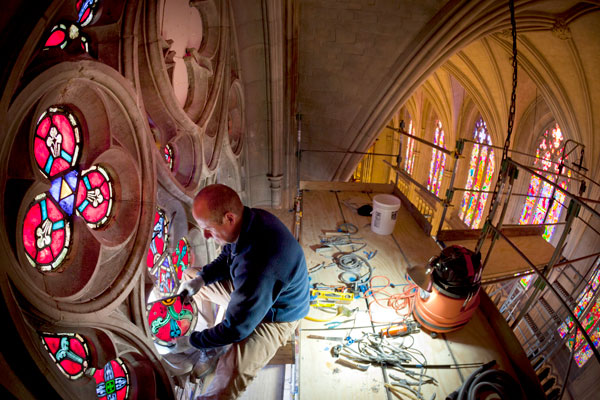 A temporary stair tower went up at the exterior of Duke Chapel this week as part of a restoration project for the neo-gothic structure that was first used for Commencement in 1932 and formally dedicated in 1935.
The stair tower will enable crews to access and deliver materials to the attic to begin work on the limestone ribs of the building, which have shifted over the years.
Paul Manning, director of project management for Duke's Facilities Management, said that the initial work would be focused on the chapel's stained glass windows. "The chapel's stained glass windows have been undergoing restoration over the years, but that work is being expedited to get it completed within the larger restoration project," he said.
Facilities Management is coordinating with Duke Chapel to avoid disruption of scheduled events. Additional restoration work will be done inside the building at a later date. 
Pictured above: Guido Goldkuhle of Kuhl Studios (Traverse City, Mich.) performs a full restoration on one of the stained glass windows at Duke Chapel. During the holiday break, Goldkuhle has taken out the glass, cleaned, repaired, releaded, and reinforced the panels of one window. Each season, he does another window. Photo by Jared Lazarus/Duke University Photography