Blue Devil of the Week: Advising By Day, Theater at Night
As director of Academic Engagement for Arts & Humanities, Jules Odendahl-James helps students plot their academic path
Name: Dr. Jules Odendahl-James
Position: Director of Academic Engagement, Arts & Humanities
Years at Duke: 17
What she does at Duke: Dr. Jules Odendahl-James helps undergraduates maximize their experience on campus, which includes mentoring students from their first days on campus through graduation.
As the director of Academic Engagement, Arts & Humanities since 2014, she guides undergraduate students through questions that arise studying in 19 different departments and toward answers that will carry them beyond their time at Duke. These important questions include what courses to take, whether to drop or add a major or minor and the best ways to connect with research, consider careers and locate funding opportunities.
"When a student sits in front of me, my only focus is on them," Odendahl-James said. "It's not trying to shuttle them into any particular pathways. It's about helping them figure out what do they want to do."
Odendahl-James, known affectionately as "Dr. OJ" to students, has also taught in the Thompson Writing program and served as the resident dramaturg and visiting lecturer in the Department of Theater Studies. In the summers, she is co-director of the Story + Program.
Her success as a student advocate lies in the meaningful relationships that continue after they leave college.
"Generously, they stay in touch with me," she said. "And they're there when I need an example of different choices. If I sent an email, they will come back and respond to the other student's question and that is the biggest gift of all."
First ever job: The summer after her sophomore year of high school, Odendahl-James worked at the Hot Springs Wax Museum in Hot Springs, Arkansas, an area attraction that included a grand scene of the Last Supper.
"I dusted wax figures, served ice cream and I worked in the gift shop," she said. "I'm not even sure how I found it as a place to work, but it's a nice little nugget of odd things. The work was very basic, but the context was really wild."
What she loves about Duke: As a lifelong southerner, Odendahl-James said she has experienced how institutions create environments that can force queer people like her to navigate their work and scholarship in the margins.
When she came to work at Duke in 2005 with her partner of 10 years and a newborn, she found a welcoming institution that she said has helped her "come into my own."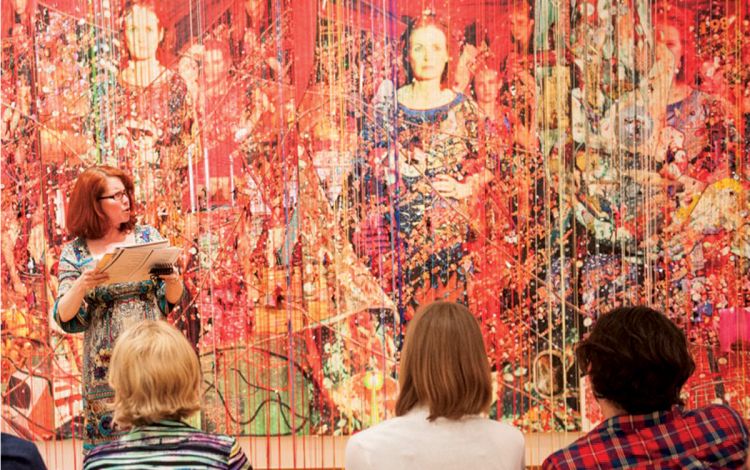 "At Duke, there are structural, institutional recognitions of people's identities that supports them," Odendahl-James said. "I came to Duke as a new parent, and there was immediate structure to support us and my partner had access to it as well."
When she's not at work, she likes to: With a doctorate in performance studies, Odendahl-James' time outside of work involves theater, an exciting and challenging field.
She has worked as a professional theater artist in the Triangle since 1997, and co-founded Bulldog Ensemble Theater in Durham. She works with area playwrights on their projects, and recently directed a new play for Playmakers Repertory Company that was recorded and streamed on-demand last year.
"It's never the same thing twice," Odendahl-James said. "I've only directed the same play twice in my career. I'm always excited to work on something else, like a very happy jack-of-all-trades."
Something unique in her workspace: Among mostly bare doors lining the hallways of the Duke Academic Advising Center, Odendahl-James' colorful door opens up to an eclectic office filled with items that are tokens of her personality.
They include bumper stickers, framed theater playbills, an ice cold Diet Coke on her desk and drawings from her child who has said the space gives off "Gothic Academic Instagram vibes. But among many tchotchkes, one item is particularly notable for Odendahl-James.
On a shelf sits a Dana Scully Autopsy Barbie dressed in scrubs to conduct autopsies, an unconventional gift Odendahl-James gave herself once she completed her dissertation in graduate school.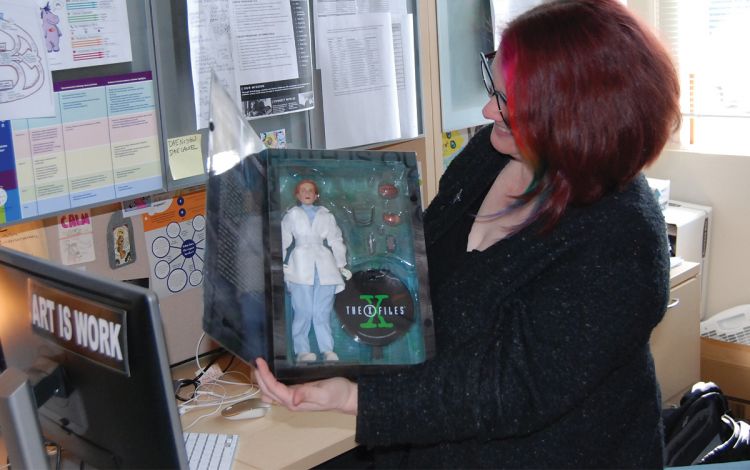 The doll represents her love of the X-Files and actor Gillian Anderson who plays the character, Dana Scully, an FBI agent. The show was one she frequently watched after long days in graduate school, and a reminder of her dissertation topic: media portrayals of women's violence.
"I've never taken it out of the box, and I don't know if I would sell it ever, but it's kind of my pride and joy," Odendahl-James said.
Is there a colleague at Duke who has an intriguing job or goes above and beyond to make a difference? Nominate that person for Blue Devil of the Week.