Passion for Service Drives 2022 Sullivan Award Winners
Honorees build connections and create a more just community
Duke Senior Liyu Woldemichael, Duke Office of Durham and Community Affairs Deputy Chief Administrator Sam Miglarese, and Duke Law Student Amanda Joos are Duke's winners of the 2022 Algernon Sydney Sullivan Award for their service to the community.
The awards recognize one graduating senior and members of the faculty, staff or graduate student body from Duke University or Duke University Health System for outstanding commitment to service.
Provost Sally Kornbluth honored the recipients at a ceremony Friday morning in the Allen Building Board Room. The event was held in-person for the first time since before the COVID-19 pandemic, giving friends, family members and collaborators a chance to celebrate the winners in person. More family members and supporters were able to participate via Zoom, with a projection of the virtual meeting shown on one of the room's walls.
"I think this highlights the fact that community is incredibly important at Duke and there are many people dedicated to making sure that the community operates and survives, even in the face of a pandemic," Kornbluth said. "And I think everyone was very happy to be here together, in person, and celebrating each other."
Since 1925, the Algernon Sydney Sullivan Award has honored the memory of Sullivan, a southerner who became a prominent lawyer, businessman and philanthropist in New York in the late 19th century. The awards, which are given out annually at around 50 southern universities, recognize individuals who exhibit qualities of selflessness, generosity of service, nobility of character, integrity and depth of spirituality. After reviewing the nominations, a selection committee recommended the 2022 honorees to the Office of the Provost.
Meet the 2022 winners:
Liyu Woldemichael
Duke University Senior
Since arriving at Duke, Liyu Woldemichael, a public policy studies major, has been guided by her passion for social and environmental justice. 
During her four years, she's been a member of the Baldwin Scholars program, worked on DukeEngage projects exploring environmental issues, interned with League of Conservation Voters and Southern Environmental Law Center, and served as a student employee of the Franklin Humanities Institute. She's also been a leader for Duke's Chapter of the NAACP, organizing testing programs for HIV and other diseases, leading voter registration drives, bringing in guest speakers and connecting students with community service opportunities. Her work with the NAACP also resulted in connecting around 300 people in the Durham County Jail with absentee voting ballots and stimulus payments.
"As a woman of color, she has been immersed in justice and equity causes and is a thoughtful, yet demanding, activist," said Colleen Scott, director of the Baldwin Scholars. "We have seen Liyu's transformation from potential to action. Her work is significant. She is significant."
Sam Miglarese
Duke Office of Durham and Community Affairs
Since joining Duke in 1999, Miglarese has served as an energetic, friendly, knowledgeable and compassionate connection between the Duke and the Durham community it calls home. 
His work with the Duke-Durham Partnership, Duke-Durham Campaign, and other initiatives from the Duke Office of Durham and Community Affairs strengthen the bond between the university and the wider community. That's resulted in long-standing partnerships with organizations working to improve affordable housing, education and health for Durham residents. He's also connected Duke students with the Durham community by co-directing DukeEngage from 2007-19 and advised more than 15 community-minded student organizations over the years. His undergraduate course, the Durham Giving Project, has taught students about issues facing Durham, and how they can play a role in social change.
Outside of Duke, he serves on boards of Student U, the Bennett Place Historical Site and the Miracle League of the Triangle. He's also given his time and expertise to the Walltown Ministries and the Rotary Club of Durham, as well as serving as an associate pastor with Durham's First Presbyterian Church.
"He has embodied Duke's mission to 'seek to engage the mind, elevate the spirit, and stimulate the best effort of all who are associated with the university; to contribute in diverse ways to the local community, the state, the nation and the world; and to attain and maintain a place of real leadership in all that we do,'" said Vice President for Durham and Community Affairs Stelfanie Williams.
Amanda Joos
Duke Law School Student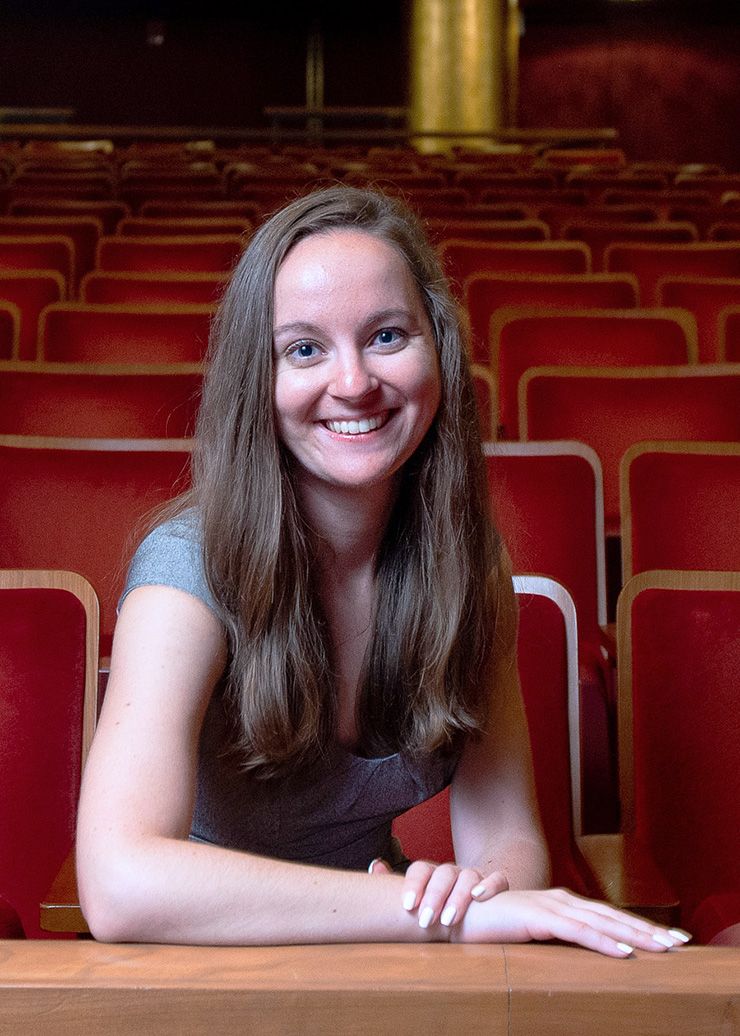 As an extraordinarily generous member of the Duke Law School community, Amanda Joos has lent her sharp mind and boundless enthusiasm to a range of worthwhile causes.
Prior to arriving at Duke, Joos earned a math degree and toured as an opera singer. As an energetic part of the Duke Law School community, she serves on the boards of her law journal, the Transactional Law Society and the Moot Court Board. She's dedicated over 400 pro bono hours to the Civil Justice Clinic, Veterans Assistance Project, Fair Chance Project and the Health Care Planning Project.
She's helped Duke Law faculty run a weekly eviction advice clinic for Durham residents facing housing challenges and helped clients in need through the law school's Pro Bono Program.
"While many students volunteer with one of roughly thirteen student-led projects or a handful of independent projects, it is rare for students to even come close to Amanda's level of volunteerism," said Stella Boswell, assistant dean for the Office of Public Interest & Pro Bono. "She volunteered with four separate projects during her first year and has continued to expand upon her engagement this academic year."
The nominees for each Sullivan Award category include:
Faculty/Staff/Graduate Students
Debra Andersen, Pathology
Stafford Balderson, School of Medicine, Surgery
Kyle Cavanaugh, Vice President, Administration
Nhat Duong, Computational Biology and Bioinformatics
Elana Friedman, Jewish Life at Duke
Colin Smith, School of Medicine, Internal Medicine-Psychiatry
Damon Tweedy, School of Medicine, Department of Psychiatry & Behavioral Sciences
Edgar Virguez, Nicholas School of the Environment
Undergraduate Students
Tyler Edwards, Biology
Priyanka Fernandes, Psychology
Margaret Gaw, English
Ishaan Kumar, Philosophy
Send story ideas, shout-outs and photographs through our story idea form or write working@duke.edu.