Meet the 2022 Sustainability Award Winners
Students, staff and faculty play key behind-the-scenes roles in helping Duke live up to environmental goals
From helping spread Duke's sustainability message, to setting the stage for important research, winners of Duke's 2022 Sustainability Awards made sure that, throughout a challenging and unpredictable time, the work of making Duke a greener and more equitable place continued.
This year's winners, who were nominated by colleagues and selected by Sustainable Duke, increased visibility of Duke's institutional sustainability efforts, galvanized support for environmental justice among students, ensured the health and vitality of one of Duke's largest natural resources, and secured the future of important research.
"From staff that are boots on the ground in one of Duke's best examples of 'campus as lab,' the Duke Forest; to students engaging their peers with creative communication strategies and environmental justice issues; to faculty increasing opportunities for funding community and campus social justice efforts – this year's award winners exemplify the passion and commitment the Duke community has for creating a sustainable and just future," said Duke Sustainability Director Tavey Capps.
Meet the 2022 Sustainability Award winners.
Outstanding Leadership in Sustainability – Student
Carsten Pran, Class of 2022
Through his work as an intern in the Office of Sustainability and as a member of the Duke Green Devils student group, Carsten Pran helped broaden the reach of Duke's sustainability message.
Early in his time at Duke, Pran helped develop Sustainable Duke's Climate Action Plan module, which served as an online training tool for first-year students to gain a better understanding of Duke's sustainability and climate neutrality efforts. He also helped the Office of Sustainability learn new approaches for communication and helped create and sustain social media presences for the Duke Green Devils.
"Carsten has been a leader in our program ever since his first year on campus," wrote former Sustainable Duke Program Coordinator Becky Hoeffler, who nominated Pran. "Carsten has continuously prioritized utilizing the power of imagery to teach, engage and create community."
Outstanding Leadership in Sustainability – Student
Ashley Rosen, Class of 2022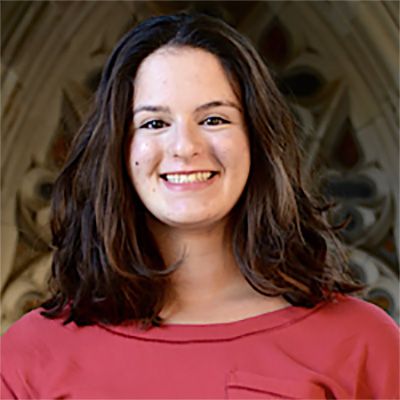 For her four years at Duke, Ashley Rosen has been an important advocate for environmental justice on campus. 
Rosen was a founding member, and is the current president of, the Undergraduate Environmental Union. She also developed a house course in environmental justice for the past two years and helped lead the Environmental Justice Campus Committee this year. She's also played a key role in organizing environmental education resources for new-student orientation and has collaborated with affinity and identity groups to organize environmentally-focused events.
"Ashley has been a staunch advocate for environmental literacy and environmental justice for the past four years," wrote fellow Duke students Cameron Oglesby and Isabel Wood, who nominated Rosen.
Outstanding Leadership in Sustainability – Staff
Craig Hughes, Duke Forest
Covering around 7,100 acres, Duke Forest serves as a laboratory, classroom and recreation site for the Duke and Durham community. And Maintenance Technician Craig Hughes spends most of his workdays out in the forest, ensuring it's in the best shape possible to fulfill all of those missions.
Most days, Hughes can be found maintaining equipment, mowing the sides of roads, repairing culverts, grading roads, cutting trees and clearing authorized trails while covering up unauthorized pathways. His work helped Duke Forest win the 2021 Sustainability Leadership Award from the Forest Stewardship Council.
"Most people don't realize the amount of work it takes to maintain this incredible land base," wrote nominator and Duke Forest Assistant Director of Engagement Blake Tedder. "Craig is absolutely central to this, with his incredible work ethic and great sense of humor."
Outstanding Leadership in Sustainability – Faculty
Rae Jean Proeschold-Bell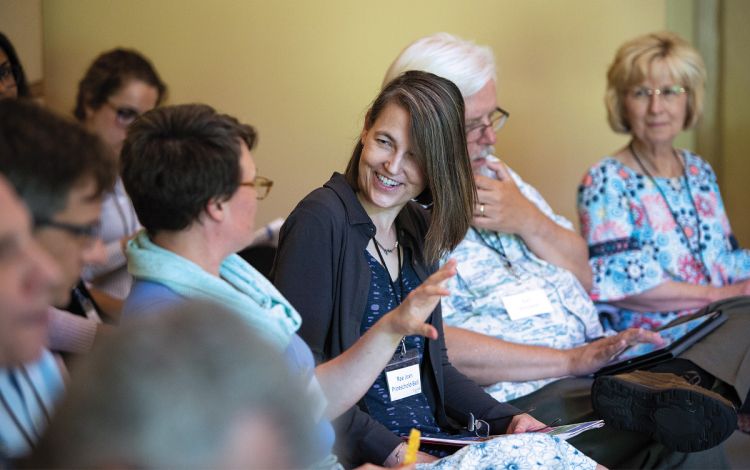 Rae Jean Proeschold-Bell, a research professor with the Duke Global Health Institute (DGHI), has long been an advocate for healthy and sustainable behaviors among her colleagues, ensuring team retreats are green and serving on DGHI's Diversity Equity and Inclusion board. But during the pandemic, she did crucial behind-the-scenes work to keep some essential pieces of the institute's work going.
With her global health projects fully funded during the pandemic, Proeschold-Bell worked to secure grants that provided additional funding to projects that focused on the wellbeing of teachers, strengthened Durham families, and supported clergy members pushing for social justice.
"Her grants impact the sustainability of Duke economically and allow for the employment of additional staff," wrote DGHI Research Program Leader Logan Tice, Proeschold-Bell's nominator. "Her work also directly impacts the Durham community as well as BIPOC clergy across the state and teachers across the globe."
Send story ideas, shout-outs and photographs through our story idea form or write working@duke.edu.