Working Off-Site? Check Out These Essentials
From pets to tech, Duke colleagues share what has helped them work remotely
In March 2020, when Carmen Daniels-Bynum was told that, due to the COVID-19 pandemic, her tight-knit Duke Health Resource Center Team would have to transition to remote work, she didn't want to go.
"I went kicking and screaming," said Daniels-Bynum, a population health resource associate who valued the camaraderie of her co-workers and the ease of working together in a suite at Duke Regional Hospital.
Two years later, Daniels-Bynum spends remote workdays in a sunny second-floor room, in her Durham home, checking on patients who have been recently discharged from Duke's hospitals. She has a desktop computer with two monitors, a laptop, phone headset and communications platforms such as Jabber to stay in close contact with colleagues.
As many Duke staff and faculty navigated bringing their office home, they've found that certain tools or office features have become indispensable at home. From digital resources to creature comforts, check out some of items that colleagues have found to be remote-work essentials.
A Comforting Companion
Holly Schroer, a staff assistant with Duke Raleigh Hospital's Anesthesia Department, spends three days a week working from her Willow Springs home with Molly, her 7-year-old dog often relaxing nearby. Schroer and her family got Molly, a rottweiler, bloodhound mix, when she was a puppy. And since the COVID-19 pandemic began, Molly has been a helpful part of Schroer's remote workday.
"Molly keeps me company," Schroer said. "If I'm having a stressful day, she helps keep me calm and grounded. And she also reminds me to take breaks when she lets me know it's time for her to go outside."
Recently, Molly suffered a torn ligament in her knee that has slowed her down. And by being able to stay close to her, Schroer has been able to help Molly stay comfortable, and ensure she doesn't do anything to reaggravate her injury.
"It's not just that she's good for me, I'm also good for her when I'm able to stay home," Schroer said.
A Place for Collaboration
The hardware Tim Crittenden uses to consult with Duke Health Technology Services (DHTS) colleagues and anesthesiologists across Duke University Health System is robust. He's got a wheeled sit/stand desk that can roll around the workspace in his Orange County home, wireless ear buds, two monitors and a microphone that plugs into a USB port on his desktop computer.
But the tool that Crittenden, a perioperative and anesthesia consultant with DHTS, has come to appreciate most is Microsoft Teams, a collaboration platform his team was working with prior to the pandemic.
"The idea of having one place for calendar management, file sharing, task boards, instant messaging, hosting meetings, recording them, all of that sort of stuff, was really desirable to us even before we were working from home," Crittenden said. "But then transitioning to working from home, it was just a no-brainer. It was really nice."
In addition to all of the communication and collaboration features, Crittenden appreciates some of the smaller features which, in their own way, can help build a sense of camaraderie.
"One of the things you can do in Teams is send a gif in a chat," Crittenden said. "So it's almost worth it for the gifs. It keeps the mood light, and that's really helpful. Is it make-or-break? No. But it is kind of cool and it brings a smile to people's faces."
A Dose of Wildlife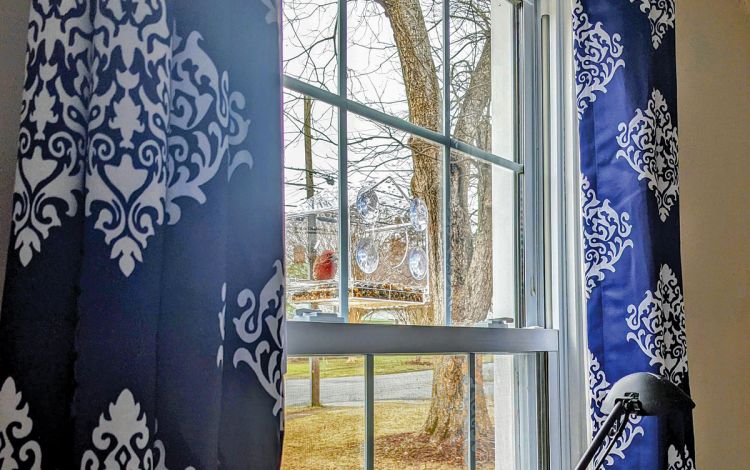 As a project planner with the National Child Traumatic Stress Network, which is run out of the Duke Department of Psychiatry and Behavioral Sciences, Tracy Henderson Bethel spends most of the day on Zoom, communicating with a network of researchers and colleagues.
Her workspace in the spare bedroom of her Mebane home is geared to her Zoom-centric day. Her desk is angled to give her a background filled with artwork, and one of the room's two windows provides natural light to her face. But occasionally, what happens on the other side of the window provides fun, momentary diversions.
Earlier this year Bethel bought a clear, plastic bird feeder, which she hung outside her office window. Filled with seeds, the feeder attracts several dozen birds each day, giving her work rhythms welcome color.
Bethel said she'll often Google the birds that visit her feeder. Among the species dropping by are red-headed woodpeckers, tufted-titmice and red common wrens.
"I didn't know anything about birds, but I've been looking them up as they visit," Bethel said. "I've been joking with my co-workers that if you see me smile suddenly in a meeting, it's probably because a bird is at my feeder."
Equipment for the Write Stuff
When he was teaching his courses on computational methods in engineering and mechatronics prior to the pandemic, Michael Gustafson, associate professor of the practice of Electrical and Computer Engineering, would request a classroom equipped with a tablet on which he could make notes by hand, which would show up on a big screen.
Over the past two years, as Gustafson has taught some sessions of his courses from home, he's made sure his technology needs are still met.
"I feel very fortunate that the job that I have, and the specific tasks within that job were fairly easily transported to remote," Gustafson said.
Using equipment he moved from his campus office to home, Gustafson outfitted a former storage space into a home office. And with his Microsoft Studio desktop computer, he's able to use a digital pen to write on his 28-inch screen, providing in-the-moment direction to the students tuned into the Zoom feed for his hybrid classes.
"Being able to write directly on the computer and save the whole thing as a PDF is really helpful," said Gustafson, who now teaches most of his classes in-person. "I can just throw on a piece of graph paper and start drawing. It's even got an eraser. I can turn it around and erase the digital ink. Or if I need to talk about a circuit, I can find a picture of it and paste it into my notes and annotate it."
Solid as a Rock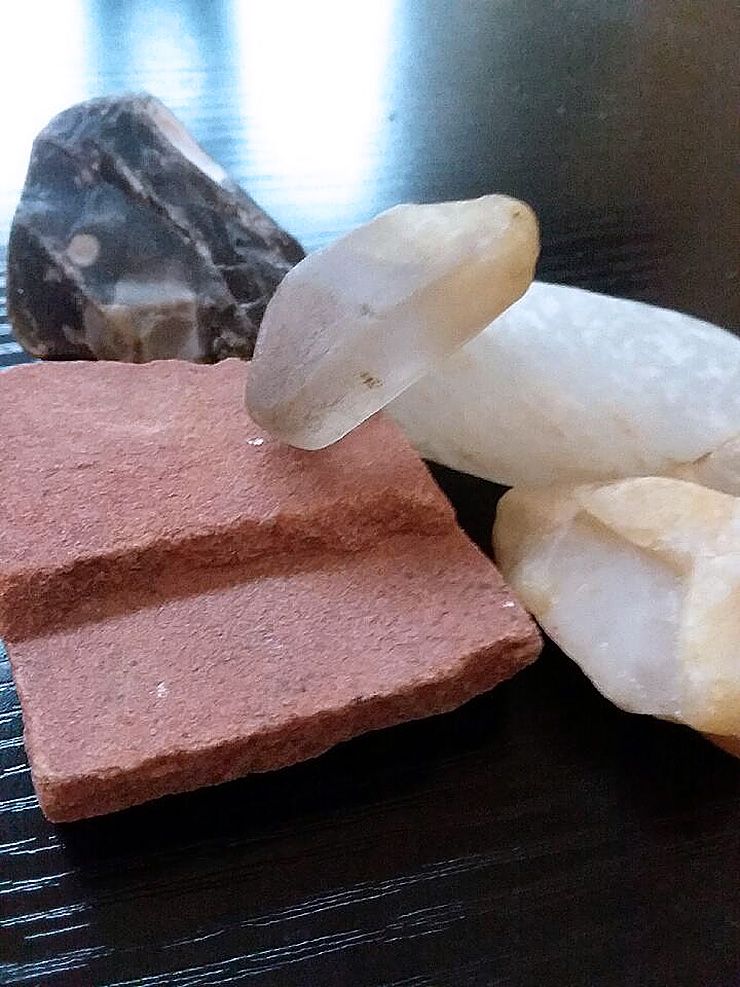 Rebecca Kameny started her role as a research program leader for Duke Obstetrics and Gynecology just three days before much of the Duke workforce was sent home. She set up a workspace in her Chapel Hill home that evolved from her using her now-grown daughter's childhood desk to her current set-up featuring a sit/stand desk. 
Nestled among her multiple computer monitors, stacks of Post-It notes and work documents, Kameny has a few rocks. She has a rough, sandy, red rock she brought back from Sedona, Arizona. She also has some knobby quartz crystals she found in a nearby creek. The newest addition is a rock she found on a recent beach trip.
She said picking up and holding the rocks at points during a workday can help her focus and burn off excess energy.
"They actually feel cool and help me de-stress," Kameny said. "Tactilely they're really satisfying."
A Lifeline for Providing Care
Clinical Nurse Alicia Snyder joined the Duke Heart Center's communications team in the spring of 2021, well after the group had figured out the transition from its old call center on Erwin Road to working from home. 
Providing her with two monitors, a laptop and constant connection to colleagues and patients through Jabber and Cisco Finesse, Duke Heart Center set up Snyder with everything she needs.
"It's crazy how we've adapted," Snyder said. "They made it look super-smooth, but I can only imagine what it was like at first."
As she's gone about helping her callers set up appointments, figure out medications or even decide whether they need to come in for care, Snyder has come to appreciate her headset. Duke provided the simple earpiece and microphone combo. Easy to wear and offering clear sound, Snyder said it's a key piece to the larger system that keeps her connected.
"It's like you're tethered to your computer," Snyder said. "It makes it very easy to schedule procedures, refill medicines and give triage advice. And that's the thing about cardiology, you never know what the next call is going to be. You've got to be ready to handle anything," Snyder said.
Do you have your own remote-work must-have? Join the conversation on the Facebook post below.
Send story ideas, shout-outs and photographs through our story idea form or write working@duke.edu.