Why You Should Celebrate Work Accomplishments
Amid the challenges of the pandemic, build team resilience and camaraderie by savoring wins
Last year, the team of staff and faculty behind what would become the Duke Center for Combinatorial Gene Regulation, gathered for a meeting on Zoom. The team had secured a $14 million grant from the National Institutes of Health that would fuel their collaborative research into the human genome for the next five years.
Under normal circumstances, an accomplishment of this magnitude would be cause for a big celebration. Months earlier, as the grant proposal was pulled together, there had been talk of perhaps hosting a dinner at a faculty member's home,  but with the COVID-19 pandemic making large gatherings risky, a celebratory Zoom meeting was the best they could do to celebrate.
"At least one person popped some champagne, and everybody was toasting with whatever they had," said Shannon Clarke, project manager for the center. "We felt like we could finally exhale. Success like this doesn't happen in isolation, so it was great to be able to recognize everyone, share this moment and appreciate that we made this happen."
Since the onset of the pandemic, work teams have changed the way they operate. But when teams have successes, or power through challenging stretches, the value of recognizing an achievement, in whatever way possible, remains unchanged.
"I think it's incredibly important, especially if you're working in teams over a long period of time," McLean Pollock, assistant professor in Psychiatry and Behavioral Sciences. "I think we tend to focus on the negative, that's kind of a human trait. So being meaningful and intentional about pausing and recognizing that you're working together toward long-term goals, and that you've hit milestones along the way, that certainly builds up a sense of meaning to the work."
From marking major personal or professional moments to simply taking time to give thanks, here are some ways Duke colleagues have celebrated success and why marking the moment matters:
Honoring the Human Side of Work
Prior to the pandemic, on an afternoon near the end of an academic year, the staff and faculty of the Duke University School of Law would gather in the sunny Star Commons for a celebration of all sorts of accomplishments.
The ceremony would highlight the contributions of employees who were retiring, recognize new hires, honor team members passing milestone work anniversaries and announce winners of several staff awards.
At the completion of the 2020-21 academic year, with COVID-19 still limiting gatherings, the traditional event didn't happen. But in August of 2021, just before the fall semester began, the Law School organized a hybrid version of the celebration.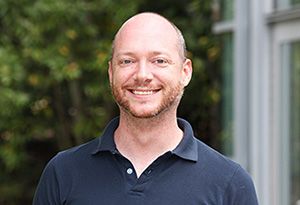 Wick Shreve, Faculty and Scholarly Services Librarian and Senior Lecturing Fellow at Duke University Law School, helped organize the virtual version, which drew around 60 to 70 participants, most of whom joined through Zoom.
Shreve said the celebration, which featured announcements of several births among families of team members, served as a way to bring the Law School team together to share personal moments, not just work.
"Our hope was that it brought a sense of normalcy and continuity to everyone," Shreve said. "So much of our lives had been upended and doing things that we would normally be doing, even if it's a slightly different format, just reminds people that we're all still here together."
Showing Gratitude
Like everywhere at Duke, the 2020-21 academic year was a challenge for the Duke Divinity School because the school had to balance educational and community-building missions with the desire to keep everyone safe.
That's why, in early September of 2021, school leaders celebrated the work of staff and faculty by taking them to a Durham Bulls baseball game. On a spacious, rented outdoor terrace at the Durham Bulls Athletic Park, a group of about 80 employees and their families, enjoyed a night of baseball together while also being able to maintain physical distance.
"There was a sense of affirmation, that we've worked hard and made it this far," said Katherine Smith, associate dean for strategic initiatives for the Duke Divinity School. "I think for this particular gathering, it was a recognition of seeing each other as full human beings, for who you are, not just how you show up on a screen."
According to Pollock, the assistant professor in Psychiatry and Behavioral Sciences, shows of gratitude are incredibly valuable in helping teams feel connected and appreciated.
"Studies have shown that when leaders express gratitude to their team members, that can increase well-being among those teams," Pollock said. "It demonstrates that you see what they're doing and that you value them as people who have these unique skills or strengths that have helped you reach a goal."
Building Resilience
When the team behind the Duke Center for Combinatorial Gene Regulation gathered on Zoom in August of 2020 for the virtual celebration of their $14 million grant, there was a lot of work ahead. In the next few weeks and months, they'd have to craft new teams, workflows and plans for executing the science they were now charged to do. And doing this in the midst of a pandemic, when working face-to-face wouldn't be easy, made the whole endeavor a challenge.
But by taking a moment to celebrate the achievement of putting together a successful grant proposal during a pandemic, it helped to build the kind of positive emotion that can help increase resilience.
"When you're feeling negativity and things seem to be getting worse, it can be hard to keep your head above water," Pollock said. "So by celebrating victories, it can reorient everyone's idea of what you're working toward and that you are making a difference. It can be really helpful to counteract the tendency to focus on the negative."
Have you or your school, department or unit celebrated a work achievement? Tell us about it – and share a picture – through our story idea form or write working@duke.edu.