Leaving a Mark in Stone and Steel
As retirement approaches, Paul Manning reflects on some construction projects that defined his 17 years at Duke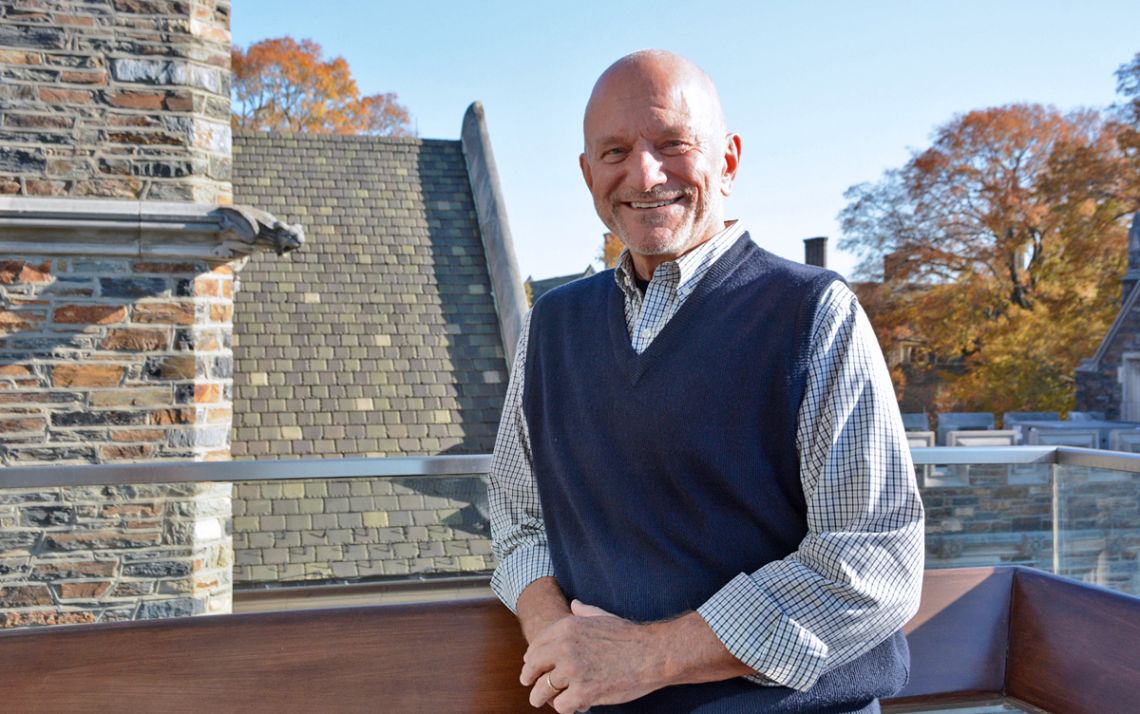 In July of 2004, Paul Manning was hired by Duke University to oversee a major renovation to the Washington Duke Inn & Golf Club. Manning, who had a long career in construction management first in his native Chicago and later in New York, was ready for something new. He'd grown tired of long commutes and the fast pace of construction projects that reshape big city skylines.
Over the next 17 years at Duke, Manning led a team that shaped the campus with building projects that blend gothic charm with futuristic cool, giving the Duke community new places to study, work, create and live.
"We have been the keepers of the look and feel that is Duke," Manning said. "I'm proud that Duke has a campus that holds together, no matter where you are, you feel like you're at Duke."
At the end of December 2021, Manning, 65, will retire as Duke's director of project management, a role that's allowed him to have a hand in a vast array of construction projects that have added new features to Duke's campus and brought new life to existing ones – from the sleek Grainger Hall to the stone-walled Duke Graduate School.
Initially brought to Duke to oversee the Washington Duke Inn renovation, Manning moved to his current role a short time later when Duke Facilities Management reshaped construction project management. Newly hired Duke Vice President for Facilities John Noonan developed the Office of Project Management, which would oversee all Duke University building and renovation projects. Manning, who had experience as an architect and project manager, was a logical choice to direct the office.
"Paul has built a lot of complicated things, so he's got skills and experience," Noonan said. "Paul was able to build a really solid team, and they get the job done. And I think Paul has a lot to do with that because of his experience."
In the years since, Manning estimates that the Office of Project Management has handled around $3 billion in construction work that has added around 5.6 million square feet of building space to campus. 
When Manning retires at the end of 2021, he plans on traveling more to visit his four children and 21 grandchildren who are spread across four different states. But no matter where he goes, part of his legacy will remain at Duke, where he helped take several campus projects from ideas to stone and steel realities.
Working@Duke asked him to share thoughts on a few of his most memorable ones.
Giving New Life to a Gem
A lot happens on a college campus, where, among other things, people learn, teach, live, eat, worship, conduct science, play and enjoy sports, and create and consume art. That's meant that Manning and the Facilities team have needed to be versatile enough to build everything from state-of-the-art labs to world class sports venues.
One project that still fascinates Manning is the renovation of Baldwin Auditorium, which unfolded from 2011-13. The East Campus performance venue was built in 1927 and featured a concert space with exterior windows, a boxy shape and mechanical equipment tucked in the basement below, all resulting in poor acoustics.
To fix this, Manning and his team first oversaw the construction of a small addition to the West side of the building, which would house the mechanical guts of the building. Then, the performance space was rebuilt with graceful, curved walls which were separate from the building exterior walls, holding the music in and keeping any outside sound out.
"It's like a building within a building, separate from the world around it," Manning said. "So the acoustics are perfect. We took something that was awful for its purpose and made it state-of-the-art."
Reimagining the Hub of Campus
Part of being a project manager on a college campus is making sure a building will meet the needs of the people who use it. For the Brodhead Center, the hub of dining and student life on West Campus, the users included nearly everyone on campus.
"Essentially, everyone was my client," Manning said of the project, which was completed in 2016.
The result was an award-winning facility that balances a bustling open-concept dining facility with quiet, comfortable spaces to eat, study and meet. On one side, there is sleek steel and glass which reflect stone and sky, and on other sides, Gothic walls keep the building tightly woven into the core of campus.
"Paul is just extraordinary when it comes to working with stakeholders," said Duke Assistant Director of Engineering and Planning Cash Davidson. "I think he does a great job of listening and understanding what different people need and then he really zeroes in on the priorities and identifying the key things we have to achieve."
Refreshing an Iconic Place
With its stained glass and soaring spires, Duke University Chapel is the spiritual heart of campus. But made of concrete, stone and steel, the building has needs just like any other.
Starting in 2015, Duke Chapel was closed for nearly a year as a major restoration project repaired the limestone ceiling, refreshed the windows and woodwork, replaced the lead-coated copper roofing and gutter system and upgraded the air conditioning and electrical systems.
"The challenge for that work was to make it look like we were never there," Manning said.
By the time the public was able to return to the building in 2016, Manning and his team had succeeded as the building was returned to its familiar splendor, but with unseen improvements which will help it shine for years to come.
"To me, someone who is not in the construction world, it was amazing," said Dean of Duke Chapel Luke Powery. "They made it seem so easy. This was a major project and it took a whole team and all of these various parts that needed to work together. I was amazed at the effort and the expertise."
Are you retiring soon – or do you know someone who is? Send shout-outs and photographs through our story idea form or write working@duke.edu.