An Empathetic Ear for Duke Healthcare Colleagues
Newly created Duke Center for Healthcare Safety and Quality Peer Support Program helps staff weather challenges
Most of Annie Howington's two years at Duke Raleigh Hospital have been spent as a clinical nurse in the emergency department. Working on the front lines of Duke Health, during a global pandemic, has provided stressful shifts. Away from work, it can be hard to talk about that stress to the people in her life, including her husband.
"It's just a very specific role," Howington said. "When you're talking with somebody who understands it, it's really helpful. I get such value out of talking with peers."
That's what led Howington, and dozens of other Duke University Health System employees to serve as peer support volunteers in the Duke Center for Healthcare Safety and Quality's newly created Peer Support Program.
According to the results of a survey of nearly 21,000 health care workers published in 2021 from the American Medical Association and Hennepin Healthcare of Minneapolis, 38 percent reported experiencing anxiety or depression, 43 percent suffered from work overload, and 49 percent experienced burnout.
Launched in September, the Peer Support Program offers Duke University Health System employees free, confidential conversations with fellow Duke healthcare workers – often from a different part of Duke Health – about stressors in their personal or professional life.
Melissa Segal, administrative director of Culture & Wellbeing for the Duke Center of Healthcare Safety & Quality, said the creation of the program was driven by the demand for well-being support during the pandemic, especially among patient-facing workers such as doctors and nurses at Duke's three hospitals, and the desire to help their peers.
"It's really helpful to feel like you have someone who just gets you, who you can talk to in these types of situations," Segal said. "I found that team members really want to be there for each other. If COVID has taught us nothing else, we've certainly learned the importance of our wellbeing and of caring for ourselves and each other."
The program is staffed by volunteers and isn't meant as a substitute for professional mental health or other medical services, such as those offered by Duke's Personal Assistance Service.
Instead, Peer Support Program volunteers listen, provide empathy, encouragement, and perspective, and may refer peers to professional healthcare resources, if needed.
The Peer Support Program's volunteers can help colleagues involved in a challenging event or bad outcome, struggling with a professional setback, second-guessing their skills or knowledge base, seeing their work suffer due to a personal issue or other matters.
Those in need of a peer support consultation fill out a short, confidential online survey at the program's website, and request whether they'd like to be contacted by phone, zoom, text or in-person, and if they'd like their peer support volunteer to come from their workplace or a different part of Duke Health. After that, the peer support volunteer will reach out and begin a conversation.
"Everyone is different, so we give the person who's reaching out the ability to guide how the conversation happens." Howington said.
In the past few weeks, the Peer Support Program has added a new piece to its approach, now reaching out to offer help to staff members who have experienced difficult peer or patient-related events.
"That's going to become quite an active part of the program," Segal said. "We have gotten so much positive feedback from this."
In the months leading up to the Peer Support Program's launch, Segal and her colleagues helped train around 75 peer support volunteers with two-hour Zoom sessions covering active listening skills, how to ask open-ended questions, ethical boundaries and how to refer their peers to available resources.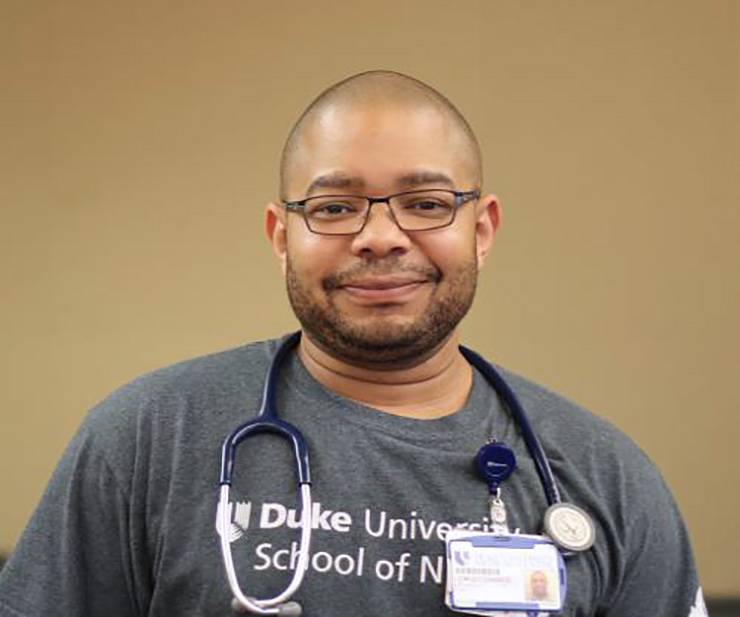 Lem Scott, a behavioral health rounding nurse at Duke Raleigh Hospital has a unique vantage point of the program. In his role, he checks on patients who have behavioral health concerns or may be in emotional distress. But while making his rounds, he often gets pulled aside by hospital staff for informal conversations.
When he heard about the program earlier this year, he immediately saw the value and jumped at the opportunity to serve as a peer support volunteer.
"You want to be able to draw from their experience and identify with them," Scott said of the people he's able to help. "You want to be able to say 'I've had a similar experience, too. Maybe not exactly like yours, but I can relate to where you're coming from. And maybe here are some of the things that helped me.'"
Send story ideas, shout-outs and photographs through our story idea form or write working@duke.edu.