Duke Staff Member Finds Peace through Kidney Donation
Brie Russell provided her kidney to help save a Raleigh grandmother's life
On a sunny afternoon in June 2021, Linda Luna Kress sat on the patio of a Starbucks in Brier Creek, waiting for a friend, Brie Russell. The pair had only known each other for a few months and never met in person, only corresponding through text messages.
But the bond the two shared was a uniquely close one.
Seven months earlier, Russell, a 42-year-old mother of three, donated one of her kidneys to Kress, a woman she didn't know. For Kress, a 62-year-old grandmother, the transplant saved her life, allowing her body to no longer rely on a pair of rapidly failing kidneys. And for Russell, the senior director for Alumni and Regional Engagement in the Duke Health Office of Development and Alumni Affairs, the gesture helped her achieve a degree of mental and emotional well-being.
"I thought that if I can help a family and extend a life, that's something that I can do to make a positive impact," Russell said. "I can't fix so many things. But I can still have an impact."
According to estimates from the National Kidney Foundation, there are usually around 100,000 Americans waiting on kidney transplants. Kress had been searching for one for roughly a year. So Russell's decision represented an answered prayer. And for Russell it was an important step in her own healing journey.
Looking for Peace
Like many people, the COVID-19 pandemic left Brie Russell feeling powerless.
Russell had always worked to balance the needs of her job, family and own mental well-being, but doing that amid a pandemic that derailed life and widened society's divisions left her feeling overwhelmed.
She tried to lower her anxiety and fear during quarantine by contributing to the efforts of the Durham Public Schools Foundation and volunteering with community vaccination efforts. 
In the summer of 2020, she discovered how she could create her own dose of healing energy. With the rate of kidney transplants slowing down dramatically during the pandemic – one study showed kidney transplants were down 19 percent in the nine months after the pandemic began – Russell decided that donating a kidney might provide twofold healing.
"Maybe that would be another layer of healing I needed to help me find that peace I was looking for," Russell said.
She reached out to Duke's Kidney Transplant Program and went through physical and mental evaluations before scheduling her donation surgery for December 3, 2020. 
The next step was to find the person who needed a kidney.
Searching for a Miracle
Diagnosed with Type 1 diabetes at 38, Linda Luna Kress, who spent 20 years in the Army and retired as a first sergeant in 1997, didn't let it slow her down. The Raleigh resident enjoyed spending time with her husband, her two adult daughters and her four grandsons, often looking after them during the day and shuttling them to soccer practices, swim meets and tae kwon do classes.
In late 2019, with her kidney function declining, doctors told Kress she needed a transplant.
Nobody in Kress' family or circle of friends was a match, so they took their search public, making pleas on social media, placing yards signs in their neighborhood, decorating their cars with decals and printing 160 T-shirts, which they distributed to friends. Everywhere, the message, which was shown with an email address people could contact, was the same: "Kidney Donor Needed. Share Your Spare."
As months went by, the search came up empty. Meanwhile, with the COVID-19 pandemic keeping Kress, who had a weakened immune system, away from her family, her spirits – and her health – began to weaken.
"I was in the Army for 20 years, so I felt like things don't affect me the way they affect other people," Kress said. "I thought that I could push through anything. I was really strong through everything until the pandemic hit."
Over a Thanksgiving weekend without her children and grandchildren, Kress began to process the reality of perhaps not finding a kidney in time.
"I thought, I can't keep doing this," she said. "I thought, 'I'm done.'"
A Rare Connection
On the Monday after Thanksgiving in 2020, Kress got the call she'd been yearning for. Doctors told her that they'd found a kidney that matched hers. Her surgery would be on Thursday, December 3, at Duke University Hospital.
That Thursday morning, both Russell and Kress were driven to Duke University Hospital by their husbands.
Russell was calm. She knew she was going to have surgery to remove her left kidney in a few hours, and that, if all went as planned, it would soon be in someone else's body. But she had no idea who that recipient was. She recalled keeping an eye on a winter storm that was developing in the Midwest, worrying that should her kidney be bound for someone several states away, the bad weather could delay travel.
She had no way of knowing that her recipient was Kress, who was antsy and excited as she arrived.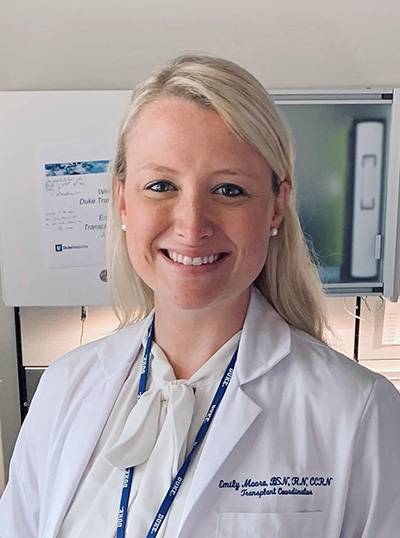 "Usually when someone like Brie comes forward, we're shipping the kidney off to Michigan, or Florida, or Virginia," said Emily Moore, transplant coordinator with Duke University Hospital. "It's not usual for a Duke anonymous donor to be giving to a Duke recipient. That's really incredible."
The two women's surgeries took place in adjacent operating rooms. Around 90 minutes after being taken out of Russell, the kidney was placed into Kress. A few hours later, both women were recovering in different rooms in the same ward of Duke University Hospital. And before long, they were both headed home.
Kress could tell right away that her kidney function had improved. She felt spry enough that doctors warned her not to do too much too quickly. Russell, meanwhile, spent the next few weeks resting at home, with her husband and daughters making sure she was taking her medication and doing physical therapy.
"Really, since this time," said Russell, "I've focused on taking care of myself for the first time in a really long time, just making sure that I get the rest I need. It's funny, operating with one kidney, you'd think that wouldn't be the case, but I feel much stronger."
A Strong Connection
As Kress recovered from her transplant surgery, she asked her doctors if they could tell her anything about her kidney donor. She didn't know that the donor was a in a room a few doors down.
For non-directed kidney donations, privacy rules mean the donors and recipients can only learn one another's identities if they both agree to disclose the information.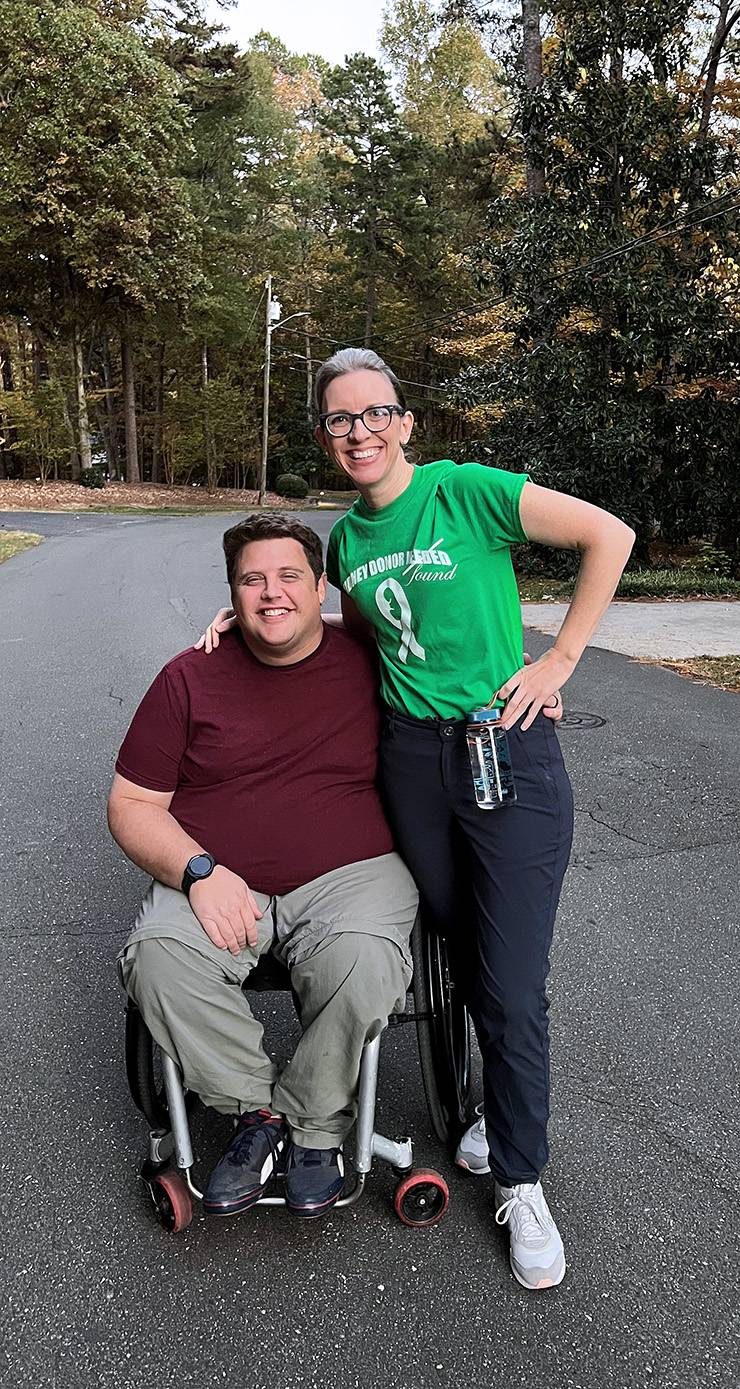 It was around April of this year when Kress heard from a transplant coordinator that Russell wanted to exchange contact information. Once she had Russell's phone number in hand, Kress sent off a text saying who she was, that she's a mother of two and grandmother of four, and that she's grateful for Russell's donation.
"You gave me my life back," Kress wrote.
That text began a flurry of messages and calls. Photos of children were shared. So too were long stories about their lives, what led to their transplant, and what they've been doing since.
Finally, in June, once both women were fully vaccinated, they planned to meet at the Brier Creek Starbucks.
Russell recalls breaking down in tears as soon as she got in the car for the drive over. As she waited, an excited Kress told a pair of strangers sitting nearby on the patio what she was there for. She couldn't keep it to herself. The strangers decided to stick around, and one agreed to record cellphone video of the moment when Russell arrived.
The 39-second video begins with Kress spotting Russell, who darts toward her and swallows her up in a tearful embrace.
"Thank you for saving my life,' Kress tells Russell.
The previous summer, Kress was racing against time in a frustrating search for the one thing that could save her life, while Russell was struggling to feel whole while living in a challenging time.
But for the next few hours, both women sat in the afternoon sun, sharing how happy they were, how healthy they felt and how thankful they were to be there, together.
"It was a really good day for both of us," Russell said. "We are both a part of each other's healing in different ways. I'm so grateful. I feel like I received so much from her." 
Send story ideas, shout-outs and photographs through our story idea form or write working@duke.edu.