With 44 Turkeys and Menu Pivots, Dining is Ready for 1,600 for Thanksgiving
Amid some supply chain challenges, Duke Dining is ready to serve its annual Thanksgiving meal on Wednesday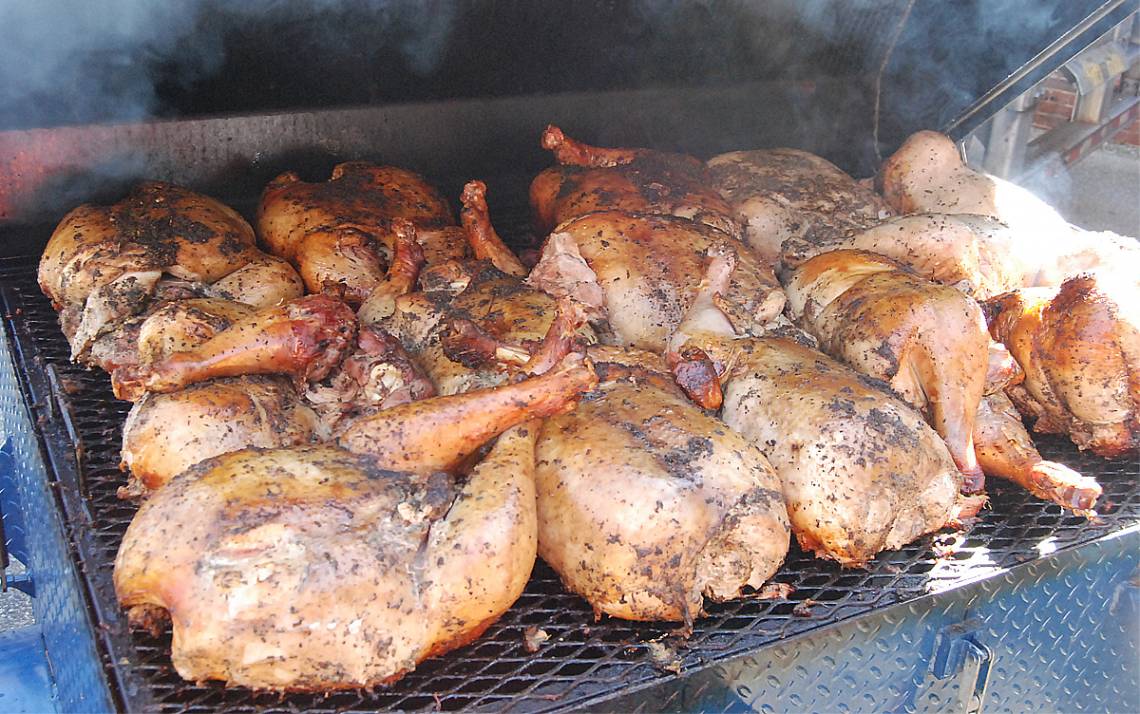 Todd Dumke climbed a ramp at the rear of a delivery truck and opened the rolling doors to reveal a key to serving this year's Thanksgiving meal at the Marketplace on East Campus: compostable to-go boxes.
Tracking down the precious commodity for safe dining during the pandemic is among the items Dumke had to secure for the annual feast, which is expected to draw at least 1,600 students on Wednesday.
"The to-go box thing has been a challenge, and it's not stopping," said Dumke, chef of culinary operations. "It's not just Duke, everybody is using a ridiculous amount of to-go boxes. The pandemic has changed the way we do restaurant food."
Duke Dining staff, who typically serve about 15,000 meals at the Marketplace in any given week, have the logistics of the much-anticipated Thanksgiving meal down to a science. As in previous years, the team will be ready when students stream through the doors from 5 to 9 p.m. for menu offerings such as roasted turkey, smoked brown sugar glazed ham, pan-seared salmon, vegan cider braised collard greens, vegan cauliflower steaks and vegan pumpkin spiced grilled tofu, mashed potatoes, cornbread stuffing, vegetarian pumpkin ravioli, and rolls with sweat cream whipped honey butter. For $19.25, staff and faculty can enjoy the meal, too.  
"We're confident that we're going to feed more people than we ever have, cook more food than we ever have. And we're ready for this," said Duke Dining executive chef Mark Turner.  "We've been training for a long time to do this the right way."
But getting to cooking one of the largest meals the Marketplace serves in a year was not easy. Supply chain disruptions due to the pandemic meant menu pivots and extra planning to secure turkeys and supplies. Amid all this, one thing helped the Duke Dining team meet the moment.
"We started early," Turner said. 
Securing 44 Turkeys
In a typical year, Dumke, the chef of culinary operations for the Marketplace, might call his sales rep with US Foods in October to order turkeys. But this year, he placed the order by phone in early September to secure 44 turkeys weighing 22 pounds each.
"At a Thanksgiving meal, if you run out of turkey, you are a turkey," Dumke said. "I'm not a weatherman. I can't be wrong half the time and still keep my job."
The signature item of the holiday meal was set aside for Duke in a freezer at a US Foods facility in Zebulon until Nov. 10, when the turkeys arrived on campus and stayed stacked in coolers, awaiting thawing and seasoning. On Wednesday morning, the turkeys will roast on low for six hours in three large cookers leading up to mealtime.
When ordering trimmings for the meal, Dumke encountered other challenges with availability. The usual pre-skinned sweet potatoes for sweet potato casserole were out of stock, so Dumke purchased 300 pounds of whole sweet potatoes with skin, which requires peeling and cutting.  
"The supply stuff has really forced us to stay ahead of the game and rethink things," Dumke said. "At some point this year, pretty much everything that I buy, I've had trouble finding at one point."
Consulting Notes from Past Meals
In his office in the Marketplace, Dumke, who orders all food and supplies, keeps a folder on his computer containing notes about every meal he's served during his five years at Duke.
With large font size corresponding to the most important notes, the detailed reports are compiled by every chef in the Marketplace to evaluate ordering and help plan for future meals. Notes include what food was popular and ran out, and which items weren't as big a hit to help with orders for the next year.
For example, a 2019 entry from the Thanksgiving meal noted that 1,000 people came through the door in the first hour. That detail has informed efforts to frontload some of the most popular foods like turkey and mashed potatoes to prepare for an expected early rush this week.
For as much as the notes help, though, the math has changed this year with the introduction of compostable to-go containers due to COVID-19 safety protocols. The dining room in the Marketplace is restricted to 50 percent capacity, meaning seating is now limited to 200 people inside. With additional seating outside under tents, many diners will come through the line, fill to-go trays and carry food out of the Marketplace to enjoy elsewhere.
The logistics change the amount of food needed for the meal. Instead of planning to feed 1,600 people, the estimates with to-go containers increase to 1,800 servings. These estimates increase the total pounds of food for most items, including butternut squash, Yukon gold potatoes, collard greens, green beans and eggplant, as well as desserts such as pumpkin pie, tuxedo truffle cake, cheesecake and apple pie.
When a US Foods truck arrived Friday morning, it became a game of Tetris to find a place for 941 boxes of food. While a driver unloaded boxes of sweet potatoes, broccoli, mushrooms, stuffing mix, cakes and pies, dining team members moved and organized boxes.
Slowly, over the course of the day, food items found their place through contributions of staff such as Leonard Bass, who wore a thick orange jacket moving items around in a freezer. At the same time, food service workers Wallace Burrows Jr. and Rod Johnson carried boxes of to-go trays for the meal.
"Sometimes when we have these big events, they call it the magic kitchen," Dumke said. "We joke around about it, but sometimes it does feel like magic."
Putting it all together
On Monday, two days away from the Thanksgiving meal, Dining team members worked side by side over cutting boards. The to-do list is lengthy, but the mood light, as jokes and conversations fill up a room.
With knives in hand, three staff members focus on slicing bright red and green bell peppers for vegetarian pumpkin ravioli, and sage and thyme for a marinade for the turkeys. Nearby, the tearful work of cutting white onions — a staple ingredient of gravy, stuffing and fried green bean casserole — was also underway.
"It's a crowded kitchen, but it's fun," said Esther Williams, a lead production worker who prepared the ham glaze and has worked at Duke for 38 years.
This Wednesday, the continuation of an all-hands-on-deck approach will yield a day of turning all the planning into a finished product. Around 4:30 p.m., a line of students is expected to form, stretching toward Lilly Library.
After months of hard work by many in Dining, the sight of students is the icing on all of the preparation, said Dining cashier Julia Anderson. She'll be one of the first team members who will greet students when they arrive for their meal.
"It's fun because we try to give them a nice Thanksgiving send off," Anderson said. "It's also fun for the staff to make sure everything is ready. It's a lot of work, but it's fun."
Send story ideas, shout-outs and photographs through our story idea form or write working@duke.edu.