Duke Faculty Group Helps Predict COVID-19 Trends on Campus
Modeling of data helps shape protocols to protect the Duke community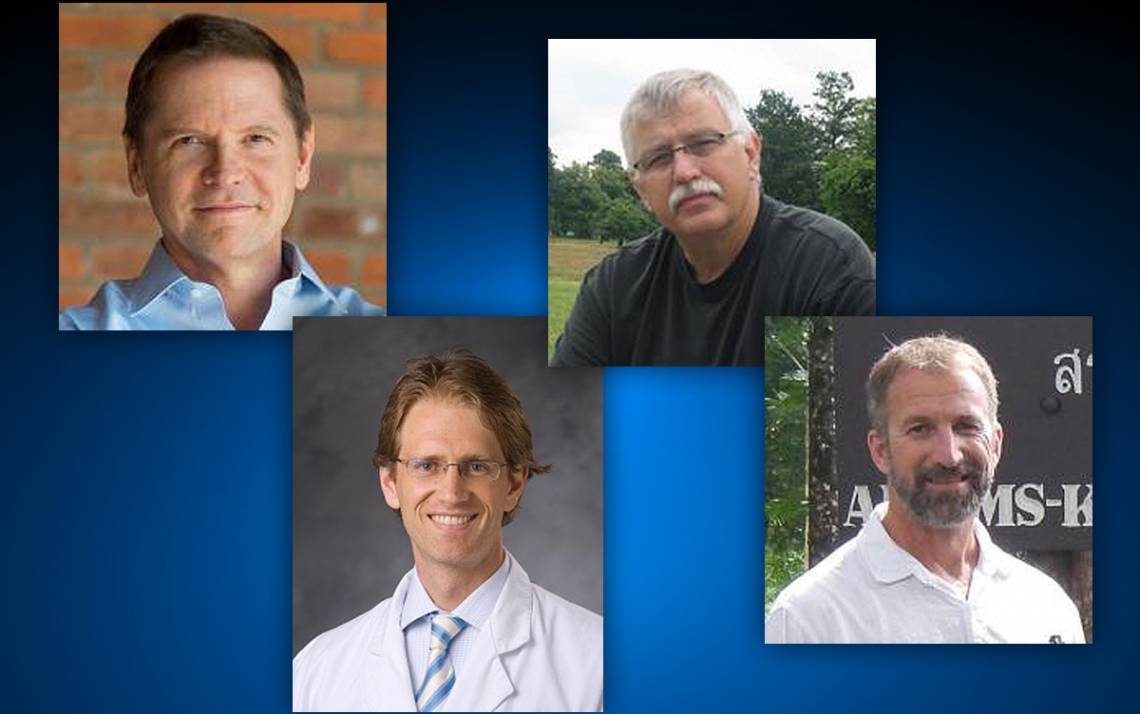 During the late spring and early summer as Duke's COVID-19 cases dropped to single digits and most students, faculty and staff had been vaccinated, the question about whether to discontinue surveillance testing for vaccinated individuals during the fall seemed obvious.
A steady decline of new COVID-19 cases underscored a positive outlook heading into the summer, and the Centers for Disease Control and Prevention (CDC) recommended that vaccinated individuals no longer needed to wear masks or social distance in many situations.  
But a group of faculty members who had been tracking the COVID-19 pandemic and modeling simulations to understand whether virus trends might improve or decline in the months ahead came back with an unexpected recommendation.
"We had this whole idea that the pandemic was over, and we could all get back to normal, which we all wanted to do, of course," said Steve Haase, a professor of Biology. "But there were indications that was probably not a great idea, so we simply asked the question because we've had a very robust testing program at Duke: 'What happens if we stopped testing?'"
During the Academic Council meeting on Thursday, Sept. 23, Haase explained how the group used mathematical modeling and data to predict possible scenarios, including the possible decline of vaccine efficacy amid emerging variants, which indicated the possibility of a rapid increase in cases without continued surveillance testing.
The group recommended – and leadership agreed – to continue testing throughout the summer and current fall semester, including for asymptomatic students, faculty and staff and for those experiencing symptoms to track the virus on campus.
"We were seeing very low numbers throughout the summer," said Kyle Cavanaugh, vice president for Administration. "There was a risk for us to become lulled into a sense of complacency. Because our modeling team was watching what was happening in India, Israel and the United Kingdom with the early emergence of variants, we decided to continue testing for the fall semester. Compared to our peers, that was a very lonely position for us to be in during the summer. But it has allowed us to be ahead of the curve in responding to cases where and when they happened."
The modeling group, which formed in May 2020, includes experts who bring different perspectives to Duke's response to the COVID-19 pandemic to keep the community safe. They include Haase; Duke infectious disease specialist Dr. Cameron Wolfe; John Harer, professor emeritus of mathematics; and Alan Brookhart, professor of Population Health Sciences.
Members meet over Zoom daily and stay in frequent communication between 7 a.m. to 10 p.m. by phone and email. In between conversations, they pore over data that zeroes into the campus level, all the way up to monitoring international trends. The group then uses data to understand how the novel coronavirus spreads, gauging how variables like mask wearing, vaccine effectiveness and social distancing could prevent or create a broad spectrum of scenarios. Tracking the data also helped determine that transmission was not taking place in the classroom, an important factor for expanding in-person classes on campus.
Tapping into sources such as the CDC, the Johns Hopkins COVID-19 map and monitoring the virus in Europe, the group is tracking a large swath of data, including the effectiveness of vaccines, the number of cases and where and how the virus is spreading nearby and across the world.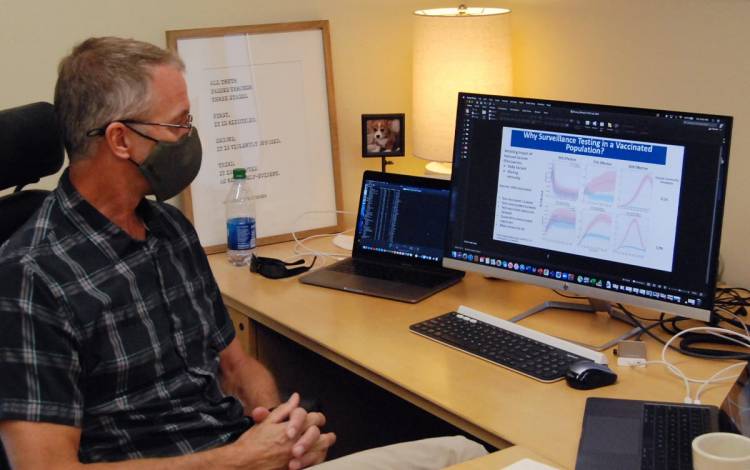 The team of faculty also works closely with the Duke Center for Genomic and Computational Biology, which conducts virus-sequencing on positive cases to understand transmission patterns, and the Office of Information Technology (OIT), which archives and organizes data in databases and then queries that data to learn how transmission is occurring in the student population. The group consults with the Duke Human Vaccine Institute and counterparts at other institutions, including Harvard, Cornell, the University of North Carolina at Chapel Hill and Notre Dame.
The faculty aim to predict possible answers to important and changing questions, like, for instance, how quickly COVID-19 could spread during campus mealtimes based upon varying levels of vaccine effectiveness. Modeling from the group about the vulnerability of eating in proximity to others helped administration institute grab-and-go dining options on campus and helped Duke leadership decide to require masks indoors and outside at the end of August.
"It's a phenomenal group of people, and I am really impressed with my colleagues at all levels — from leadership to faculty working in these areas and employees," Haase said. "The level of dedication is remarkable."
Throughout the pandemic, data continues to support that masks are effective at stopping the spread of the virus. In late July, with the help of data from the group, Duke reinstituted a mask mandate for all members on campus.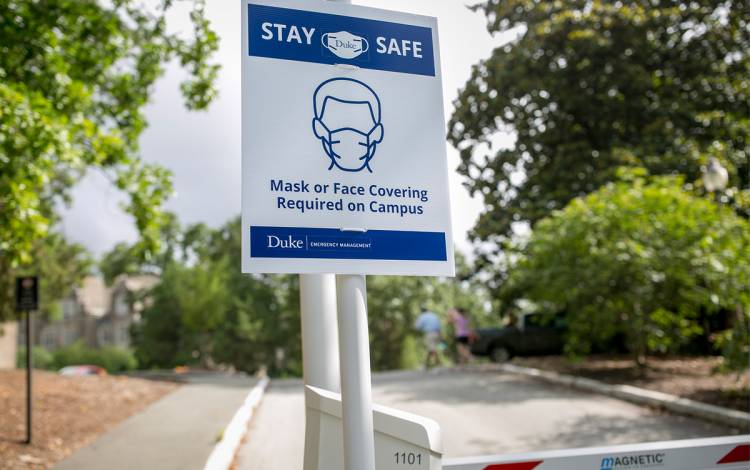 "The type of variant doesn't impact how effective a mask is, but the more virus the easier it is to spread," Wolfe said. "One thing we have seen recently with the delta variant, is even with breakthrough cases, the amount of virus they carry is just as high if not higher than previous variants. That accounts for why delta spreads so rapidly.  In that setting, especially when we now realize young healthy adults often don't have symptoms they think are COVID, those people in fact carry a lot of virus. You may not realize your symptoms are caused by COVID or you may not have any symptoms, but you may still be able to transmit the virus readily to those around you. For those people, and therefore our campus community, masking provides enormous benefit."
Decisions about COVID-19 policies on campus have evolved over the pandemic. As the data has changed, leadership has re-evaluated the response to prioritize health and safety across the Duke community. The faculty modeling group has been a major asset to Duke leadership in making difficult and ever-changing decisions.
WATCH: Duke Biology professors Steve Haase and Greg Wray join Provost Sally Kornbluth for a behind-the-scenes discussion of their work that has helped guide Duke's approach to COVID management on campus:
Send story ideas, shout-outs and photographs through our story idea form or write working@duke.edu.