A Dose of Hope
For many Duke staff and faculty, a big step toward ending the pandemic began in Blue Devil Tower this past spring
When Jannice Stratton arrived for her morning appointment in Blue Devil Tower, the sun was climbing above treetops, pouring golden light through windows that looked out onto Brooks Field at Wallace Wade Stadium.
About nineteen months earlier, alongside her boyfriend and daughter, Stratton sat in the stadium seats below, cheering on the Blue Devils football team.
But on this Friday in late April, Stratton returned to Blue Devil Tower for her second free dose of the Pfizer COVID-19 vaccine, moving her and thousands of other Duke community members closer to once again experiencing moments of human connection.
"I miss that camaraderie," said Stratton, staff assistant for Duke's Department of Psychiatry & Behavioral Sciences. "You don't realize how valuable that is until it's taken from you."
When Blue Devil Tower opened in 2016, suites, event spaces and state-of-the-art video production facilities made it a showpiece of Duke Athletics. But between March and May of 2021, the tower's spacious 6,536-square foot club area was transformed into a mass vaccination clinic for staff, faculty and students. The work at the clinic was a key piece of a massive vaccination push that, by late summer, led to more than 90 percent of university staff, faculty and students getting fully vaccinated. Duke University has since revised its COVID-19 vaccination policy to require all faculty and staff to have a COVID-19 vaccination as a condition of employment.
Starting this past spring, many employees received the vaccine in Blue Devil Tower, where, to a soundtrack of pop music and happy chatter, around 20 volunteers and Duke University Health System staff spent each day playing their part in Duke's journey out from under COVID-19's shadow.
"Everybody here works together so well, and is so upbeat, because they know the purpose of what we're doing," said Lucas Collins, who served as a site coordinator for the Blue Devil Tower clinic.
---
A Precise Process
In a suite on the second floor, Pharmacy Technician Courtney Pringley and Clinical Pharmacist Wennie Huang worked to the fast, staccato beat of pens tapping on syringes.
Around 7:15 a.m., before the first people arrived for vaccinations, Pringley and Huang got doses ready, filling syringes with a mix of vaccine and saline solution and labeling each one with the drug name, lot number and – with a limited time to stay effective outside of cold storage – the time each dose would expire. To ensure every dose had the precise amount of ingredients, they tapped syringes with plastic pens, carefully loosening up air bubbles so they floated up and out.
Pringley, who had worked at the Blue Devil Tower clinic since it opened March 15, knew that she'd soon be back in her regular role as a hazardous drug quality assurance technician. But on this morning, she relished the chance to be part of a historic effort.
"My daughter will call me all the time and ask what I'm doing," Pringley said. "I'll say 'I'm making vaccines, saving lives one syringe at a time.'"
---
Step Toward Hope
As Bryce Reeve sat down to receive his second dose at one of the 14 stations, vaccinator Susan Roberson asked him about his T-shirt from Montana's Glacier National Park. Reeve told her that his visit years ago was great and he looked forward to a post-pandemic trip to other national parks out West.
"It's funny, most people want to get vaccinated so they can be around other people. I just want the freedom to go where nobody is," said Reeve, director of the Center for Health Measurement in the Department of Population Health Sciences.
During the nearly two-month life of the Blue Devil Tower clinic, Roberson, a redeployed nurse for LIVE FOR LIFE, the Duke employee wellness program, spent at least two days each week vaccinating employees and students. Sitting at a table with a laptop, bandages and syringes, she greeted each employee and went through a five-minute pre-vaccination routine. She confirmed data, asked about allergies and shared bandage design choices.
Finally, she administered the vaccine and applied the bandage in one quick motion.
Roberson encountered Duke community members who were nervous about needles or concerned about potential side effects. But the majority of people were excited to regain parts of their lives stolen by the pandemic. She watched as people captured giddy selfies, or asked friends to record video of their vaccination.
"It's just nice to see people happy because there hasn't been as much of that this year," Roberson said.
---
One Last Stop
"You're the best!" Efrem Brittian II exclaimed moments after receiving his second dose from vaccinator Nadeem Ramadan. "If anyone asks me, I'm going to tell them to come to your station."
With a fresh bandage on his left shoulder and plenty of relief, Brittian, a housekeeper for Housing and Residence Life, made the short walk to spaced-out rows of chairs for the vaccinated. After receiving a dose, clinic visitors spent at least 15 minutes in the waiting area to ensure they didn't encounter side effects or allergic reactions.
Tess John, the nurse practitioner who monitored the room, said such situations were extremely rare.
"When anything does happen, it's usually not the medicine itself, but just people having anxiety or fear about having an injection," John said.
In case someone ran into trouble, she had snacks, water and medications close at hand, and a well-equipped treatment room down the hall. But the vast majority of people stared at their smartphones before moving on with their day.
Brittian stood near the Blue Devil Tower windows, where he watched the stage for May's commencement ceremony take shape under a late morning sun.
For more than a year, the pandemic forced him to communicate only by phone or video with family members – some of whom fought through serious bouts of COVID-19. The crisis left him explaining to his three young children why the family couldn't take trips or visit relatives.
But a few days after his second dose, Brittian and his family were planning to head to Myrtle Beach, and over the summer, they planned to visit relatives in Florida.
"Getting this second shot, I feel like I'm doing my part," Brittian said. "I'm just ready for things to be normal again."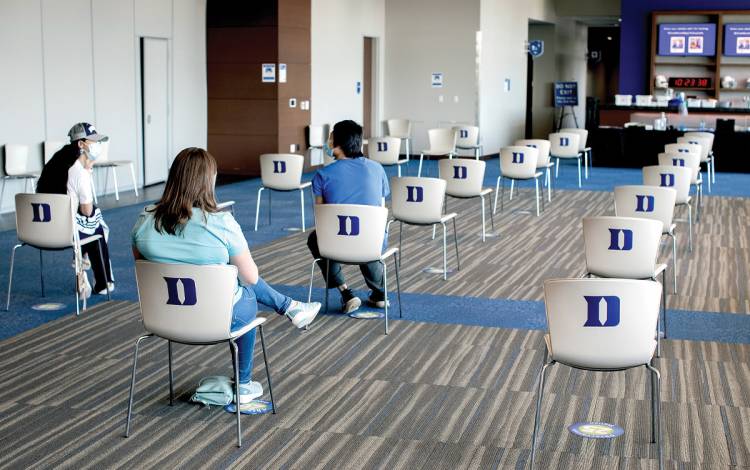 ---
For Duke's COVID-19 response, visit coronavirus.duke.edu.
Send story ideas, shout-outs and photographs through our story idea form or write working@duke.edu.