Looking Back at Gold, Silver and Other Great Blue Devil Performances at the Olympics
The final count from the Tokyo Olympics: Five Blue Devil medals and four of them were gold.
The games concluded Sunday following superb performances from 13 Blue Devil alumni, one coach and one undergraduate student competing in eight sports for seven nations. The 15 participants were the largest number of Blue Devils ever appearing in a single Olympic competition.
Gold medals went to Quinn of the Canadian soccer team, alumni Jayson Tatum and Chelsea Gray of the U.S. men's and women's basketball teams, and USA women's 3x3 basketball, coached by Duke women's basketball head coach Kara Lawson (who won in week 2). (As a coach, Lawson does not receive a medal by Olympic tradition.)
Jessica Springsteen, Class of '14, earned a silver medal in the equestrian team jumping competition.
Other Blue Devils finished just out of the medal range in swimming, track and golf, and several set personal records. Living in a pandemic bubble in Japan and performing in near-empty sports arenas, the athletes overcame obstacles to provide many memorable moments, from a nerve-racking finish in women's soccer to an equestrian competition decided by a little more than one second.
Here's a wrap-up of the highlights from Duke performances in the final week of action. A complete record of stories about the athletes can be found in a Duke Today series and on GoDuke.com.
Women's Soccer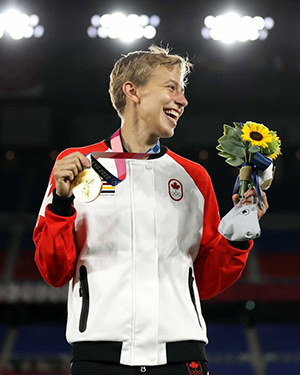 With former Duke star Quinn starting their fourth straight game at midfield, Canada won its first gold medal in a tense game decided by penalty kicks 3-2. Canada became only the fourth nation to win Olympic gold in women's soccer and the third to medal in three consecutive games.
The gold medal game was tight throughout and filled with twists. After Canada scored in the second half to level the game, the two teams went through a scoreless overtime and into penalty kicks. Advantage went early to Sweden, which was just one kick away from taking the gold. But two consecutive missed penalty kicks by the Swedes opened the door for Canada to seize the victory.
One of the most decorated players in Duke's program history, Quinn made news at the Olympics by becoming the first openly trans and nonbinary athlete to medal in the games. They addressed their role as a pioneering athlete on Instagram before the Games.
"I feel proud seeing 'Quinn' up on the lineup and on my accreditation," they said. "I feel sad knowing there were Olympians before me unable to live their truth because of the world. I feel optimistic for change. Change in legislature. Changes in rules, structures, and mindsets.
"Mostly, I feel aware of the realities. Trans girls being banned from sports. Trans women facing discrimination and bias while trying to pursue their Olympic dreams," they continued. "The fight isn't close to over... and I'll celebrate when we're all here."
Read more about Quinn on GoDuke.com.
Men's Basketball
Former Duke basketball standout Jayson Tatum was Team USA's second-leading scorer with 19 points and pulled down a team-high seven rebounds as the United States won its fourth consecutive gold medal, fending off France, 87-82, at the Saitama Super Arena on Saturday in Saitama, Japan.
A key 3-point shot by Tatum with three minutes left padded the US lead, helping them to hold off a late French rally.
The Americans now have 16 golds from the 19 Olympics in which they have participated. Tatum's gold is the 11th won by Blue Devils, joining head coach Mike Krzyzewski (1992, 2008, 2012, 2016), Kyrie Irving (2016), Carlos Boozer (2008), Grant Hill (1996), Christian Laettner (1992), Tate Armstrong (1976) and Jeff Mullins (1964).
Tatum, who wore No. 10 at the Games to honor Kobe Bryant, finished the Olympics tournament as Team USA's second leading scorer by averaging 15.2 points on .492 (33-of-67) shooting from the field. The Boston Celtics star hit on 17-of-38 (.447) from three-point range.
Read more about Tatum's Olympic expectations on GoDuke.com.
Women's Basketball
Duke graduate Chelsea Gray helped the U.S. Olympic Women's Basketball Team to its seventh straight gold medal in Olympic action Saturday evening with a 90-75 triumph over host Japan.
Gray, who adds the Olympic medal to her WNBA championship ring, totaled six points, four assists and one steal in nearly 24 minutes to help the U.S. go undefeated with a 6-0 mark in Japan. A 2014 Duke graduate, Gray was the first Blue Devil women's basketball standout to represent the United States in the Olympics, and she won gold in her debut. Gray averaged 7.3 points, 3.2 assists and 1.7 rebounds in Japan.
Read more about Gray's road to Tokyo on GoDuke.com.
Equestrian Jumping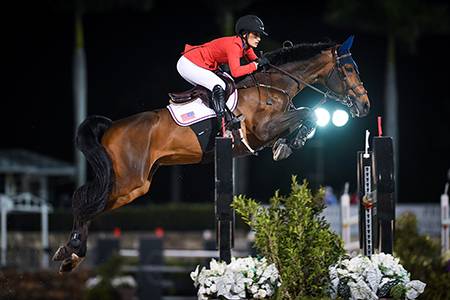 Jessica Springsteen and the US equestrian jumping team lost to Sweden in a special jump-off that came down to a matter of seconds. It was the second straight silver in the event for the US team.
One of three jumpers competing for the US in the team event, Springsteen ran a nearly clean course, making one mistake on her horse Don Juan van de Donkhoeve that brought four penalty points. The US and Sweden were tied with eight penalty points, sending the teams to the jump-off.
Springsteen is internationally ranked, but this is her first Olympic medal. She ran her jump-off clean without penalties, as did the rest of the US team, but so did Sweden. It came down to times and the last Swedish rider, Peder Fredricson, finished the course without error in 39.01 seconds, giving the Swedes a better time by 1.3 seconds.
Springsteen also rode in the individual jumping competition on Wednesday, finishing 31st in the preliminary round. She missed out by one position from advancing to the finals.
In a pre-Olympics interview with Equestrian Living magazine, Springsteen talked about why she went to Duke while also pursuing her interest in equestrian jumping.
"I really wanted to go to college and have that full college experience to see if there was something that I was as passionate about (as riding)," she said. "There was never anything that I loved as much, but it was important for me to take that time and immerse myself in school. I loved school. I had such a great experience studying psychology and I'm grateful that I was able to have those four years, and that I was able to study and ride during that time. It was difficult to balance, but it made me realize that I had already found my passion."
Read more about Springsteen on GoDuke.com.
Track & Field
Turing in the fastest time on Canada's 4x400 women's relay, Duke alumna and current volunteer assistant track coach Maddy Price helped the team take a surprising fourth place, just out of the medal stand. It was the third straight Olympics in which a Blue Devil track runner took a fourth place.
Canada missed out on the podium in a tight finish, clocking in at 3:21.24, smashing their season best but finishing 0.60 seconds behind Jamaica for the final medal. Price ran the second leg after running the third leg in the opening heat, running a blistering time of 49.95 seconds.
Price tied Duke alumna Shannon Rowbury for the best finish by a Duke track woman at the Olympic Games. Rowbury finished fourth in the 1500-meter run in 2012 and 2016.
Read more about Price's run to the Olympics on GoDuke.com.
Marathon Swimming
Former Blue Devil swimmer Ashley Twichell placed seventh in the women's open water 10K swim at the 2020 Tokyo Games at Odaiba Marine Park in Tokyo.
Twichell, making her Olympic debut, finished in 1:59:37.9.
Twichell jumped out in front of the field in early stages of the race, leading after the fifth lap. Ultimately, a tight finish decided the race, as after nearly two hours of swimming, the top seven swimmers finished within 7.1 seconds of one another.
Twichell was the first Blue Devil Olympian to swim in the marathon event and just the second women's swimmer to appear in the Olympics, joining three-time gold medalist Nancy Hogshead.
Women's Golf
A pair of Duke women's golf graduates – Leona Maguire and Celine Boutier – closed Olympic golf action in Tokyo with top 35 finishes.
Over four rounds, Maguire turned in scores of 71, 67, 70 and 71 for a 5-under, 279, which was tied for 23rd overall. After a 3-over front nine, Maguire made a run on the back nine in the final round with birdies on No. 12, No. 13, No. 16 and No. 17, but a bogey on No. 18 gave her an even-par, 71, to close action for Ireland.
Boutier turned in a 2-under, 69, in the final round to move up to a tie for 34th placement with a 2-under, 282. The France product signed for rounds of 73, 68, 72 and 69 over the 72 holes. Boutier notched birdies on No. 4 and No. 8 on the front nine, while carding another birdie on No. 14 to move to 3-under for the day. She closed with three pars and a bogey on No. 16 to finish with a 69.
Read more about Maguire and Boutier on GoDuke.com.
Previous Reports
Blue Devils in the Olympics, Week 2