It's No Accident: These Selfies are Winners
Safety photos demonstrate how Duke employees keep the workspace safe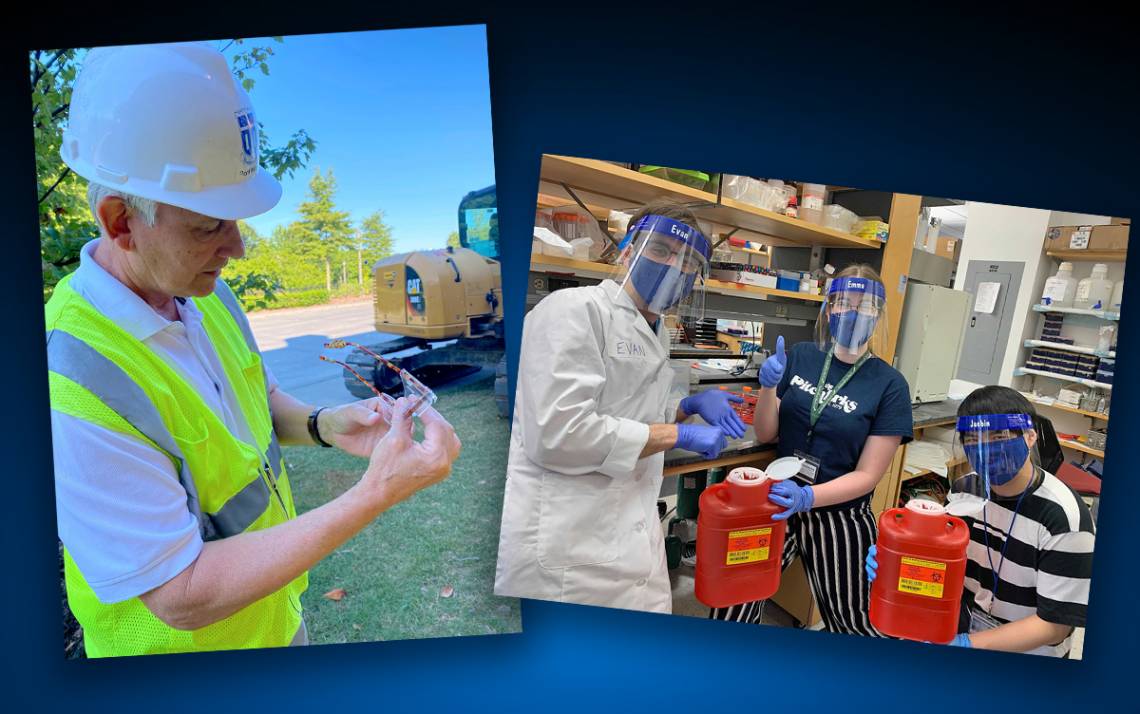 Whether working in a chaotic lab or doing construction site inspections, winners of the Duke Occupational & Environmental Safety and Workers Compensation 2021 Selfie Safety Contest demonstrated how staff and faculty do their part to ensure safety on the job.
The contest, held during National Safety Month in June, encouraged employees at Duke to submit photos that illustrate safe practices in the workplace and bring awareness to every day safety risks in workspaces across campus.
"Duke employees encounter a wide array of workplace risks every day," said Chip Kyles, director of Workers' Compensation, a unit in Duke Human Resources. "All of the contest entries showed awareness of risk and how to manage that risk to ensure a safe workday. The winners we selected best depicted Duke safety culture in real life, everyday situations."
Here are the winners, who will receive "Proud to be Working@Duke" t-shirts:
Individual Winner
Floyd Williams
Projects and Engineering Manager, Facilities Management Department
After 14 years working in the Facilities Management Department, Floyd Williams knows well the importance of safety on a job site while managing construction projects on Duke's campus.
In the photograph he submitted, Williams is showing all the protective personal equipment (PPE) that must be worn while on a Smith Warehouse sewer line replacement project that involved an excavator. Part of his job managing construction projects on campus is to make sure contractors follow safety measures required by Duke and the Occupational Safety and Health Administration. This includes wearing safety boots, hard hats, high visible vests, and safety glasses.
"We're all about safety and keeping ourselves and keeping our contractors safe," Williams said.
Team Winner
Julie Kent, Evan Brown, Emma Fischer and Jaebin Kim
Department of Cell Biology
The winning group from the Department of Cell Biology submitted their photo with the help of a play on words: to "stay sharp" and "make it a point to acutely follow" protocols while working with sharps in the lab.
"We know it's always important to stay sharp around potentially dangerous lab waste, so we make it a point to acutely follow all lab protocols and ensure we promote a safe working environment," the group wrote in their entry.
Lab manager Julie Kent snapped a picture of undergraduate student Emma Fischer, graduate student Jaebin Kim and research technician Evan Brown to illustrate the teamwork required to exercise safety in a chaotic lab environment.
Taking part in the contest gave the group an opportunity to do something fun together.
"The last year and a half has been tough, so any fun we can have is great," Kent said.
Whether in a lab or on the job site, winners of the contest exemplified that staying safe on the job is achieved through small actions and individual efforts all over campus. 
"This contest is important to raise awareness for everyone's ability to contribute to safety in the workplace — regardless of where that workplace is," said Nicole Greeson, associate director at the Occupational and Environmental Safety Office. 
Send story ideas, shout-outs and photographs through our story idea form or write working@duke.edu.