The Stories Behind Home Office Desks
The desks Duke's colleagues use at home are as unique as the employees
In a room on the second floor of Donald Tait's home, there's a wooden desk that hugs a corner. It has a large flat surface and, with sleek curving legs, offers plenty of open space underneath. Tait, a family medicine doctor with Duke Primary Care Knightdale, said the desk is exactly what he pictured for the room. That's because he built the thing himself.
With help from his father, he took two pieces of oak-veneered wood, stained them, joined them together and added legs, creating a large, custom piece of furniture.
"I love it," said Tait, who lives in Wake Forest and joined Duke from Santa Fe, New Mexico last summer. "It has more sentimental value than something you could buy at the store. It's kind of cool when you can walk into a room and say 'I built that.' There's a story behind it."
With many Duke employees fully remote or splitting time between campus and home offices, finding the right desk or work surface has been a common challenge. Finding one that helps your work style and physical well-being isn't always easy. For employees such as Tait, who spends most of his time working in his clinic but does work from home on occasion, having a desk that's functional, comfortable and includes a cool backstory is a thrill.
There are plenty of cool desks on Duke's campus, including one that belonged to celebrated author Virginia Woolf. But from second-hand treasures to repurposed pieces of furniture, colleagues who are working remote have some pretty neat desks, too.
Surprise Workspace
After she was fully vaccinated in March, Regina Schwartz, flew to Germany to visit family members she hadn't seen since the pandemic began. With flights originating from Washington, D.C., she used the trip as an opportunity to visit old friends in Virginia.
Her friends were new parents and looking to reduce the clutter in their home, so they suggested that Schwartz, a Duke Radiology research fellow, take a pair of small tables back to Durham. While driving home with the unplanned additions to her home furnishings, Schwartz thought of ways the tables might come in handy.
"I basically had just moved into a new apartment, so I was guessing that they might fit in my home office and free up the dining room table I had been working on," Schwartz said. "But I wasn't entirely certain how I was going to arrange them."
Fast forward a few months, and Schwartz has a remote work set-up she loves. The two tables sit in a corner of her home office, providing a tidy, comfortable space for her two monitors, work documents and Artemis, a friendly 3-year-old cat. She adopted Artemis during the pandemic, and the cat enjoys curling up by her feet.
"It's great because I can both stand and sit," Schwartz said. "And sometimes I need both workstations at the same time, so by having them in a corner, I can pivot between the two. And I feel I'm more productive with a cute little kitty sitting there."
Personal Touch
In 2018, Vera Luck came across a Craigslist post about office desks that a retiring accountant was looking to get rid of. With their boxy, modern lines and ample surface and storage, Luck, director of foundation relations with Duke Alumni Engagement and Development, felt one of the desks would fit perfectly in her home.
"I didn't need one for work at the time, but I wanted a place to put my personal papers and things," Luck said.
After spending $50 on one of the desks, Luck set about personalizing it. She replaced the hardware and painted it a shade of very dark blue called "Starless Night."
"I researched and learned to put primer on first," Luck said. "The primer alone looked terrible. But I felt better once I put a few coats of paint on top of it. It's not perfect, there are some flaws, but I'm happy with how it turned out."
When the pandemic began, Luck traded her workspace in downtown Durham for her bedroom, where she gained a new appreciation for her hand-painted desk. 
"I like it because it's very basic and functional," Luck said. "It has a big surface, so I have plenty of room for papers, monitors and whatever I need."
A Lucky Curbside Find
During the pandemic, Duke Cancer Institute Grants and Contracts Administrator Tapitha Jamison has spent her workdays sitting at a sturdy desk made of shiny blond wood and with plenty of storage space and legroom.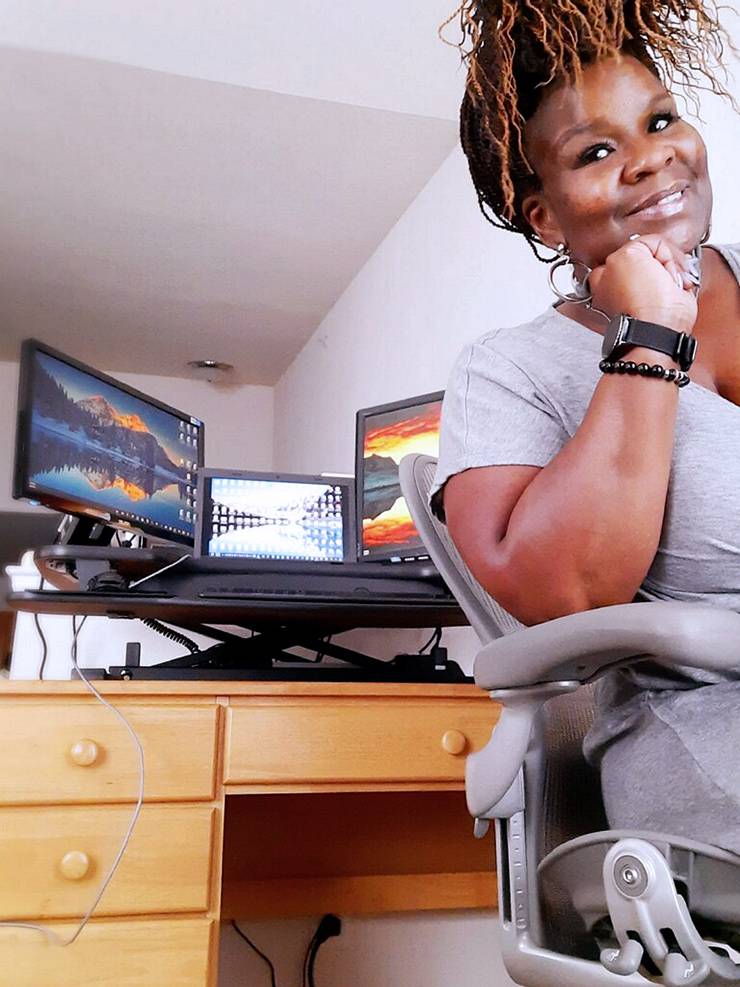 "That desk has been nothing but comfort for me," Jamison said.
Her affection for the desk is related to more than just its looks of functionality. For her, it goes back to when she found the desk, or perhaps, when the desk found her.
In 2018, before she found her spot at Duke, Jamison was studying for a master's degree in global operations and supply chain management, part of her goal of charting a new career path. At the time, she didn't have a great spot in her Durham apartment from which to work.
But one day, on a walk around her complex, she saw a desk sitting on the curb, waiting to be hauled to the landfill.
"I just remember seeing this beautiful wooden desk," Jamison said. "It was durable, while it may have had a stain here and there, everything was intact."
Jamison got help from two maintenance workers, who brought the desk into her home, and before long, it was the setting for the march to her masters' degree. 
And when the pandemic kept her away from her Hock Plaza office, the desk once again came in handy as her remote work home base.
"Having the right environment is so important," Jamison said. "If you're not comfortable, or if everything is cluttered, it's going to have an effect on what you do."
Do you have a desk with a cool story? Tell us about it in the comments of the Facebook post below.
Send story ideas, shout-outs and photographs through our story idea form or write working@duke.edu.