Ways to Make Your Home Workspace Ergonomic
Working from home? Consider these suggestions for your workspace
Wendy Hower enjoys working from her porch at home, but the set up caused her to scrunch her shoulders and bend her wrists when she typed from a makeshift desk.
The improvised setup wasn't working for her, so Hower created a stand-up desk on her porch. She stacked an empty file box on a high table and placed her laptop on top of the box so she could look directly at the screen without straining her neck.
"My top priority at first was working from my porch so I could have a nice view," said Hower, director of engagement and marketing for the Nasher Museum of Art at Duke. "Turns out, my whole set up was wrong."
With stay-at-home orders forcing many employees to create spaces at home to work, James Koshy, director of the Ergonomics Division of Duke's Occupational & Environmental Safety Office, suggests paying close attention to how your body feels with your new set-up. You should feel relaxed as you keep your neck, shoulders and back comfortably upright.
"The minor discomfort you feel could be a distraction from your task at hand initially, but could progress to pain by the end of the day," he said. "Your safety and comfort should be the first priority when configuring your home workspace."  
Consider these ergonomic suggestions for working from home. 
Maintain good posture

Working at home should begin with keeping your body in alignment. 
Keep your head, neck, back and legs aligned when standing, says Koshy. Your weight should be evenly distributed between the front and back of your feet. When seated, sit up straight so your ears, shoulders and hips are aligned.
"Think about making yourself sit or stand taller," Koshy said. 
Koshy said keeping your feet comfortably flat on the ground is important for preserving a 90-degree angle at the knees and keeping your thighs level with the floor. Moving your knees any higher than hip level can cause you to curve your lower back outwards and stress it out.  
Your desk surface should approximately be at your elbow height with sufficient clearance for your knees and thighs to fit comfortably underneath. Place stable blocks of wood or books under your desk legs to elevate your workspace if it's not high enough to fit your knees and thighs under. If your desk is too tall to work comfortably while keeping your feet on the ground, raise your chair height and rest your feet on a footrest or pile of books.
"Your chair does not have to be expensive but make sure it provides sufficient support for your back and legs while working," Koshy said. 
Princess Abbott has an adjustable desk at home that she keeps 30 inches tall. The height allows Abbott, who is 5 feet, 1 inch tall, to keep her feet flat on the ground while working.
"My legs and back feel better when I keep my feet on the ground," Abbott said.
Keep your eye-level in check

Place your monitor at a height where the top of the screen is at or slightly below eye level. 
Koshy also said the monitor should be placed as far away as possible while still allowing you to read text and see images clearly. Aim for the monitor to be about 25 inches or arm's length away. The entire screen should be within your eyesight.
"Looking up or looking down is going to tire your neck muscles out," he said. "If you use a laptop, try to get a separate wireless mouse and keyboard so they can all be at the appropriate height independent of each other."
Your mouse and keyboard should be placed so your wrists are held straight when using them. Think of an imaginary straight line connecting your elbows to your palms. Hold your arms comfortably close to your body with your hands at elbow level when typing or using the mouse.
If you're working from a laptop without a separate mouse, keyboard or monitor, Koshy recommends placing the laptop at the same level as your wrists and angling the laptop screen as far back as you can see it clearly to reduce how much your neck bends downwards while working.
"Though not ideal, these changes would help alleviate stress as much as possible when you're on a laptop," he said. "A key factor in these cases would be to take more frequent breaks to stretch and move about."
Have the Right Light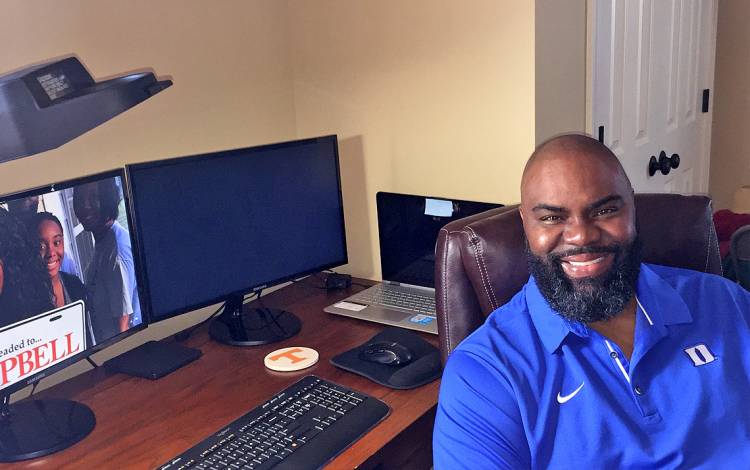 Jerrick McLendon manages budgets, reviews expense reports and plans cost analyses in Microsoft Excel. 
He takes breaks to give his eyes a rest. 
"Crunching numbers can be hard on the eyes," said McLendon, a financial management analyst 3 for Duke Facilities Management. "I've learned that I focus best when I give myself that break from staring at artificial light." 
Koshy said there are a few proactive steps you can take to reduce eye strain from a digital screen. Again, position is key here. Koshy suggests setting up your screen so there are no windows or bright light fixtures behind the computer screen. Position the monitor so the windows and bright lamps are perpendicular to your screen to minimize glare and reflection.
Light pouring in from behind your monitor or reflecting on your screen can cause your eyes to strain by creating competing light sources that your vision has to adapt to, similar to a camera lens adjusting to objects in bright sunlight.
"When your eyes get tired, your body adjusts by changing your posture," Koshy said. "For example, after prolonged work, you might feel your chin starting to go way out in front of you and affect your neck posture. That is the time to take a break. Re-align yourselves by sitting up, straightening your back and gently tucking your chin inwards to a comfortable neutral posture.  
Adjust positions frequently

Sitting in the same position for hours at a time can lead to back, neck and shoulder discomfort.
Movement is as important as posture, according to Koshy. He recommends getting away from the workstation to walk or stretch for two to five minutes every 30 minutes. 
"There is no posture that is ideal for long periods of time," Koshy said. "Stretching and walking around religiously will help relax your muscle tissues and lubricate your joints so you won't feel so stiff." 
As the stacks manager for David M. Rubenstein Rare Book and Manuscript Library, Lucy VanderKamp was on her feet most of the day before the stay-at-home orders, overseeing onsite storage and the circulation of archival materials to patrons in the library's Reading Room. 
"I'm up and down, all around all the time," VanderKamp said. "Knowing that, it makes it incredibly important for me to stay moving while I'm home." 
At home, VanderKamp changes positions frequently, sometimes sitting but mostly using an improvised stand-up desk made with stacked-up furniture. She also takes walks around her neighborhood.
Want to learn more? Attend the Ergonomics at Home Zoom meeting at 1 p.m. on May 14.
Video: Incorporate these stretches into your daily routine:
Help share the proactive and extensive work being done by all Duke community members during the COVID-19 outbreak. Send ideas, shout-outs and photographs with us here or write us at working@duke.edu.