Sentimental Photo Earns Duke Time Off Prize
Staff and faculty are invited to share pictures of their summer fun until Aug. 9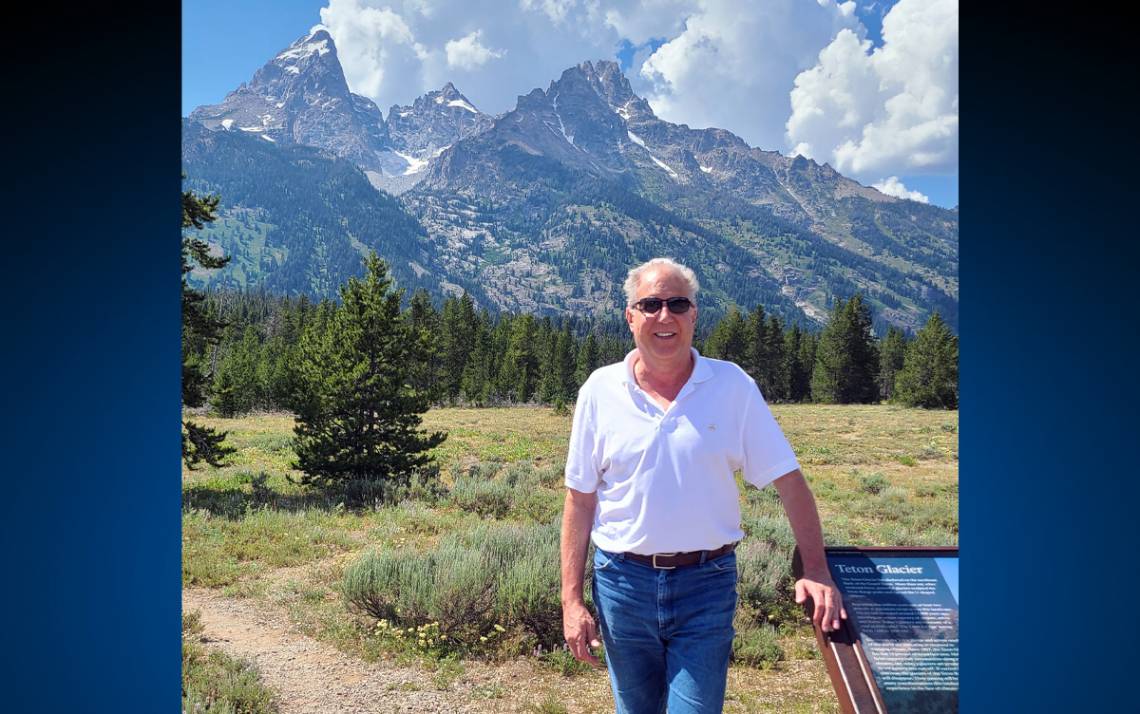 With his 18-year old son, Colin, headed to college in the fall, Keith Laemont felt that if there was ever a chance to experience some priceless summer family vacation memories, the time was now. Over two weeks in June and July, Laemont and his wife and son headed to Montana and Wyoming, places he had visited with his family while growing up.
Part of the week was spent at a ranch in Montana where Laemont had vacationed as a kid, enjoying horseback riding, fly fishing and mountain climbing.
"It's exactly the same as it was almost 50 years ago, the only thing they've added is Wi-Fi," said Laemont, a laboratory research analyst with Duke's Clinical & Translational Science Institute.
While driving around Wyoming to see the Grand Teton National Park, Laemont and his family stopped at a field with a sweeping view and snapped the photo above. It's the same spot where, as a child, Laemont and his parents stopped for a break to shoot home movies during a vacation.
"I remember a scene where my sister and I were running through basically that same field with the mountains in the background," Laemont said.
Laemont is the fourth winner in the Duke Time Off photo campaign, which celebrates the summertime fun, hobbies and adventures that happen during personal time off of work. Laemont will receive a soft-sided cooler courtesy of the Duke eStore. So far, nearly 150 pictures have been submitted.
To be eligible for prizes, photos must be taken between May 26, 2021, and Aug. 9, 2021, and shared by current University and Health System staff and faculty during the same time period. Share photos on social media using #DukeTimeOff or upload here.
Check out some other photos Duke colleagues have shared.
Domoniqúe Redmond of the Office of Durham & Community Affairs snapped this photo during a road trip to Philadelphia take her daughter to an internship. Popping into a welcome center in Virginia, she appreciated the simple message of this sculpture.
"This just expresses what the world needs and reminds us of the blessing of family," Redmond wrote.

Duke Clinical Research Institute's Aimee Turner shared this image from a rafting trip with family members on the Cape Fear River. She said it was a "fun and relaxing day and the smiles on their faces made me happy."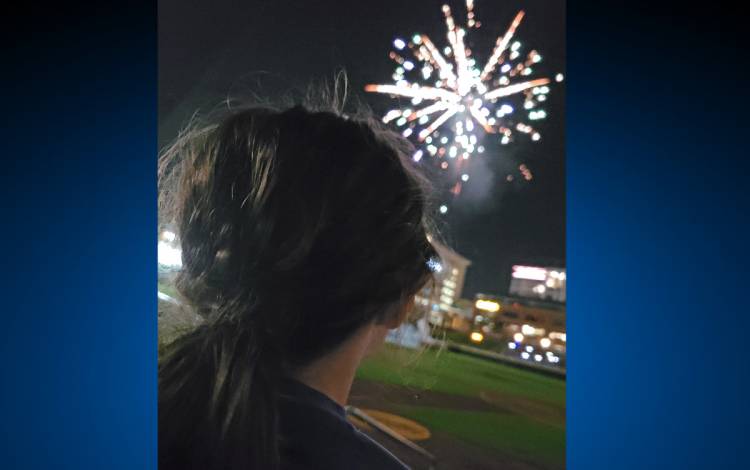 Jamie Lau, a clinical professor with the Duke University School of Law, shared this image from a trip to see the Durham Bulls. The game featured fireworks afterward, which he enjoyed alongside his family.
We know your vacation plans will look different this summer due to COVID-19. And that's okay. We welcome pictures of your special moments and adventures that capture a reprieve from the stress of these challenging times, as long as you follow CDC guidelines to travel safe. Here's how to share your 2021 summer pictures:
Post your photo on Twitter, Instagram or Facebook with #DukeTimeOff. Tell us what you're doing with your time away from work. Remember: include #DukeTimeOff in your post, so we can find your snapshots on social media;
Post your photo and caption on the Working@Duke Facebook page: facebook.com/workingatduke;
Or upload your photo: hr.duke.edu/DukeTimeOff2021
During the campaign, the Working@Duke editorial team will award some Duke-themed merchandise from the Duke eStore. Grand prizes at the end of the campaign include:
Overnight stay with breakfast for two at Washington Duke Inn, courtesy of the Washington Duke Inn
$100 gift certificate to the Durham Performing Arts Center
A virtual painting package for one household with their favorite lemur species. This package includes a custom-edited video of your painting session, and the winner will receive the best paintings of the bunch along with a beautiful photo of the artist(s) for display – all courtesy of the Duke Lemur Center
Got a story idea? Send ideas, shout-outs and photographs through our story idea form or write working@duke.edu.