What Duke Employees Are Cooking During Coronavirus
Whether skillet dishes or chocolate cake in a mug, cooking soothes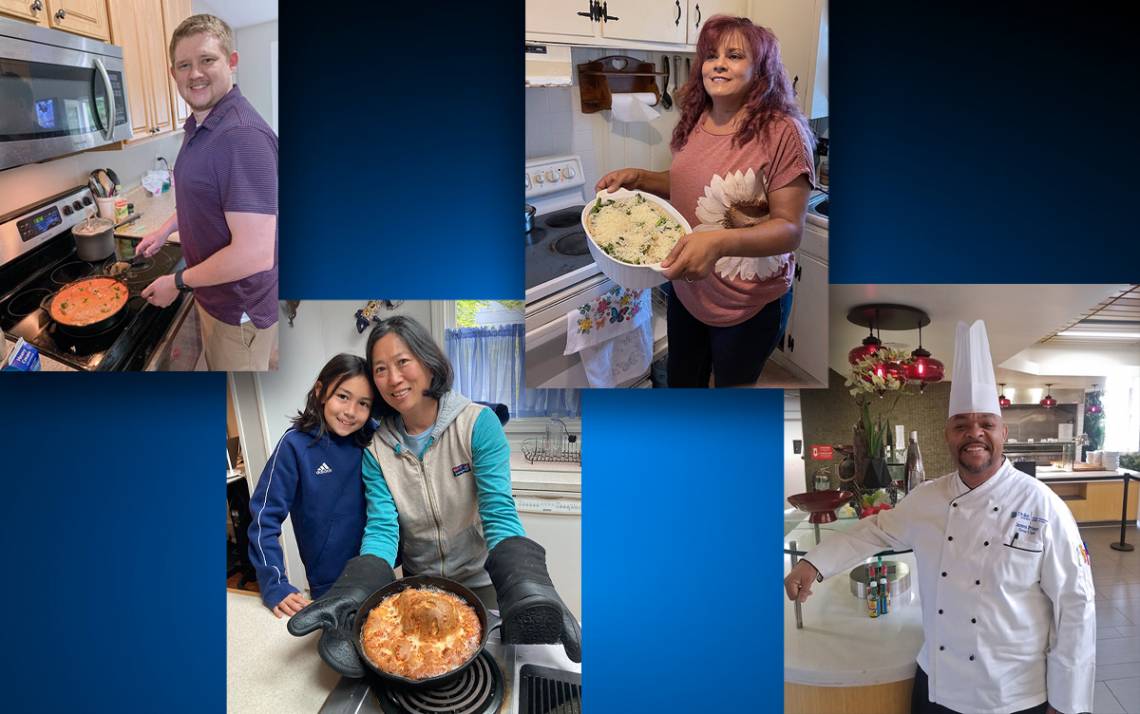 Kortney Fleming created a meal so good it'll make you shout, "Oh, my goodness!" 
During the first few weeks of the pandemic, while trying to use up pantry staples, Fleming created a grain bowl recipe with quinoa, sweet butternut squash, creamy goat cheese, crunchy pumpkin seeds and a lemon vinaigrette. 
"My friend named it the 'Oh, My Goodness! Bowl' because the flavors are well-balanced and delicious together," said Fleming, special events coordinator for Sarah P. Duke Gardens. "Since I'm cooking at home more, and everything in the bowl has a long shelf life, I make it frequently." 
Fleming is among 51 percent of Americans who are cooking more than they did before the pandemic, according to a January report by Hunter Public Relations, a food and beverage communications consultancy. People cite financial savings and healthier choices as top reasons for cooking at home. 
Check out these go-to pandemic recipes from Duke colleagues.
Breakfast
Gruyère Puff
Allison Besch and her 9-year-old daughter, Cassidy, find comfort in a buttery, cheesy breakfast treat. 
Besch, director of the Career and Professional Development Center at the Nicholas School of the Environment, and Cassidy frequently make The New York Times' gruyère puff for breakfast. They found the recipe while participating in a new favorite hobby: reading The New York Times Cooking website every week for new recipes.  
They've tried tofu and green beans with chile crisp, sheet-pan chocolate chip pancakes and shakshuka with feta, but the gruyère puff is what they return to most. 
"When the puff goes into the oven, it just warms up the house with these delicious cheese and bread smells," Besch said. "Cooking with Cassidy has been a bright spot for the past year."
Boozy Baked French Toast
Peggy Luu Walters, application analyst for Duke Health Technology Solutions, takes stale challah, sourdough or brioche and soaks the bread in Bailey's Irish Cream to make "Boozy Baked French Toast" about once a month. 
Walters loves the recipe because preparation can be done the night before. The bread is soaked in a mixture of milk, eggs, sugar and liqueur in the fridge before she goes to bed, and Walters wakes up the next day with an oven-ready dish. 
After baking, the French toast is topped with fresh raspberries, strawberries or bananas.
"There's nothing better than a decadent start to a lazy weekend morning," Walters said.
Lunch/Dinner  
Creamy Tomato Chicken Skillet
Clint McCullen and his wife, Kristie, found a meal that checks their three requirements for a weeknight recipe.
"Creamy Tomato Chicken Skillet" takes less than an hour, includes vegetables and requires little clean-up. The meal combines browned chicken, tomato paste, heavy cream and four cups of kale to make a delicious pasta-like dinner, without the noodles, in about 45 minutes.
McCullen, a financial care counselor for Duke Heart and Lung Transplant Clinic, makes the dish almost every week for Kristie and their 3-year-old daughter Hadlee Jo.
"It's delicious, healthy and easy," McCullen said. "Pasta is my weak spot. The fact that this creates a pasta-like sauce without the carbs is terrific." 
Palestinian Cuisine
Jennifer Lord, a Duke speech-language pathologist, gives her husband and two children a taste of home with Palestinian food. 
Lord's husband, John, grew up in a Palestinian-Canadian household, and they typically visit John's family in Canada for the holidays when they make Fatoosh, a bread salad; Djaj Mah Ruz, chicken and rice with cinnamon and pine nuts; and Fatayer Bi Laham, handheld meat pies. 
Since they couldn't visit family due to the coronavirus, Lord makes the bread salad, meat pies and chicken and rice part of the family's meal rotation at home. She uses recipes from "A Taste of Lebanon: Cooking Today the Lebanese Way" by Mary Salloum.
"Having a meal we traditionally have with my husband's family is a small way for us to feel connected to them while we're apart," Lord said.
Couscous with Sesame-Roasted Carrots and Feta
Jan Little has been cooking her way through "The Flavor Equation: The Science of Great Cooking Explained in More Than 100 Essential Recipes" by Nik Sharma. 
The book – part science lesson, part cooking guide – explores how emotion, sight, sound, feel, aroma and taste affect flavor. Little's go-to recipe is "Couscous with sesame-roasted carrots and feta."     
The dish features couscous, a tiny pasta made with wheat or barley, roasted carrots, black and white sesame seeds, coriander, mint and Aleppo pepper, a sweet and spicy pepper. She makes a rice wine vinegar and maple syrup dressing to accompany it. 
"There's a lot of gentle and sharp flavors going on," Little said. "I've learned to season every step of the process in cooking. Nik has made me a more knowledgeable cook." 
Chicken and Asparagus Pasta Bake
Karen Locklear, a certified medical assistant for the Duke Float Pool, and her two children have started a new tradition during the pandemic. Once a month, Locklear, her 20-year-old son Andrew and 16-year-old daughter Sarah make a chicken and asparagus baked pasta dish and play "UNO" or "Monopoly" together.
Sarah cooks the pasta, Locklear browns the chicken and Andrew sautés the asparagus. They don't check smartphones or talk about school or walk. Instead, they sing to Dolly Parton, chat about what shows they're watching or talk about their dog and three cats.
"Even though we're all quarantined together, it feels like we're spending less time together as we all go and get on our electronics," Locklear said. "It's been nice to have some time to enjoy each other. I'm smiling just thinking about it."
Macaroni & Cheese
Working from home has given Andrea Cable time to try new recipes with her "Ninja Foodi," a combination pressure cooker and air fryer. 
While Cable has enjoyed roasting vegetables and chicken wings in the appliance, her family's favorite recipe is baked macaroni & cheese. The pressure cooker part of the Foodi allows the pasta to cook quickly in a mixture of heavy cream, butter and cheddar. The Foodi's air fryer then kicks in to create a crispy bread crumb topping.   
Cable, compliance specialist for Duke Patient Revenue Management Organization, often makes a double batch so her husband, 16-year-old son and 23-year-old daughter can have it for the week. 
"It's not calorie conscious at all, but it brings us happiness," Cable said. "We can all use a little cheese in our life." 
Dessert 
Banana Bread
James Prince, sous chef for Duke Dining, creates a delicious dessert out of what could end up as food waste. 
Prince developed his own banana bread recipe during the pandemic after growing tired of his family throwing out bananas after they turned brown and mushy. 
"It seems like we'd buy bananas and they would go from yellow to brown in a day," Prince said. "I hated to throw them out."
Prince's banana bread recipe calls for five very ripe bananas, four eggs and a cup of shortening to create a wet batter. He also uses the banana bread batter for pancakes.
"Turn something that's going into trash into a treat," he said. "Invest a little in that brown banana."
Chocolate Chip Cookies
Blythe Tyrone, communication strategist for Duke Learning Innovation, achieved a major victory this year by perfecting chocolate chip cookies.
For years, Tyrone has experimented with baking times, fat content and types of chocolate chips before settling on a recipe that makes a cookie with a chewy center, golden bottom and crisp edge.
Tyrone said her recipe is similar to Bon Appetit's "Best Chocolate Chip Cookies," but she uses semisweet chocolate chips instead of bittersweet, cuts the amount of vanilla extract in half, does not brown her butter and refrigerates her dough before baking.
"It's been a fun challenge," Tyrone said. "Making the cookies once a week is not uncommon in my house."
Happy Days Lava Cake for Sad Friends
Annee Nguyen's small dessert provides a big boost of happiness on days when she feels down. 
The "Happy Days Lava Cake for Sad Friends" is a chocolate cake that Nguyen, a lab research analyst for the Department of Neurosurgery, cooks in a mug. Elizabeth Thomas, a lab research analyst for pathology, passed the recipes to Nguyen as a pick-me-up. 
Nguyen mixes together flour, cocoa powder and a few other ingredients in her favorite coffee mug, which has an "A" and floral designs, and microwaves it for one minute for a chocolaty treat. 
"I hope that this recipe brings a little shot of serotonin to folks who need comfort, are having a difficult time and need a warm chocolate hug," Nguyen said. 
Send story ideas, shout-outs and photographs to Working@Duke through our story idea form or write working@duke.edu.