Pets Keep Us Paws-itive During the Pandemic
For National Pet Day on April 11, meet the pets that bring comfort to Duke employees
Lori Kiser spends her work hours on the telephone, fielding calls from Duke Health patients with COVID-19 symptoms. 
In her free time, she and her partner, Dawn, care for two miniature horses, seven sheep and 20 goats on their 1911 farmhouse in Hurdle Mills. 
"Their companionship is essential for getting through this pandemic," said Kiser, ambulatory care nurse for Duke's COVID-19 Triage Team, whose goats enjoy names such as Waffles and Pancake. "They made us laugh when there wasn't much hope in the world."   
Pets can help us cope and feel less stressed during the historic pandemic, according to Vanessa Woods, director of the Duke Puppy Kindergarten.
"They aren't anxious about the future or worried about the past. It's a good example for us," she said.
For National Pet Day on April 11, meet some companions that are keeping Duke colleagues company.
Georgie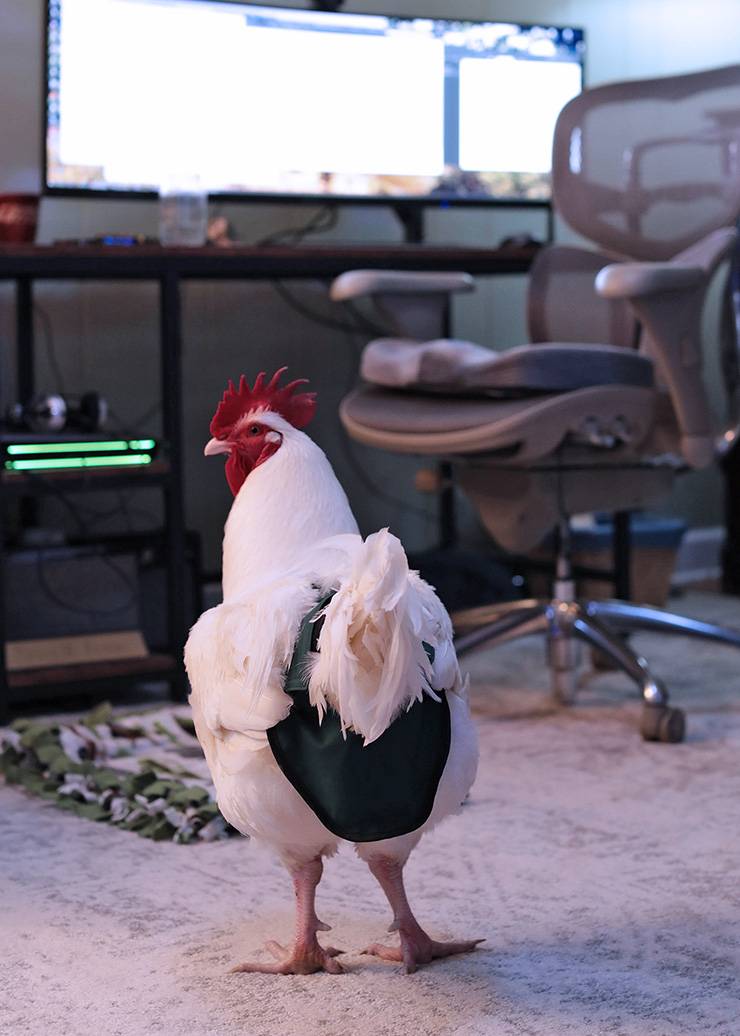 Colleagues occasionally interrupt meetings with Scott Peters to ask him an important question: "Is that a chicken wearing a diaper in your living room?" 
"Yes, yes it is," Peters replies.
Georgie, his pet rooster, mostly stays inside and wears a diaper specifically made for chickens. He spends his days with the family dog or can be found scratching for insects in the backyard with the five outdoor hens. Georgie also has his own Hulu account to watch "Tanked," a show about aquarium manufacturers.   
"It's therapeutic observing him," said Peters, senior content and graphic communications specialist with Duke Health. "He's so silly, sweet, ridiculous and gives the best hugs."
Luna
Suzanne Crifo adopted her first dog in March of 2020 after learning she would be working from home indefinitely.   
"I thought it was the perfect opportunity to train a puppy," said Crifo, learning consultant for the Duke Academic Resource Center. 
Crifo found Luna, a pit bull-Plott Hound mix, at Farm Friends Rescue, an animal shelter in Pittsboro. Luna enjoys chasing after UPS trucks, chewing on her frisbee or waiting for Crifo or her fiancé, Matt, to drop food in the kitchen.  
"I've had to focus on her the whole year, which has been a wonderful distraction," Crifo said. "She makes every day new and different."
Gumdrop and Buttercup
As their names imply, Gumdrop and Buttercup bring some sweetness to Jannice Stratton's days at home.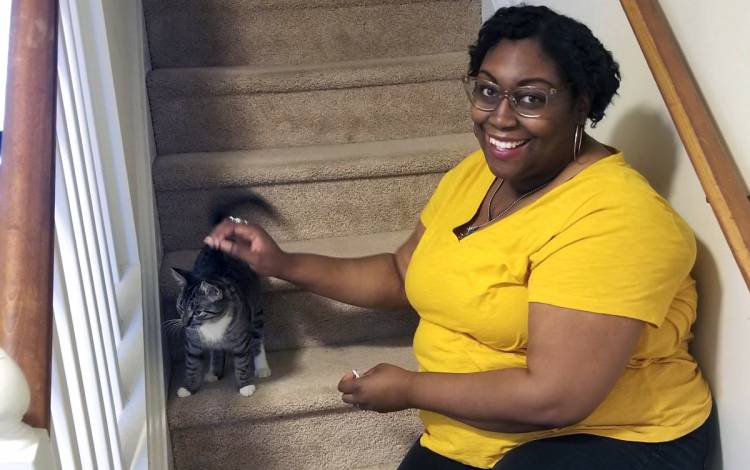 Stratton, staff assistant for Duke Psychiatry & Behavioral Sciences, got Gumdrop in 2018  and adopted Buttercup in February. Gumdrop typically spends her day on the windowsill watching birds or rests between Stratton's feet. Buttercup usually settles herself in Stratton's lap or in front of the webcam on Zoom calls. 
"I don't know how I would have survived without them," Stratton said. "They are a ray of sunshine."
Porky
Cydni's Powell pig, Porky, is the perfect distraction after treating patients in emergency situations. 
Powell, a paramedic for Duke University Hospital Emergency Department, adopted Porky, a 75-pound miniature pig, five years ago. He responds to his name, sniffs in the backyard, rolls around in the grass and loves to snuggle. Porky even has an assortment of clothes, like a stars and stripes hat for July Fourth, bunny ears for spring, and party hat for his birthday on January 4. 
"You never know what he will do next" Powell said. "He's got so much personality. He is always making me smile and laugh." 
Cleo
Greg Steimel, service operations center analyst for Duke Health Technology Solutions, and his Akita mix, Cleo, have explored the Triangle's many trails during the past year. 
On most evenings and weekends, they walk about three miles at William B. Umstead State Park in Raleigh, Fred G. Bond Metro Park in Cary or on the Apex Greenway. 
Steimel said the walks with Cleo help him relax after working on-site most days at the Duke Health Technology Solutions office in Research Triangle Park.
"She keeps me moving and from feeling the pandemic funk for too long," he said.
Dustin
The best cuddler in Emily Hecker's house weighs 2 pounds and measures about a foot long.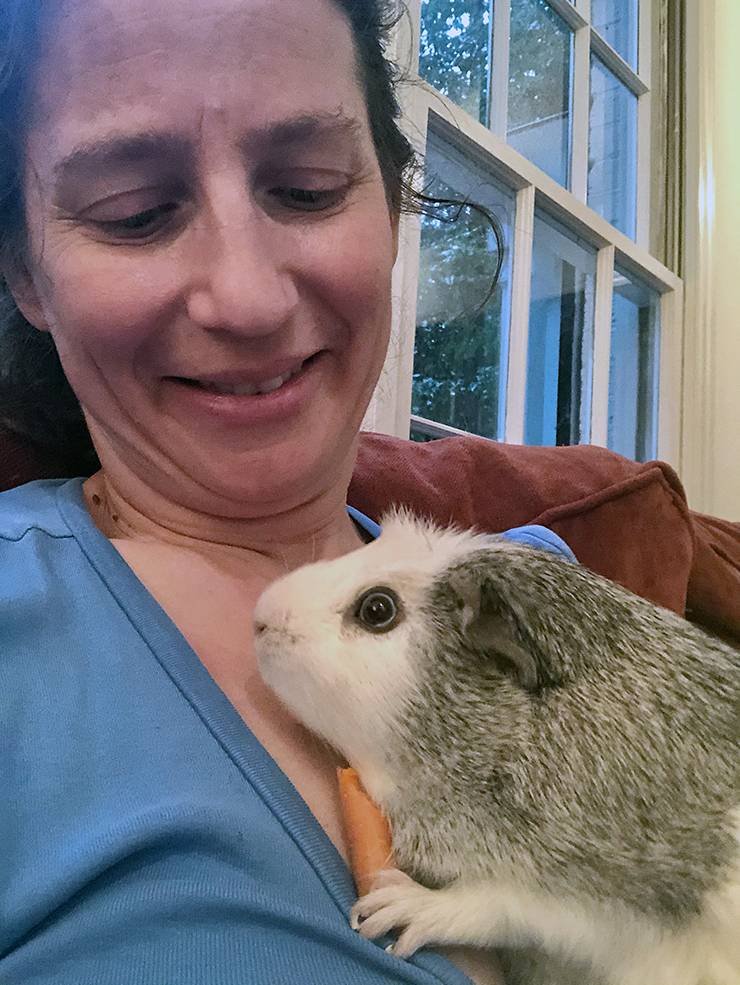 Dustin, a guinea pig, loves to leave his cage to climb on Hecker for pets, take a nap or munch on a carrot.
Hecker, clinical research nurse coordinator for the School of Medicine's Division of Geriatrics, got Dustin two years ago after seeing him up for adoption on her neighborhood Listserv.  She and her two daughters, now 11 and 5, fell in love with his big eyes, pink nose and grey spots.
"Dustin is very snuggly," Hecker said. "He's been good company during the pandemic when I need to take a break from the computer."
Bae, Biz and Bob
Becky Hoeffler's Zoom meetings with students can resemble a zoo exhibit as three cats constantly come in and out of the frame.
One cat, Bae, belongs to Hoeffler, program coordinator for Sustainable Duke. She adopted Bae after a family had to give the cat up when they moved out of state. The other cats, Biz and Bob, belong to her two roommates. 
Bae is the playful one of the trio. She loves to mess with Biz and Bon's tails. The other cats prefer to spend their days curled up on Hoeffler as she works from home. 
"I leave my door open when I'm meeting with students because they always perk up when one walks in, and I am happy to give them any excuse to smile these days," Hoeffler said.
Emma and Bart
The barks of Carmela Archual's Doberman Pinscher, Emma, and dachshund-Labrador, Bart, greet her most days before she even steps out of her car. 
Archual, lab research analyst for the Duke Human Vaccine Institute, has worked on campus since April, meaning Emma's and Bart's lives have remained relatively unchanged since the pandemic began. The 90-pound Emma and 30-pound Bart are always waiting by the door to greet Archual. 
"The best part of my day is coming home to them," Archual said. "They always make me smile."
Poe, Lenore, Prospero, Fortunato and Raven
Jennifer Harris' fascination with spiders began in the third grade after reading "Charlotte's Web," about a spider named Charlotte, who saves a pig's life. 
Harris, program specialist for all three Duke Hospital Medicine Departments, followed through on her arachnid curiosity by purchasing five tarantulas last summer from local pet stores and "Repticon," a reptile and exotic animal convention in Raleigh. 
Each tarantula is a different species, named after Edgar Allan Poe and his poems. Poe is a greenbottle blue; Lenore is a Nicaraguan curly hair; Prospero is a pinktoe; Fortunato is a Brazilian blue; and Raven is a Brazilian black.
The spiders have their own cages on a shelf in Harris' guest bathroom. She uses tongs to feed  them roaches that she orders online. The tarantulas are vvenemous, so Harris does not handle them and simply observes them.
"With the pandemic, I haven't been able to travel or see friends. I feel like I haven't been as mentally stimulated," she said. "Learning about the spiders and how to care for them has helped me in that aspect. It's been fun."
Share a photo of your pet in the Facebook story below and tell us how they are helping you cope: 
Got a story idea? Send ideas, shout-outs and photographs through our story idea form or write working@duke.edu.