Making Birthdays Happy - Even in a Pandemic
Duke colleagues get creative while safely recognizing special days
With the pandemic dashing hopes of an over-the-top 50th birthday celebration, Lupita Temiquel-McMillian began the week of her November birthday with her regular online staff meeting. 
When she logged on, everyone else had their cameras off.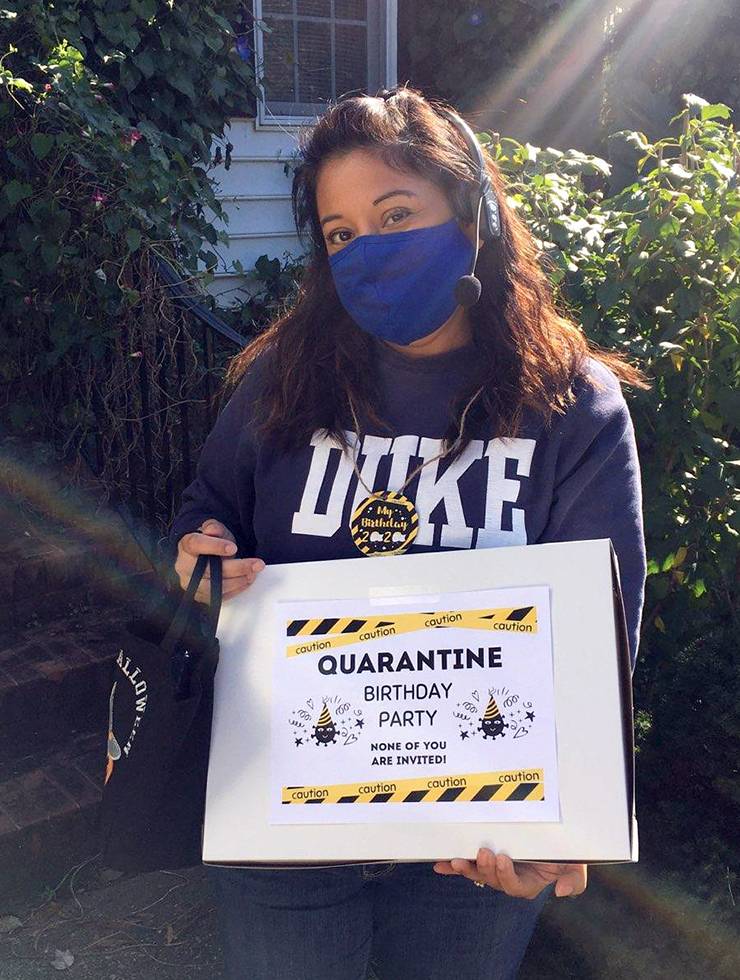 Just as the meeting began, there was a knock on her door. Not expecting anyone, she chose not to answer it despite fellow meeting participants urging her to do so.
Temiquel-McMillian, the Pratt School of Engineering's assistant dean for advising and student affairs, eventually obliged and answered the door, where she was surprised by a colleague who was wearing a mask and dropping off a box of her favorite donuts.
When she returned to her meeting, the other participants' cameras were on and everyone had special birthday virtual backgrounds.
"I was emotional and felt so much love in that moment," Temiquel-McMillian said. "I'm usually very involved in celebrating others, so this was extremely special that all this time and energy went into celebrating me."
With the pandemic forcing Duke colleagues to either work remotely or maintain their distance on campus, traditional in-person birthday celebrations have gone by the wayside.
But with a continued need to build camaraderie and show teammates they're appreciated, members of the Duke workforce, such as Temiquel-McMillian's colleagues, have found creative ways to celebrate each other's big days.
Take a look at some of the stories your colleagues shared:
Laura Pace, Duke University Hospital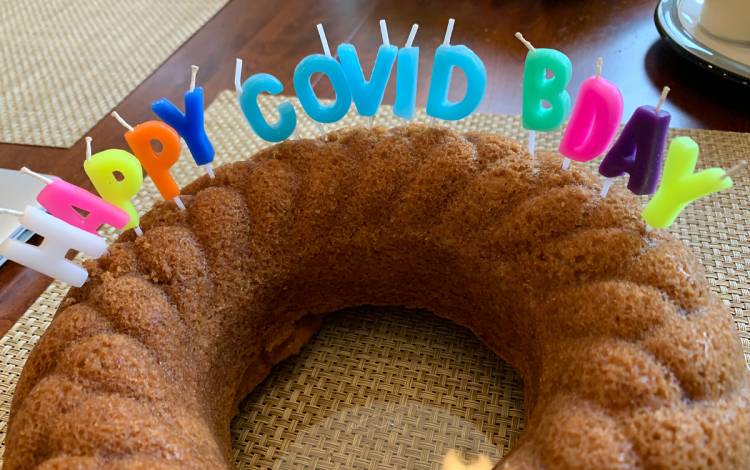 For Laura Pace, a nurse anesthetist, the most touching part of her birthday late last March was the home-baked gluten-free cake a neighbor left on her porch. Even while maintaining physical distance, she said the cake showed that friends can remain close.
"It was such a sweet gesture and meant so much to me," Pace said.
Ashley Barry, Molecular Genetics and Microbiology
When a colleague celebrates a birthday, Barry, a lab research analyst, and her colleagues in the CARL Building decorate their office or lab bench with streamers, banners or balloons.
"It may not be a surprise to be celebrated, but we try to tailor the decorations to each person's likes," Barry said.
Emma Bonglack, a pharmacology Ph.D. student, had her workspace decorated to celebrate her 26th birthday in December. The space was adorned with a balloons and a banner that spelled out "Happy Birthday" in letters inspired by the periodic table.
"It was a very pleasant surprise," Bonglack said. "It was a good way to celebrate each other in a practical manner. Since we can't celebrate together anymore, decorating the work area has been a great substitute. It gives a similar sentiment of being cared for, thought of, and appreciated your colleagues."
While the decoration was a success, Barry admits it was a bit of a bummer when the numbers on the banner didn't actually correspond to elements' real atomic numbers.
Bose Kamineni, Duke Cancer Institute
The 18 members of Duke Cancer Institute's Information Systems team provide online data processing support to research teams in many corners of Duke, giving team members a wide network of collaborators.
With the team working remotely, they opt to hold Zoom-based get-togethers for members celebrating birthdays. And in a twist, with the guest of honor's blessing, the invitations are sent beyond the bounds of the team, to campus collaborators who drop in to share birthday greetings.
"By having more community members expressing birthday wishes to our team members, it made them feel valued," said Kamineni, an information services manager.
Stacy Sabraw, English for International Students Program
With their eight-person team spread from Hillsborough to Cary, the English for International StudentsProgram's staff take advantage of local food delivery services such as DoorDash and UberEats to send colleagues their favorite treats on their birthday.
In the photo above, Program Coordinator Christian Gomez holds the tiramisu he received on his birthday.
Not every birthday gesture went as smoothly. 
Sabraw, a lecturing fellow, recalled a virtual staff meeting when the group tried to sing "Happy Birthday" for a colleague. The slight delay turned the song into a chaotic, loud mess.
"We nearly didn't finish because the echo effect was so funny," Sabraw said.
Aleshia James, Duke Children's Specialty Services of Raleigh
Before the pandemic, the roughly 30 members of the Duke Children's Specialty Services of Raleigh team would celebrate birthdays, holidays and milestones with monthly potluck meals. But after the pandemic hit and large, family-style meals were too risky, the team changed their routine.
Now, once a month, staff members celebrating birthdays pick a restaurant and the whole team orders takeout and covers the cost of the birthday celebrants. In accordance to COVID-19 safety guidance, the meals are individually packaged, labeled and picked up from the clinic's break room at staggered times.
"Celebrations are a big deal around here," said James, a certified medical assistant III. "We just found a new way to continue celebrating."
Anne-Marie Elliott, Duke Clinical Research Institute
Elliott, an administrative manager, wasn't able to celebrate her August birthday with friends and colleagues. But her neighbor, Cathy Santos, assistant director of human resources at the Fuqua School of Business, made sure there was still a gathering of sorts to mark the day.
The night before Elliott's birthday, Santos helped place about two dozen plastic, pink flamingos on her friend's lawn.
"She arranged to have a birthday 'flocking' on my special day," Elliott said. "It was such a fun surprise for me to wake up to see this bit of fun on my lawn."
Tricia Fox, Duke Raleigh Hospital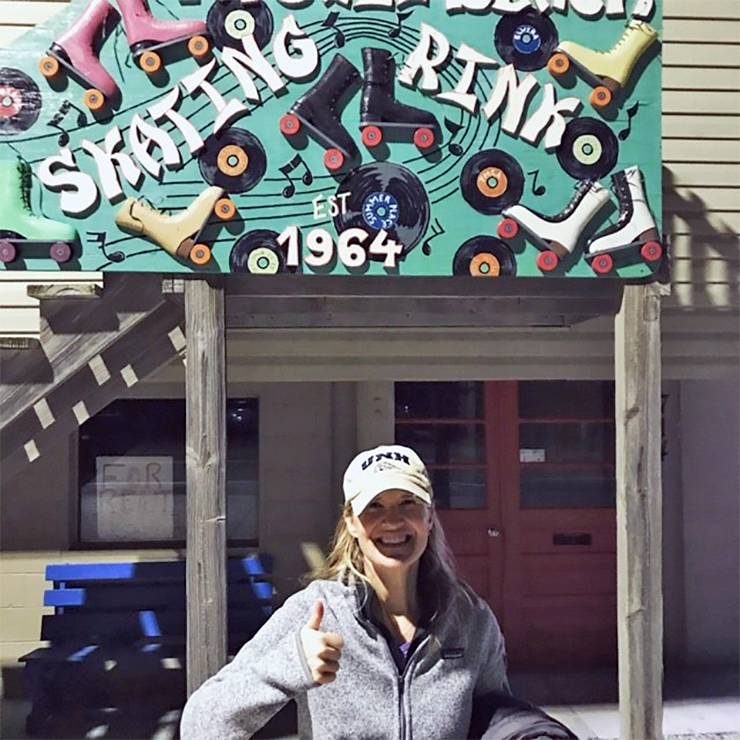 For her 50th birthday last month, Fox, a patient navigator, had hoped to be celebrating in the Florida Keys. But with the pandemic limiting travel, Fox instead celebrated with her husband at Topsail Beach.
While there, she found a roller rink available to rent for small skating sessions. So Fox, her husband and two friends had the place to themselves.
"It was a blast," Fox said. "And it was made better by the fact that we all survived without a trip to the ED for any broken bones."
Maralis Mercado Emerson, Duke University School of Nursing   
Before the pandemic, Emerson, a clinical research coordinator, envisioned a birthday party featuring a shrimp and crawfish boil. But as her summer birthday approached, large gatherings were out of the question, so her friends and family had to get creative in order to deliver Emerson a celebration with a similar festive vibe.
Their answer was to hold a drive-by celebration featuring a parade of well-wishers sharing birthday greetings as they passed her Durham home.
"It was a birthday I will never forget," Emerson said.
Academic Resource Center
Once a month, during online meetings of the Academic Resource Center team, the conversation shifts from helping Duke students find ways to navigate coursework, to whether or not a specific colleague likes roller coasters, or what band that coworker would like to join if given the chance.
During the pandemic, the Academic Resource Center team has been celebrating birthdays by holding light-hearted trivia competitions in which all of the questions are about the person they're celebrating. 
Questions cover topics such as the celebrant's first job, the food they'd most want an endless supply of, and what fictitious place they'd most like to visit.
Replicating some of the fun of the team's pre-pandemic in-person birthday parties, the online trivia games show much teammates appreciate one another while keeping the work vibe relaxed.
"We missed having the opportunity to celebrate all together, so we figured we could combine our new trivia tradition with birthdays and have an opportunity to learn more about our colleagues," said Suzanne Crifo, a Duke Academic Resource Center learning consultant.
Do you have a fun pandemic birthday story to share? Drop it in the comments on the post below
Help share the proactive and extensive work being done by all Duke community members during the COVID-19 outbreak. Send ideas, shout-outs and photographs through our story idea form or write working@duke.edu.